Why English football could learn to finally love Chelsea under Maurizio Sarri
Roman Abramovich has gone against type and appointed a manager on potential and style of play rather than the hard currency of trophies. Richard Jolly explores the reasons behind a Blues' sea change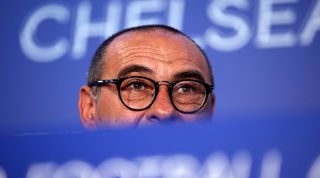 Champions League winner; crony; World Cup winner; Champions League winner; Champions League winner; Europa League winner; Champions League winner; Champions League winner; Champions League winner; Serie A winner. What comes next in this list of managerial hirings?
The answer, for Chelsea, is someone with a radically different CV. A former banker who has not collected trophies and who, unlike Avram Grant, is not a friend of Roman Abramovich. Maurizio Sarri is the anomaly in the appointments of the Abramovich era; the anti-Chelsea Chelsea manager; the man whose lack of silverware would have seemed to disbar him from contention long before he reached the interview process.
Except here he is. The 59-year-old's reign starts in earnest in Sunday's Community Shield against Pep Guardiola, a mutual admiration society with a difference. The Manchester City manager has a pair of Champions League wins, seven domestic league titles and a trophy cabinet the size of a small country. His Chelsea counterpart boasts promotions from Italy's lower leagues.
Sarri has more than that, of course: Napoli's record of 94 Serie A goals came under him in 2016/17, their best points total of 91 the following year. They are signs of excellence, but statistical distinctions – not the kind of awards Chelsea have tended to prioritise.
Avram Grant apart, the club's record in recruitment suggested the reductive logic that managers who have won things in the past are automatically winners and those who have not, definitely are not. They hired managerial stars: the only one they made, Roberto Di Matteo, was appointed reluctantly and discarded swiftly, as though he was distrusted because he lacked seismic achievements anywhere else.
The Italian jobs
Then came Sarri, Chelsea's fifth Italian manager this millennium but a dramatic break with the past nonetheless. His arrival has hinted at a possible rebranding. It shows Chelsea have been searching for a role in a changed footballing landscape. They may have paid out £232m for new players last season but they are no longer the biggest spenders; to Antonio Conte's public frustration, they do not have the most pulling power in the transfer market.
They may be the only English club to win silverware in each of the last two seasons but, with Manchester City threatening to become the era's dominant team, they no longer start off as favourites for the title. Expectations are being adjusted. An identity has been created and destroyed.
So what do Chelsea stand for now? Sarri's opening statement was instructive and eloquent. His unveiling was littered with mentions of "fun". Since Abramovich's takeover, Chelsea have been many things – brutal and bloody, professional and prosaic, tactical and formidable, efficient and unloved, successful and unsentimental, a soap opera off the pitch and solid on it, traumatised and galvanised by their intensity, capable of warring with managers or outsiders – but rarely fun.
Enjoyment often came from results, not performances; from league tables, not the football. Chelsea were at their most fun under Carlo Ancelotti, scoring 103 league goals in 2009/10. A manager who liked to enjoy himself was nevertheless sacked a year later, after his side finished second to Sir Alex Ferguson's Manchester United.
Change of tact
Perhaps the present economic realities have brought a shift in thinking. If Chelsea are going to finish second, third or fourth, it's better to do so in entertaining fashion. It may even win some of the hearts and minds left cold by their 21st-century selves.
Perhaps the eternally impatient Abramovich is searching for something else. Sarri's Napoli represented the fashionista's choice, their uptempo 4-3-3, pressing, attacking and potent false nine (Dries Mertens) appealing to the romantics and the intellectuals alike. Sarri is more Mauricio Pochettino, the trophy-starved critical darling, than Jose Mourinho, the man who seeks validation through trophies and who Abramovich has appointed twice.
Because, to their owner's irritation, Chelsea's identity has been built on pragmatism. When Ancelotti first met Abramovich in 2008, the Russian spoke enviously of the identities of Milan, Liverpool and Manchester United. It is no secret that he later transferred his affections to Guardiola's Barcelona or that he made repeated attempts to lure the Catalan to Stamford Bridge.
They failed. Perhaps Chelsea's identity – the short-termism, the series of sackings, the functional football – did not appeal to the purist. While Guardiola admired Conte's tactical cleverness, some of the managers Chelsea have turned to have represented his philosophical antithesis; Mourinho most obviously.
Then there is Sarri. If Guardiola offered the perfect package of style and substance, when forced to choose between contrasting characteristics, Chelsea have always opted for managers with substantial records of trophy-gathering.
Now they have gone for the stylist Sarri, who earns Guardiola's unqualified approval. "His style of football is as good as a drink in the sun," the City manager said in May. Last season, he described Napoli as "probably the best" side he had faced in his managerial career. Those assessments were not made on a medal collection, but on ideas and idealism. It is why Sarri seems a rejection of Chelsea's ethos for much of the last decade and a half. It is why his side could be Chelsea, but not as we have known them.
Thank you for reading 5 articles this month* Join now for unlimited access
Enjoy your first month for just £1 / $1 / €1
*Read 5 free articles per month without a subscription
Join now for unlimited access
Try first month for just £1 / $1 / €1