Why everyone is rubbish in La Liga this season
No one seems capable of taking Spain's top flight by the scruff this season, but why? David Cartlidge investigates...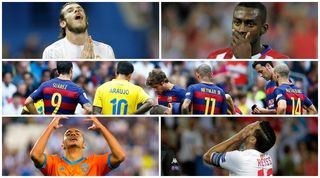 It's symptomatic of this La Liga season that in the final weekend before October's international break, none of the top six won.
Villarreal ended it top despite going down to lowly Levante in a dreadful 1-0 loss. Their 16 points were enough to keep them in first place, the lowest haul from a leader at this stage of the season since 2006/2007. Then, Barcelona and Valencia shared the lead, before eventual winners Real Madrid took the title with a measly 76 points (last season Barça scooped it with 94; Madrid got 92).
That was the last time a team won the league with fewer than 80 points, and despite there not being any strict indication the same could happen again, a 100-point haul looks highly unlikely. In this instance, it might well be purely down to the frailties of the top teams and their differing, if equally concerning, current states.
To get to the bottom of it, it's best to start at the top. Leaders Villarreal suffered against Levante, and much was down to one of the few common problems among all the teams – a glaring void in their squad. The Yellow Submarine, despite the abundance of talent in their forward line, are weak when it comes to creativity. By waving goodbye to Giovani dos Santos, Cani and Denis Cheryshev they relinquished three attacking midfielders capable of unlocking defences.
In return only Denis Suarez, a late signing in the summer window, has addressed the flaw. Throw in too the added issue of the Europa League, and it pulls at the strings of small squads like Villarreal's to the point of breakage.
Blancos, Barça blues
Then there's Real Madrid. Rafael Benitez's men – on the face of things at least – look in a formidable position. They've scored 15, and conceded just twice. All is well, right? Wrong.
Benitez hadn't yet faced a stern test before Atletico Madrid pre-international break, and when he did his team faltered for the first time. There had been niggling doubts existing about the freedom and fluidity of the team, so when he set in to guard a narrow 1-0 lead at the Vicente Calderon it only increased the nerves.
Benitez's plan ultimately backfired and Atleti earned a point, thus raising the first genuine criticism of his regime so far. Real Madrid sat in and played too cautiously, and lacked the verve required to take apart an Atleti side that weren't in the game. They were there for the taking but Benitez backed off.
Talk still persists about Benitez's uneasy relationships with certain players too, namely Sergio Ramos and Cristiano Ronaldo. It will be fascinating to see how the Spaniard handles the return of James Rodriguez too. The Colombian as an individual isn't a concern, as he showed in the way he dealt with injury last term. However, how his manager utilises his abilities will be decisive in this next chapter of Real Madrid's season.
For Barcelona, meanwhile, the problems are clearer – well, kind of. Their numerous injuries (not least to Lionel Messi), coupled with a clear deficiency in their physical preparation for the start of the season, has hit them extremely hard. While they do boast an impressive XI, such a heavy amount of physical issues pushes a squad that is thin during the transfer ban. The request to include Arda Turan in that squad with immediate effect would help a great deal, but the Catalans cannot rely on that being overturned.
Then there's the issue of motivation after success – and sustaining it. It may explain the lack of edge, or in-game sharpness. More chances are being missed, and more gaps are appearing in the defence. Barça have already had several wake-up calls, but they keep putting the alarm on snooze and pulling over the sheets.
Too much too soon
In the summer there was no Spanish team hyped more than Atletico Madrid. The Rojiblancos may have lost big names (Miranda, Raul Garcia and Arda Turan) but they gained an exciting new batch of individuals to pack their squad full of speed, skill and hunger to succeed at a club famed for polishing future stars.
So what's gone wrong? So many new faces, coupled with a brand new system based more on possession of the ball, has somewhat fudged Diego Simeone's big plans. El Cholo was unsatisfied with business the previous summer but got the men he wanted this time around, so there are no excuses there. Those who have arrived, with the exception of the magnificent Angel Correa, are yet to truly settle.
In fact, it's an over-reliance on Correa that is becoming a concern. The Argentine is still finding his own way, and makes more than a few poor decisions a game, but he is right now the filter Atleti use for every attacking move. Jackson Martinez needs to step up for one, and finish the few chances that are being created. Just one shot on goal against Villarreal made miserable reading, and the Colombian can't score if he's not offered service.
Correa's trickery gets him a goal
The highs at Valencia are incredible; they unify a whole city whose supporters have been so starved of success. The lows, however, can be brutal. Few clubs take blows like Valencia, and that's the position they're finding themselves in now.
Be it their owner Peter Lim, Jorge Mendes, the board, their coach Nuno Espirito Santo, or even some of the players, fans are growing increasingly desperate for someone to give them answers. Nuno in particular has taken the brunt of the criticism. His tactics often look simplistic and easy to decipher, while general motivation of the team is lacking as is evident in displays like that against Espanyol.
It's a feeling of discontent that continues to swirl, and one all too familiar at the club. The good days that were around the corner have seemingly turned around, ran away down the street and out of town.
Save Sevilla
Lastly there's Sevilla: Europa League holders, and apparently ready for a title assault of sorts. If Barça think their physical issues are bad, then need only take a look down the league table to their Andalusian rivals in 12th place.
Something went badly wrong in their pre-season build-up. Unai Emery's side seem starved of energy and have, like the Catalans, been dealt cruel blows on the injury front. Those who do play tread water after the first 20 minutes of each game. It's a worrying sight.
Like Atleti, there have been numerous new names to integrate into the team. One of them, Yevhen Konoplyanka, needs to settle sooner than most. He's the potential star of this team, and one you feel any success could be built upon. If he can become a talismanic figure for Emery & Co., then the season could take an upward turn. Perhaps it already has.
Such is the plight of the traditional big guns in La Liga that the likes of Celta Vigo and Eibar have been afforded places in the upper echelons of the table. While Celta moved temporarily top of the league, and are an exciting team, they are bouncing on early-season momentum. And any chances of that continuing will be decided by Nolito staying or going to Barcelona in January. If he does remain, the Europa League isn't out of the question.
Thank you for reading 5 articles this month* Join now for unlimited access
Enjoy your first month for just £1 / $1 / €1
*Read 5 free articles per month without a subscription
Join now for unlimited access
Try first month for just £1 / $1 / €1
Get FourFourTwo Newsletter
The best features, fun and footballing quizzes, straight to your inbox every week.