Why Alen Halilovic could be the key man in Barcelona's future
Comparisons with Lionel Messi may be wide of the mark, but David Cartlidge writes that the teenage midfielder will be essential to the Catalans for years to come...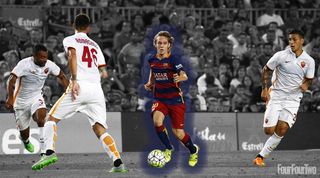 Being monikered the "next" anything is a burden in itself, but when you're tipped to be the second coming of Lionel Messi, it takes things to a whole different level. That pressure-filled tag is exactly what Alen Halilovic is having to deal with at present, with the Croatian teenager continually likened to the Argentine superstar.
The task facing the 19-year-old is turning that apparent burden into a blessing. While he may not become the new Messi – after all, will anyone? – the signs suggest that he's developing into a fine player in his own right. A smart loan move to Sporting Gijon this season has given Halilovic the invaluable opportunity to develop away from the madness of Barcelona as part of a group of players similar in age.
Sporting are a club that Barça boss Luis Enrique is all too familiar with. The 45-year-old was born in Gijon and ended up becoming a famed product of the club's youth ranks, joining an illustrious group of players such as Quini and David Villa to emerge from Mareo (Sporting's academy). Enrique was the man who convinced Halilovic that Sporting – rather than West Ham or Hamburg – was the best place for his development.
The boss's advice
"Abelardo (Sporting's coach who was also born in Gijon and a former team-mate of Enrique with Sporting, Barça and Spain) called me and said he'd spoken with Luis Enrique," Halilovic told EFE. "They both agreed this year was important for me to play more games, work hard and learn in La Liga.
"I spoke with Luis Enrique and then Abelardo again, they said Gijon was a nice place and Sporting was a good team; a young team. I mentioned to my parents about all this and they agreed. It was the best place."
Sporting, along with Valencia and Celta, boast the youngest squad in La Liga with an average age of just over 23. It's also a group built on hard work and sacrifice; while being among his own age group is beneficial, the latter values are probably the ones that appealed to Enrique most.
Halilovic had shown signs of ill discipline with Barça B, getting in the faces of coaches Eusebio and Jordi Vinyals when being substituted. The Croatian insisted on both occasions that it was simply a sign of frustration at a poor performance but, regardless, these are actions that wouldn't go down well with a strong disciplinarian like Enrique. At Sporting, where it's a case of getting your head down and working, Halilovic knew there would be no tolerance for such displays of agitation.
Fans' favourite
The teenager's willingness to knuckle down has made him popular in both the dressing room and on the terraces. On the pitch Halilovic has been the key figure in Sporting's attack. He can pick up the ball up and carry it forward with grace, or use his vicious turn of pace to change direction in an instant.
He has also proved himself adept out of possession, as evidenced by his aggressive pressing against Espanyol when, together with his team-mates, Halilovic forced a ball to become loose. The Croatian was first to pounce upon it, carrying the ball forward a few yards before unleashing a sweet, curling strike into the top corner. Halilovic charged over to the away end to celebrate, pumping his fist in delight. He may not be Gijon-born like his bosses at both parent and loan clubs, but he's already become an adopted son.
David Villa was handed the nickname 'El Guaje' ('The Kid') in Asturias. Behind the scenes at Sporting, they have handed the Croatian his very own tag too: 'Guajlilovic'. It may only be a name but it's evidence of how well Halilovic has endeared himself in the city – and vice versa. "They eat well here," said Sporting's No.25. "It's a quiet place, and without pressure. I like it a lot."
Although Halilovic has played just 433 minutes to date, he has already produced a goal and two assists. Those are the basic numbers, but the bigger picture that will most excite Barça is the willingness to learn and work hard shown by the teenager. "I remember speaking to Abelardo and he told me he needs a player like me; with technique, good in the one-on-ones. But he also said this is La Liga, and you don't get by on talent alone."
Ready for Camp Nou?
Halilovic has immersed himself in Sporting's style of play; while their passing game may not quite be at the level of Barça's, Abelardo does favour an attractive style, encouraging his team to play the ball on the ground and create space for each other with constant movement.
Halilovic has become the side's conductor, leading the attacking transitions through the centre of the pitch and also cropping up in wide areas with the licence to float inside. The Croatian is always on the lookout for quick interchanges to open up space for a shot or through-ball, and he can also retain possession and control the tempo of a game well. Indeed, the impressive draw at Real Sociedad was brought about largely by Halilovic's stabilising qualities.
RECOMMENDED
It's these technical facets that will be of most interest to Barcelona, who continue to seek a controller in midfield; a player able to dictate games from the centre of the park by distributing the ball cleanly and providing ammunition for the attack.
The need for Halilovic back in Catalonia seems to be growing larger with each passing day. With Xavi and Thiago no longer at the club, Andres Iniesta clearly winding down and a failure to promote a suitable La Masia product, there is arguably no better time. In the past, the likes of Thiago and Cesc Fabregas found it difficult to find a place in the team, but such is Barça's lack of resources at this current juncture that Halilovic's emergence could hardly have come at a better time: there is no one ahead of him in terms of his skill, nor will there be a young player more toughened up and primed for life in La Liga.
Halilovic might not be the new Messi but, as the type of midfielder many of the club's great successes have been built upon, he could be equally important to Barça's future.
Thank you for reading 5 articles this month* Join now for unlimited access
Enjoy your first month for just £1 / $1 / €1
*Read 5 free articles per month without a subscription
Join now for unlimited access
Try first month for just £1 / $1 / €1