4 reasons Barcelona have struggled this season – and why it's all about to change
Ameen Rabbani explains why last year's treble winners have failed to hit the ground running this term...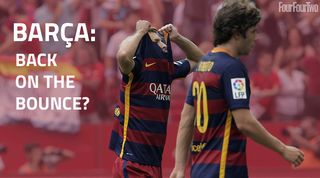 Barcelona manager Luis Enrique called the recent international break a "relief" before his team's clash with Sevilla a fortnight ago. He was right: the pause couldn't have come at a better time for the Catalans, who have experienced a rough opening few weeks of the season as they attempt to defend the treble they won so brilliantly last term. Their slow start can be put down to a few things…
1) Late finish, early start
Little over a month after Barcelona secured the Champions League title in Berlin and a second treble in six years, the majority of the squad was back in pre-season training. Five others were taking part in the Copa America, with Lionel Messi, Javier Mascherano and Claudio Bravo making it all the way to the final on July 5.
The lack of a full pre-season with all players present has caused problems for Barça, something that was evident in their opening games in the European and Spanish Super Cups. Despite being 4-1 up against Sevilla in the former, the Catalans' lack of fitness allowed Unai Emery's side to make a sensational comeback to level the scores at 4-4 before the Blaugrana grabbed victory late on. A few days later, Barça were mauled 4-0 in the Spanish Super Cup against a much fresher Athletic Bilbao who took advantage of another lacklustre performance to seal the trophy at Camp Nou.
Those matches seem to have taken a lot out of the team physically and mentally, with the issue of players' fitness still not fully resolved two months into 2015/16.
2) That transfer ban
Given that Barcelona knew they couldn't register any new players until January, their summer transfer activity was somewhat surprising: Xavi's departure to Qatar has left a massive hole in the squad, while Pedro's move to Chelsea robbed the team of a proven and reliable back-up option.
The La Liga champions have thus lost two key figures and been forced to place their trust in youth, rather than the type of experienced professional they need right now. The ban has also prohibited Enrique from upgrading in key areas such as the centre of defence and at left-back – areas that have come under scrutiny in recent weeks.
Arda Turan and Aleix Vidal were signed in the summer and will be available for selection in the new year. The duo will bring some much-needed versatility and freshness to the side, which Barça could have done with from the start of the campaign.
3) Injuries... bad ones
Enrique regularly rotated his squad last season to keep his players fresh and free of injury, but his chopping and changing this year has been forced rather than desired. Neymar, Andres Iniesta, Gerard Pique, Jordi Alba and Dani Alves have all spent time on the sidelines; Thomas Vermaelen is on the treatment table again; while Rafinha will almost certainly miss the rest of the campaign with a torn ACL.
The most notable loss, though, is Lionel Messi, who picked up a knee injury that will keep him out for another five or six weeks. Barça have struggled in their last two encounters without him, narrowly – and perhaps undeservedly – defeating Bayer Leverkusen in the Champions League before losing 2-1 to Sevilla in La Liga. Enrique's charges have missed the control Messi provides from deep and his clinical touch in front of goal.
4) A surprising lack of depth
For an elite club, Barcelona's squad is far from what it should be: the first XI may still be the best around. but dig a little deeper and there are plenty of problems. The main issue is the lack of depth: Enrique's side have lost their first three substitutes from last term, leaving them reliant on highly rated but unproven youth players.
The squad is also unbalanced, with plenty of defensive options but little cover in the midfielder and forward line. The Blaugrana are thin on the ground in key areas, which leaves little room for rotation when poor form strikes certain individuals.
Change is a-coming...
There is no doubt that Barcelona have made a lethargic start to 2015/16, but that could all be about to change.
Having already encountered tough trips to Athletic Bilbao, Atletico Madrid, Celta Vigo and Sevilla, Barça head into a favourable run of fixtures starting with Rayo Vallecano at home this weekend. Paco Jemez's commitment to playing open football will likely give the champions a chance to find their mojo in front of goal – the last eight meetings between the sides have resulted in a 37-2 aggregate score in Barça's favour – and build some momentum after a tricky opening.
Luis Suarez will be on the hunt for more goals to add to the six he has managed so far, and Neymar will be aiming to take on greater responsibility in Messi's absence. The Brazilian has hitherto been impressive in this regard, perhaps realising that there is no better way for him to burnish his own credentials than by assuming the creative mantle when his Argentine team-mate isn't available.
After Rayo, Barcelona play BATE Borisov, Eibar, Getafe, BATE again and Villarreal, before the first Clásico of the season on the day Messi is set to return. In the same period, Real Madrid face PSG twice as well as testing trips to Celta Vigo and Sevilla – a considerably tougher set of fixtures.
Barça's more favourable schedule therefore not only gives them the chance to regain their own form but also presents an excellent opportunity to put some distance between themselves and los Blancos at the top of La Liga. Which might be very bad news for Rafa Benitez.
Thank you for reading 5 articles this month* Join now for unlimited access
Enjoy your first month for just £1 / $1 / €1
*Read 5 free articles per month without a subscription
Join now for unlimited access
Try first month for just £1 / $1 / €1