Why football is too tolerant of anti-Semitism
Darren Richman asks whether enough is being done to prevent the abuse of Jews in the game.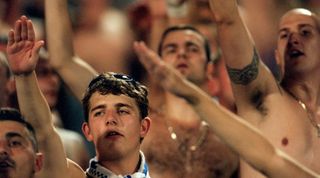 There are very few sports as immensely self-congratulatory as football. It is an arena of open-top bus parades, glitzy awards ceremonies and champagne celebrations. For the most part, such backslapping, as undignified as it might seem, is not particularly harmful. In one significant area, though, it is positively toxic: racism.
Race is arguably the key issue of the age and football in this country has come a long way since the days in which black players were routinely subjected to monkey noises and banana skins. Instead of realising that racism is an ongoing battle, the English game continues with a smug arrogance given some of the more unsavoury incidents that have recently occurred, at home and abroad. Complacency is not the right approach to a far more significant matter than who wins or loses on the pitch.
Today (January 27) is Holocaust Memorial Day in the United Kingdom, a national event dedicated to the remembrance of the genocide of approximately six million Jews during World War Two. This is not simply a page in a history book, a strange quirk of fate in the long-gone past, but an ordeal in living memory for a generation of people. It is important that the horrific actions of Adolf Hitler and the Nazis are never forgotten and that we learn from history in a bid to ensure the same mistakes are not repeated.
While not as overt as the disgusting abuse directed at black players in the 1970s and 1980s, there has been a worrying rise in anti-Semitism in the last few years that has received less back-page coverage than it perhaps ought to have done.
"Banter": Rile with the vile
Setting aside the rights and wrongs of the complex issue that is Tottenham Hotspur and their fans' use of the word "Yid", some of the abuse directed at their supporters is clearly unacceptable. It's not uncommon to hear hissing sounds to emulate the gas chambers, or the refrain "one men went to gas, went to gas a yiddo." It is true that chants between fans are often about little more than attempting to rile the opposition, as evidenced by the despicable Hillsborough and Munich chants regularly traded between Manchester United and Liverpool, but surely it is about time a line was drawn in the sand.
The deaths of innocent people should never be a subject for "banter", that dreadful word which has come to cover a multitude of sins. The sad truth is that such vile chants inevitably lead to less column inches than a poor piece of refereeing. The story may not be a new one but, until the problem is eradicated, there is a duty to highlight it.
Some of the anti-Semitism of recent times has been more subtle. Daniel Levy, the Tottenham chairman, is constantly defined by his ethnicity. Whether he is being praised by fans for his shrewd business dealings or criticised for not splashing the cash, his Jewishness is regularly referenced online. Simply type the words "Daniel Levy" and "Jewish" into the Twitter search bar and you'll find hundreds of examples of people who think nothing of defining the man as little more than the lazy stereotype of a stingy Jew.
The problem stretches from the stands to the upper echelons of the game. In 2003, FIFA Senior Vice-President Julio Grondona claimed: "I do not believe a Jew can ever be a referee at this level. It's hard work and, you know, Jews don't like hard work." If this is a man trusted to oversee the future of the sport, it is hard to feel anything other than profoundly pessimistic.
Indeed, it would be wrong to suggest this is a problem unique to the British. In a Polish league game between Lech Poznan and Widzew Lodz in September, the home fans chanted: "Move on, Jews. Your home is at Auschwitz. Send you to the gas [chamber]!" A simple case of sticks and stones? Hardly, when one considers Lodz was home to 250,000 Jews on the eve of the Second World War and these days there are just 200. Despite this, a Polish municipal prosecutor in Poznan decided earlier this month that such chants are not criminal offences.
Anelka and the denier
One man who would doubtless approve is Nicolas Aneka's friend Dieudonné M'bala M'bala. The French comedian turned political agitator has described the remembrance of the slaughter millions of innocent people as "memorial pornography"; he has also frequently shared stages approvingly with Holocaust deniers - on one occasion presenting high-profile denier Robert Faurisson an "insolent outcast" prize, handed to him by an assistant dressed in a concentration camp uniform complete with yellow badge signifying Jewishness.
Dieudonné claims that his gesture the quenelle, a kind of inverted Nazi salute used in goal celebration by Anelka, is intended to be antiestablishment rather than anti-Semitic. What is not in doubt is that countless people have been photographed adopting the pose outside synagogues and, more shockingly, concentration camps. In such contexts, the gesture clearly has anti-Semitic overtones and Dieudonné has been banned from performing in his native country.
After scoring against West Ham at Upton Park last month, Anelka performed the quenelle gesture as "a special dedication to my friend Dieudonné". The striker has since refuted having any knowledge of the implications of his actions but, given he has admitted to be being a fan of the comic, this is akin to claiming to be a keen admirer of Hitler but only for his paintings.
The forward has refused to apologise for his behaviour, insisting "The meaning of quenelle is anti-system... I am neither racist nor anti-Semitic and I fully assume my gesture."The FA took almost a month to decide whether to charge the West Bromwich Albion player and, with Holocaust Memorial Day looming, one can only hope they send out a message and that the ban is a lengthy one.
West Brom's equivalent of a mea culpa made it very clear that they are more concerned with keeping their prize asset happy than appeasing those offended; the official club statement's description of the gesture as having "caused offence in some quarters" was a trivialisation at best and not becoming of a club with a pioneering attitude towards equality.
Trivialisation leads to casual acceptance. Players of certain football video games refer to a "Jew Goal", in which a player going one-on-one with the goalkeeper squares the ball to a teammate with an open goal. Such a method is viewed by some as a cheap way to score and thus the unfortunate moniker has emerged. The key to combatting these problems in football specifically and society more generally is education. People need to understand why such a term is harmful, the dangers of racism and where it can lead.
Holocaust Memorial Day takes place on the anniversary of the liberation of Auschwitz in 1945, a place it would not be hyperbolic to define as nothing less than hell on earth. Perhaps if those gamers, Anelka, his friend, the fans and the FIFA Senior Vice-President did a bit of reading and contemplated the unfathomable horrors of the Final Solution, football could be used as a force for good, just as it has in the past.
Thank you for reading 5 articles this month* Join now for unlimited access
Enjoy your first month for just £1 / $1 / €1
*Read 5 free articles per month without a subscription
Join now for unlimited access
Try first month for just £1 / $1 / €1