Why hiring Patrick Vieira is a bad move for NYCFC
The former midfielder may be well-regarded by the Manchester City hierarchy, but Jason Davis warns that he'll have to adapt quickly to be a success in MLS...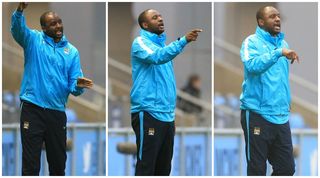 Nothing about New York City Football Club is conventional. Not in the Major League Soccer sense, that is; as an American team owned by an oil sheikh and based in the most visible city in the world, NYCFC is something new and strange in its resident context.
With that in mind, it shouldn't come as any surprise that NYCFC are choosing a path hitherto untaken by an MLS expansion team. One of the club's first moves was to hire one of the league's rising coaching stars, Jason Kreis, and send him to Manchester for a year. The sojourn was supposed to indoctrinate Kreis in the City way; that is, educate him in the methods that Manchester City use with the first team right down to the youngest players in the the club's academy.
At least Kreis can take that experience as a parting gift en route to his next job (and he will find one, we can be sure of that). With the former Real Salt Lake boss now gone, NYCFC are turning to a trusted coach who is already in the same system within which Kreis spent time trying to absorb the City way of doing things. Patrick Vieira, Arsenal legend and former World Cup champion with France, has stepped into the breach. Vieira won't need a year to get up to speed with the City setup – after all, the former midfielder was one of the men responsible for teaching Kreis in the build-up to NYCFC's launch.
Foreigners flounder
There's a lot working against Vieira. MLS is not a league known for being kind to foreign coaches. Of the 20 men currently occupying managerial positions in the league, only four were born outside the United States and Canada, and two of those – Oscar Pareja and Carlo Robinson – spent significant playing time in the countries. The remaining pair are Englishman Adrian Heath of Orlando City, another expansion club who finished out of the play-off places, and Scotsman Owen Coyle, who led the Houston Dynamo to an eighth-place finish in the Western Conference.
NYCFC 2015
MLS history is littered with coaches fresh from Europe and South America who have struggled to adapt to the arcane player acquisition rules, the insane amount of travel and the strange stadium conditions that come with coaching in the United States. Squads are rarely deeper than 14 or 15 players (a function of the arcane rules), making juggling line-ups through injury and international absence (another quirk of MLS – the league often plays through FIFA breaks) of paramount importance. Even with his experience of the league, Kreis had trouble getting the recipe right with a very unbalanced NYCFC roster. If Vieira is to succeed, he'll have to master that side of the job in rapid fashion.
Hiring the 39-year-old is therefore a significant risk for NYCFC. While Vieira will instantly command the respect of everyone at the club due to his long and distinguished career playing at the highest level of the game, his inexperience in a first-team setting guarantees a few hiccups. It's one thing to guide players when the results are secondary to individual growth, as he did while part of Manchester City's youth development structure and in his role as reserve team manager; it's quite another to take charge of senior professionals with the only mandate being to win.
Tough environment
City Football Group would be wise to have a rethink if they believe MLS is a nice, easy place for him to take the next step in his coaching education. The league has a way of punishing even the smartest football men (ask Ruud Gullit) if they don't have a proper appreciation of its strange ways, while it also does a disservice to the fans of the club to treat NYCFC as nothing more than a minor league outpost of the parent operation. Even if that's the way the CFG business is structured, the thousands of New Yorkers who have bought into the club in the Bronx deserve to have their team treated like a wholly independent and serious exercise. There's reality, then there's right.
Vieira himself is putting a lot of faith in the notion that NYCFC is the right place to go to improve as a coach and set the stage for his future career. It is to be hoped this is more than Vieira simply being a good company man, and that he appreciates Kreis lacked the proper support to thrive in the job: unless CFG is ready to back him to the hilt, he may very well suffer the same fate as his American predecessor. That is, if CFG doesn't apply a double standard to Vieira based on his pedigree and previous service to Manchester City.
There is no doubt that Vieira's long-term goal is management at a top club somewhere in Europe. To that end, the choice to accept the NYCFC post is an interesting gambit. If he succeeds, it will be in the strange, lesser-regarded environs of MLS, something that may not work to his advantage anytime soon. If he fails, meanwhile, then he failed in lowly MLS. There's no obvious winning situation for him, other than the joy of a new challenge and an opportunity, at the age of 39, that might not have been available to him anywhere else.
Short-term vision?
The appointment seems almost too easy, if such a thing can be viewed as a criticism. Vieira is available, already on the CFG payroll and anxious to take on the task of leading a senior team. After the investment in Kreis (reports suggest he was paid seven figures, an astronomical salary for a coach by MLS standards), CFG avoids a protracted search for a new man and gains the cache of Vieira's playing career. It's almost as if the philosophy used to sign David Villa, Frank Lampard, and Andrea Pirlo has been carried over to the head coach position.
NYCFC seemed to make the right choice for the long-term when they appointed one of America's brightest coaches for their inaugural season. They then failed to give that coach the necessary support and authority to meet their standards, however, and have now reversed course, bringing in a foreign manager with a known name but no first-team experience to speak of.
Vieira is certainly smart enough to succeed but, if he does, it will come against all the odds.
Thank you for reading 5 articles this month* Join now for unlimited access
Enjoy your first month for just £1 / $1 / €1
*Read 5 free articles per month without a subscription
Join now for unlimited access
Try first month for just £1 / $1 / €1
Get FourFourTwo Newsletter
The best features, fun and footballing quizzes, straight to your inbox every week.