Why the Premier League would be better if Chelsea hired Jorge Sampaoli
The bubbly Bielsa disciple is now the bookies' favourite to take over from Guus Hiddink at the end of the campaign. Blair Newman explains why the Premier League would be an even funner place with the former Chile boss in it...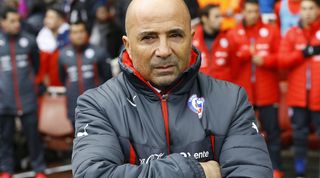 The Premier League is overflowing with a diverse mix of managerial characters. There's Manchester United's notepad-clutching Louis van Gaal, insatiably pursuing his three tenets of possession, possession and possession; Liverpool's Jurgen Klopp gurns his way around the touchline; Claudio Ranieri leads Leicester with a knowing smile; Tottenham's Mauricio Pochettino possesses the quiet, glazed expression of a man who could easily beat you up if necessary.
Soon Chelsea may add to this crazed assembly by appointing Jorge Sampaoli, the hard-staring, football-obsessed Argentine best known for his work in Chile.
Two days after stepping down as manager of the Chilean national team last Tuesday after a dispute with the FA, Sampaoli was installed as favourite to take over at Stamford Bridge at the end of this season. His most notable accomplishment was leading Chile to Copa America glory on home soil last year – the country's first-ever trophy – but he has yet to manage outside of South America.
So who exactly is he, and what would he bring to Chelsea?
A coach from young
Sampaoli turned his hand to coaching after his playing career was cut drastically short by a shinbone injury suffered at the age of 19. He began locally with clubs in Santa Fe, the Argentine province in which he was born, before his first major managerial opportunity came about in Peru with Juan Aurich. From there he passed through the doors of other Peruvian clubs before wandering on to Chile and Ecuador; it wasn't until he arrived at Universidad de Chile, however, that he would experience the now-familiar feeling of lifting silverware.
With La U, Sampaoli won three successive Chilean Primera titles. At one point during this spell, his team went 35 games without defeat. They also dismantled Brazilian giants Flamengo, Ronaldinho and all, 5-0 on aggregate in the knockout rounds of the Copa Sudamericana, a competition they then went on to win in 2011.
The manner in which Sampaoli guided the club to such impressive results was arguably more important than the results themselves, with his favoured brand of football leading to comparisons with Marcelo Bielsa. It was thus of little surprise that when Claudio Borghi – Bielsa's successor as Chilean national team manager – was sacked, Sampaoli was installed as his successor.
Heir to Bielsa
With little ado, Sampaoli began to re-imbue the Chilean national side with Bielsista principles, including high pressing in defence and fast, vertical football in attack. He brought in players from his time with Universidad de Chile, such as Eugenio Mena, Marcelo Diaz, Charles Aranguiz and Eduardo Vargas, and turned around the country's footballing fortunes. They qualified comfortably for the 2014 World Cup, where they reached the second round while playing some of the most exhilarating football in the tournament.
Before that competition, Sampaoli offered an insight into his philosophy. "The idea is to be the protagonist of the World Cup. Chile will not negotiate its style," he said. "If we believe that to become one of the national sides of the World Cup we have to depend on our individuals, we would be on the wrong path. Our chances are intact if we become strong collectively."
One year later that philosophy helped Chile to their first-ever Copa America success. Sampaoli was consequently nominated for 2015's FIFA World Coach of the Year, finishing third behind Luis Enrique and Pep Guardiola.
Stylistic dogmatism
Chelsea's search for a manager following the sacking of club icon Jose Mourinho appears to be taking them far and wide but, despite his recent success, there is something surprising and refreshing about Sampaoli being linked with the job. He lacks a track record in Europe, has experienced varying degrees of success in his club appointments and possesses an ideological clarity that many of his more esteemed peers eschew in favour of the hunt for trophies. Hence, for a results-oriented club like Chelsea, he doesn't appear to fit the bill.
Yet while he retains stylistic purity, Sampaoli has shown willingness to adapt tactically, at least on a systemic level. Depending on the prevailing circumstances, he has been known to alter formation from his preferred 3-4-3 to 3-4-1-2 or 4-3-1-2. In doing so, he has evidenced signs of the pragmatism required to operate effectively in the Premier League, a competition that so often lays waste to the experimental.
Chelsea have made some weird and wonderful managerial appointments in their recent history, but their ability to hire for the long-term has been consistently questionable: Luiz Felipe Scolari and Andre Villas-Boas, for instance, were expected to stick around for a concerted period, yet both were gone within a year.
The only strategic managerial choice that has worked for Chelsea of late was Carlo Ancelotti. Mourinho's second spell disintegrated at an alarming rate, while short-term picks such as Guus Hiddink, Rafael Benitez, Roberto Di Matteo and Avram Grant did fairly well – the Blues' two European successes this century came under 'interim' and 'caretaker' managers – but were never tasked with building anything for the future.
RECOMMENDED 
Creating a club in his image
The club's general inability to see out a project with one specific manager would seemingly make Sampaoli's appointment a risk. He would, however, probably come cheaper than some of the other managers on Chelsea's shortlist, which is said to include Diego Simeone, Massimiliano Allegri and Didier Deschamps.
A fizzing, 5ft 7½in pocket dynamo of a manager, Sampaoli is an effervescent motivator, constantly shuffling up and down the touchline and barking orders at his players. He isn't particularly tolerant of underperformance, individual onus or deep-lying defence. In this vein, certain Chelsea players would have to reassess their futures if he were hired; it's unlikely his high line would suit the likes of John Terry and Gary Cahill, while the abundance of playmakers, including Eden Hazard, Oscar and Cesc Fabregas, would have to fight for their place. Others such as Willian, Diego Costa and Pedro would probably fit right in with the Argentine's ideas of frenetic tempo and constant hard work.
Whether Sampaoli would succeed at Chelsea would be dependent on the club's acceptance of his vision and his ability to get it across to the players. Silverware or not, however, his frenzied enthusiasm would add an energetic presence to the Premier League's growing list of immersive managerial personalities.
RECOMMENDED
Quizzes, features and footballing fun
Get the best features, fun and footballing frolics straight to your inbox every week.
Thank you for signing up to Four Four Two. You will receive a verification email shortly.
There was a problem. Please refresh the page and try again.