How Hiddink helped fall guy Fabregas emerge from Mourinho malaise
The Spaniard has started pulling strings again since Guus Hiddink's arrival in December. Thore Haugstad uses FREE analysis app Stats Zone to assess Cesc's revival...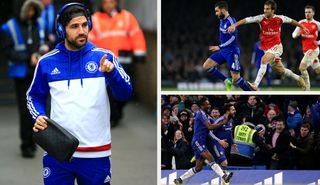 Cesc Fabregas could have been forgiven for feeling unwanted recently. Some 18 months ago, the Catalan playmaker was sold by boyhood club Barcelona, before antagonising Arsenal admirers by joining Chelsea. At Stamford Bridge he has since been booed, labelled a rat, and called a snake by people of his own club. Seemingly not welcome anywhere, Fabregas might have felt like a weary man coming home from work to jeers from his own family.
The dip in form hasn't helped. Since pulling the strings so deftly for Chelsea in the first half of last season, Fabregas has endured a forgettable few months in which he emerged as one of the symbols of the malaise under Jose Mourinho. At times he played as if weights were strapped around his ankles and, as simple passes went astray, you could understand why some suspected him of letting down his manager. Certain displays, like that at Tottenham in November, were almost comical of nature.
Though the decline started early last year, a comparison between his two seasons at Chelsea tell a story. He recorded 18 assists last campaign; he has three in this one so far. The number of key passes per game has declined from 2.8 to 1.5. Even more notably, the number of passes per game has crashed from 80.6 to 70.8, even though Chelsea have had 0.7% more possession. In short, Fabregas has become less efficient and less influential.
Little of this appeared to change after Mourinho left. Fabregas started off by being booed against Sunderland, was taken off at half-time against Watford, and then missed the trip to Manchester United through injury. Yet he has glittered in the last four games, and is now emerging as the driving force behind Chelsea's rejuvenating eight-game unbeaten run under Guus Hiddink.
Running the show
The revival appears to have started at Crystal Palace on January 3. With Nemanja Matic benched, Fabregas played next to John Obi Mikel, who has been restored to the line-up by Hiddink. Fabregas made the most ball recoveries and completed 93 passes out of 104, which represents a significant influence in any game: besides Mikel, who successfully hit 78 out of 82 passes, nobody else completed more than 55.
The game indicated that Mikel might be able to provide a steadier defensive platform next to Fabregas. Their contrasting responsibilities were evident, as Mikel's simple distribution and disciplined positioning helped Fabregas participate in phases of play all over the pitch. "Fabregas ran the show in the second half," said the Eagles' manager Alan Pardew. "We couldn't get near him."
At home to West Brom, the partnership continued. Fabregas was the top passer with 77/90 and offered signs of an improved defensive contribution as well, recording the most tackles (3) and ball recoveries (8) in the Chelsea team. More than once, Mikel merely left the ball to him, enabling him to create three opportunities and dictate the tempo.
A more direct impact was made in the 3-3 draw at home to Everton. This time Fabregas had the freedom of being covered by both Mikel and Matic, and used it to complete 69 passes that featured a lovely ball over the top for Diego Costa to convert. He then struck his first league goal of the season to level the score at 2-2.
Hiddink's secret
By now it was clear that something had changed. Hiddink said he felt his physical level had improved, but they had not told him to do individual work.
"We worked hard the last weeks in training... and as a consequence, physically, he's feeling very, very good," Hiddink said. "We didn't say 'go to the weights and lift 100kg'. The way we practice, emphasising a lot of interchanging of rhythm and pace of the game, made him also, in my opinion, physically sharp."
At the Emirates Stadium, Mikel and Matic played again, but Fabregas habitually dropped deep to start attacks, initiate runs and keep the ball moving. So many of the traits were back: the slick one-twos, the calming presence in possession, the measured forward passes, the one-touch deliveries. There were even a couple of dribbles on the occasions he surged forward.
The defensive work also continued to improve. Rather than loitering without possession, Fabregas dropped down to form a midfield five and made a series of interventions. By the end, he topped the game statistics for passes attempted (83), passes in the attacking third (25/37), tackles (6), ball recoveries (12) and fouls earned (5). Those numbers denoted a commanding midfield performance, and a player unrecognisable from the plodding figure of late 2015.
Calm and confidence
What's changed? Speaking after the game, Hiddink hinted towards the presence of Mikel and Matic. "He likes it when he can play and get the opportunity to play the creative part, and also with the boys who can recover balls as well," Hiddink said of Fabregas. "He can play well if the balance is right."
Fabregas himself had no clear explanation, but the change sounded like it had touched upon mental aspects. "I'm feeling very sharp, I think my brain is much quicker than the last few months," he said. "I struggled for a little bit, I don't know why, but the sharpness is back. Under pressure I'm much more in control, I'm not shaky, I'm not under pressure, but my team-mates made it easier for me. In the last year, I think I'm in the best form now." That much is clear. Over the last four games, he has averaged 77.25 passes, a figure more in line with that of last season. Most things indicate that he is close to returning to his best. And a Fabregas in form should be a wanted man indeed.
More features every day on FFT.com • Analysis
STATS ZONE Free on iOS • Free on Android
Quizzes, features and footballing fun
Get the best features, fun and footballing frolics straight to your inbox every week.
Thank you for signing up to Four Four Two. You will receive a verification email shortly.
There was a problem. Please refresh the page and try again.