Why the football in Ted Lasso looks better than in other shows
FourFourTwo speaks to Kasali Casal, the man behind the football choreography on the Emmy Award-winning Ted Lasso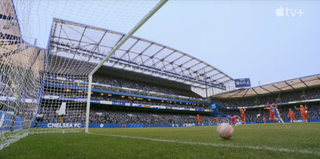 (Image credit: Apple TV+)
Former professional footballer Kasali Casal was pondering a role as the U16's coach for the Premier League's Fulham after suffering a career-ending injury, when an out of the blue 'phone call came and redirected his life in a completely unexpected way.
It was a good friend called Sophie Worger, who told him she was working as an assistant director on an Apple TV+ show (opens in new tab) called Ted Lasso.
"She said it was really big in the States, but I told her I had never had heard of it," recalled Kas, 35. "She told me it was a football show and they wanted to make the football scenes clearer and slicker and generally much more authentic.
"She knew that I had plenty of friends in football and asked whether I would be interested in helping them steer and guide the production team through the football scenes. I told her I'm not an actor, and asked if I would have any lines because that would have been a deal breaker and ruled me out altogether there and then!"
Kas had been working on his UEFA A license because a bad abductor muscle tear injury had cut short a promising career at Fulham as a left-back, left winger. He had joined the west London Club in the youth academy in 2003 and with his dual nationality played for Nigeria as well as having spells in the US with DC United and playing for teams in the Netherlands, Romania and Bulgaria.
The call from Sophie – who Kas now describes as an 'angel' – came in January 2020 when Season Two started filming. Most of the football scenes were filmed at the SkyEx Community stadium and ground of Hayes and Yeading Football Club in the Southern League Premier Division South and, importantly just a goal kick away from the West London Film Studios where the filming codenamed KANSAS was headquartered.
"I was invited down to the studios to meet the cast and some of the actors who are the players including Brett Goldstein, who plays Roy Kent and I really didn't know what to expect but they were so welcoming. The lads were absolutely amazing. People joked I will be very miserable because of all the hanging around. Very different from the sports industry I came from".
"I also met Chip Hamilton that day, one of the shows executive producers and one of the main heartbeats of all the greatness that happens day in day out on this production".
"It was just like joining one big happy family, the atmosphere was so harmonious, no big egos and everyone right down to earth and very cool. It was obvious that the culture had been created at the top with Jason and the production team, everyone was equal, no airs and graces and everyone had time for each other. They were so humble".
Jason sees everyone the same. He is polite and friendly, whoever you are and whatever your job is on the show. He is just so relaxed and chilled and he and Brendan made a fantastic team. I don't think they quite realised what a culture of friendship they created and that shines through in the show".
"I remember meeting Hannah Waddingham [who plays club owner Rebecca Welton] for the first time and she shook my hand and gave me a big hug like I was an old friend and asked what I would be doing on the show."
Initially, for Season Two of the multiple Emmy Award-winning show Kas was helping the 'supporting artists', or extras, that made up the opposition teams for AFC Richmond's games.
MORE LIKE THIS As Ted Lasso returns, here are the best fictional football teams ever
Kas's time as a professional had given him plenty of time to make good friends and he took his new opportunity to recruit some famous faces to join The Greyhounds including ex-winger Jermaine Pennant, 39, who made 350 league appearance for clubs including Liverpool, Arsenal, Wolves, Leeds and Birmingham City; Jay Bothroyd, 40 who played for Cardiff, QPR and Coventry as well as in Japan; and defender George Elokobi, 36, a former Cameroonian professional who played for Colchester United, Wolves, Nottingham Forest and Bristol City and is now interim manager at Maidstone.
Kas also roped in another friend, Lee Hendrie, 45, who spent 14 years in the Premier League with Aston Villa and played for England U21's as well as one senior England cap.
Kas was part of an elite trio that oversaw the football to make Brendan's vision come to life and teach skills, drills and tactical movements. "Brendan was very clear in what he wanted, so we wanted to make sure we did Brendan proud".
The trio included Daniel Parslow, who is Kas's partner in their sports talent agency Pro Identity, and director Pedro Romyani who directed the scenes in what became known as 'football blocks' at the Hayes and Yeading ground which was sealed off by tight security.
"Our trio was so strong, I couldn't ask for a better team. Daniel is so talented, there's nothing he can't do, and Pedro is an absolute genius. Daniel is like a brother and Pedro the favourite uncle".
When filming on Series Three – which begins on March 15 – began the creative team, Jason Sudeikis, who plays Ted Lasso and Brendan Hunt, who plays Coach Beard made it clear they wanted to 'step up' the amount of football in the show but also to ensure it was both realistic and high quality.
"The cast were incredible. They really wanted to be the best they possibly could be and even if they spent most of their day filming other scenes they would make time to do extra training. Their professionalism as actors made them want to be as good as they possibly could be as footballers. They really put the time in.
"Most of the cast had played football to some degree when they were young and some were very good and played at a high level. Everyone was amazing but I wasn't surprised because they really did apply themselves. They wanted to be their best on screen.
"They received their script and then said 'let's practice.' We had six football blocks and each block was a full week of filming and the actors and supporting artists were required from 7am until 6pm. It was hard work but they were all totally committed. Even if the weather was terrible, they would all be full of laughs and jokes on set every day.
As with most football clubs and players there were also plenty of high spirits and pranks. On one occasion one of the cast member's football kit was removed from his wardrobe with the costume team let in on the secret leaving the actor with no option but to run out half naked abusing everyone. "He was fuming for a few minutes but quickly saw the funny side of it as it was all part of the fun on set," said Kas.
Kas, as with everyone who worked on Series Three, has signed a binding confidentiality agreement which prevents the leaking of storylines or any new characters but it is already known that Ted's mother played by Becky Ann Baker will make an appearance as well as South African actress Jodi Balfour, who plays a venture capitalist and according to Twitter a big NBA coach or legend could be joining AFC Richmond when the show finally airs in March.
In keeping with this sentiment Kas adds intriguingly: "There is a lot more football in Series 3. It's really going to surprise so many people. The fans have been so loyal and supportive to the show that it's felt that if anything leaks it will ruin their enjoyment".
"There are some very emotional storylines for all the central characters, so many different angles and directions and the writing is genius, absolutely brilliant. The delays have been partly due to the care and attention given to the scripts and the storylines. They will not settle for anything less than perfection".
" I know people are not saying categorically that this is the last series but I can honestly say that I think the impact of Series Three will be so much bigger than the last two series that fans will love it so much they will be begging for another series or at least a big Ted Lasso movie. It's a blast from start to finish. They will be demanding it. I have no doubt the show will be back in some form or other. Series Three will win many awards, I am sure."
Kas's experience on the show has led to him and his brother recently forming their own production company, and creating a reality show called Second Chances around young, promising footballers, who may, for some reason, may have not had an opportunity or slip through the net, which he hopes will be launched later this year.
WATCH TED LASSO - Apple TV+ free seven-day trial (opens in new tab)
Thank you for reading 5 articles this month* Join now for unlimited access
Enjoy your first month for just £1 / $1 / €1
*Read 5 free articles per month without a subscription
Join now for unlimited access
Try first month for just £1 / $1 / €1
Get FourFourTwo Newsletter
The best features, fun and footballing quizzes, straight to your inbox every week.