Wilfried Van Moer: football's greatest comeback story you've never heard
Some feared the Belgium midfielder would never be the same again after breaking his leg against Italy at Euro 1972, explains Michael Yokhin – but he bounced back to take his revenge eight years later...
A glance at the results of the Ballon d'Or vote in 1980 might surprise you. Karl-Heinz Rummenigge and Bernd Schuster, champions of Europe with West Germany, came first and second, with third spot occupied by Michel Platini.
Who, though, is fourth-placed Wilfried Van Moer? It's a great injustice that most younger football fans haven't even heard of the former midfielder, and maybe never will. But with Belgium set to take on Italy in their Euro 2016 opener on Monday, now's the best possible time to fix that.
Van Moer's entire career can be summarised with reference to two crucial games against Italy. His rise as a youngster was halted by a cruel tackle against the Azzurri in 1972, but he unexpectedly came back against all odds eight years later to take sweet revenge in Rome and prevent the Italians from winning the European Championship on home soil. It was a scenario worthy of a Hollywood film; so, in fact, is his entire life.
Becoming the Little General
Van Moer was born in 1945 – just as the Second World War was about to end – as an unexpected son to a 45-year-old mother. At the time, the family were struggling to overcome a huge tragedy, with Wilfried's sister – whom he never met – recently killed when the Germans bombarded the town of Beveren.
Van Moer, in short, had so much potential that many thought he could develop into one of the best players of his generation
While football was Van Moer's sole source of pleasure as a kid, he never really dreamed of playing professionally. He was working as an electrician when Royal Antwerp scouts spotted him and made sure the club snapped him up, which turned out to be one of the best decisions they ever made.
Slim, diminutive and just 5ft 6in, Van Moer was the ultimate box-to-box midfielder – strong and fearless in the tackle, and full of energy and drive with the ball at his feet. Such was his incredible progress that he was voted Belgian Player of the Year in his debut season in the top flight aged 21. He soon became known as the Little General, partly because he resembled Napoleon Bonaparte but also due to his leadership qualities.
Numerous top teams tried to sign him, with Cologne particularly desperate to bring the young prodigy to the Bundesliga. Van Moer didn't want to play in Germany, though, and Standard Liege eventually won the race for his signature by outbidding Club Brugge in 1968, adding the midfielder to a talented squad that went on to win three league titles in a row.
The Little General was named Belgian Player of the Year twice more, in 1969 and 1970, and was superb as Standard defeated Real Madrid in the European Cup. He also starred for the national team at the 1970 World Cup in Mexico, scoring twice. In short, Van Moer had so much potential that many thought he could develop into one of the best players of his generation.
The coffee shop
By the time Belgium could celebrate their progression to the final four, Van Moer was in hospital
Then disaster struck. Belgium faced Italy in the quarter-finals of the European Championship in 1972, which was technically a qualifying game to decide who would compete at the four-team tournament proper.
The first leg at San Siro ended goalless, before Van Moer put the Red Devils ahead in the return leg in Brussels. But by the time Belgium could celebrate their progression to the final four, Van Moer was in hospital, a dreadful tackle by Mario Bertini leaving him with multiple fractures of the leg.
Belgium were forced to host the tournament a month later without their main star. Even more significantly, the widely held view was that Van Moer would never fully recover from the horrific injury. He left Standard in 1976 when his position as a starter was thrown into doubt, joining a small outfit called Beringen who spent most seasons battling against relegation. With his days looking numbered at the age of 31, Van Moer opened a coffee shop as he began to contemplate his post-retirement options.
BELGIUM GUIDE
Such thoughts proved premature. Three years on, when Belgium were in trouble in the qualifiers for Euro 1980, manager Guy Thys was persuaded by famous TV commentator Rik De Saedeleer to give Van Moer a call. "Your team doesn't have a leader," De Saederleer told Thys. "You need a guy like Wilfried."
A guy like Wilfried
The Little General was astonished to receive such an offer at the age of 34, and it wasn't easy to convince him to make a comeback. "I wasn't sure that my return would work out," he later admitted. "People could say that I am old and tired if we didn't win. But I was surrounded by good young players, and we started positively." 
He scored on his return, leading Belgium to a 2-0 win over Portugal. Two fine triumphs over Scotland followed, and Thys's side finished top of the group, pipping Austria by a point and making sure of a trip to Italy in the summer of 1980.
While many considered Belgium to be the weakest team at the tournament, they still possessed a promising squad that contained talented players such as Jean-Marie Pfaff, Eric Gerets, Rene Vandereycken and Jan Ceulemans. Van Moer soon became the side's most important figure, though, his passing as sublime as before and his leadership qualities clear for all to see.
After earning a surprising 1-1 draw against Kevin Keegan's England and beating Spain 2-1, Belgium required a point against Italy at the Stadio Olimpico to finish above the hosts on goal difference and qualify for the final at their expense.
Narrow defeat
That's exactly what they achieved. Van Moer may have played only 48 minutes before becoming too tired to continue, but that didn't matter at all – his was the sweetest revenge imaginable. The game ended goalless and Thys, who opted for very defensive tactics, joked: "We gave the Italians a taste of their own medicine."
And thus Belgium went on to play in their only final to date. It was a close affair, with favourites West Germany struggling against the motivated underdogs, and Van Moer brilliant as ever. Eventually, Horst Hrubesch completed a brace with two minutes to go, and Die Mannschaft won 2-1.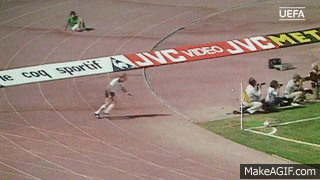 Horst Hrubesch nets a late winner agaisnt Belgium 
The current Belgian generation is arguably more talented than the crop from 1980, and they have the potential to reach the final again in France this summer.
As they prepare to face Italy on Monday, however, there's a feeling that they lack an experienced mentor on the field. There are no players older than 30 present in the squad (save for third-choice goalkeeper Jean-Francois Gillet, 37), and it's hard to avoid the conclusion that they'd benefit from a veteran leader like Van Moer.
Refinding the spirit of the Little General could be key to their chances of success.
FourFourTwo's guide to Euro 2016: who'll shine, and who to watch out for