Just how good is Wilfried Zaha? Welcome to a world where the numbers don't add up...
Crystal Palace's enigmatic winger terrorised James Milner at Anfield last weekend, and is emerging as a top target for Borussia Dortmund. But as Richard Jolly points out, his end product has left a lot to be desired this season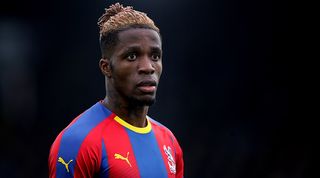 "World class," said Jurgen Klopp. He actually said it about three different players on Saturday. One, predictably enough, was Mohamed Salah. Another was runner-up to Salah in the 2017 African Footballer of the Year vote and Liverpool's Champions League final scorer, Sadio Mané.
So far, so undeniable. The third was more intriguing. The Liverpool manager named Wilfried Zaha. It was at once understandable and outlandish, perhaps both impartial analysis and a manager seeking mitigating circumstances for one of his players. Klopp described James Milner as "outstanding" in Liverpool's 4-3 win over Crystal Palace. The veteran was also sent off, dismissed for two fouls on Zaha.
Milner may be a makeshift right-back but specialists have struggled against Zaha. Kyle Walker was dropped from the Manchester City team after failing trial by Wilf. With him at his irrepressible best, Palace scored three goals at both the Etihad Stadium and Anfield. They proved prolific against two of the best sides on the planet. World class? Case closed.
Stats don't lie - or do they?
Except it isn't. If Zaha confounds defenders with his blend of speed and skill, he presents a challenge to anyone seeking to evaluate his contribution. How good is he? Good enough to eviscerate the two best defences in the country. And yet his Anfield assist, when he set up Andros Townsend for the opening goal, was only his second in 16 league games. He hasn't scored in that time.
Since striking against Huddersfield in September, Zaha has had 37 shots in the top flight, plus a further six in the FA Cup, without scoring. Over the season as a whole, his tally of three goals puts him behind Callum Paterson and Shane Duffy, and no one calls them world class – although interestingly, his xG for the season as a whole is only 3.48 according to Understat.com. His two assists are fewer than Ashley Westwood, Sean Morrison and Kyle Walker-Peters have mustered. He ranks joint-56th for goals and joint-60th for assists in the Premier League.
In isolation, those numbers are damning. Others highlight his indirect impact. No player has scored more penalties since the start of last season than Luka Milivojevic and, while some challenges on Zaha have gone unpunished, many others contribute to the Serb's haul. The figures show the difficulty of stopping Zaha; no one averages more dribbles per game, while only Eden Hazard is fouled more often. Zaha can feel at once impotent and unstoppable, an irresistible force who is curiously unproductive.
Big fish, small pond
He proved too great an enigma for David Moyes to understand during their ill-fated time together at Manchester United. The winger was granted a total of 28 league minutes in two cameos. If that's deterred Zaha from leaving his Selhurst Park sanctuary again, his scintillating form last season prompted understandable suggestions that, along with Riyad Mahrez, he was one of the two best players outside the top six.
Yet if he is a peer, he now appears an opposite. Zaha has a team built around him, shaping a lower-half club to his style like a quicker, less prolific Matt Le Tissier. He personifies Palace; perhaps no other player defines a club as much and perhaps he would not suit another as well – although strong links to Borussia Dortmund are certainly intriguing.
The wingers and flair players who aren't guaranteed a place at the top clubs feel his antithesis. Mahrez is averaging a goal every seven shots in the top flight this season and Xherdan Shaqiri one every 4.16. Tottenham have had an interest in Zaha in the past, but Erik Lamela has a goal every 5.75 shots and Lucas Moura one every 4.83. Each can be less conspicuous but more clinical.
None, arguably, can terrify a defender as much as Zaha in full flight. He has a capacity to wreak havoc without getting his due reward. Perhaps the essential failure is of Palace's strikers; in particular, and though he has been sidelined for much of this season, Christian Benteke. They ought to be able to capitalise on Zaha's capacity to exhaust and commit defenders, drag several out of position and serve as an incessant nuisance. Instead, Palace only have four league goals since the start of last season from Benteke, Alexander Sorloth (now departed on loan), Jordan Ayew and the oft-injured Connor Wickham.
A curious contradiction
Hence the strange situation where Zaha and Andros Townsend, players who each need a ruthless sidekick, can instead be paired with each other. Each has benefited from being unleashed in a freer role, but neither should be a team's premier goal hope (and there's a case for arguing that Milivojevic and Patrick van Aanholt are better finishers than either). They have been charged with filling a void and have done so idiosyncratically.
It isn't a pragmatic formula. Palace average a goal a game, but are the only side to score three against either Liverpool or Manchester City - and they've done it against both.
READ MORE
Like Zaha, Palace can prosper on lightning counter-attacks but score too few tap-ins. Like him, they seem at their best in the toughest away games, not the routine home fixtures. His unpredictability and ability give Palace a chance in any game, but so little end product they win too few.
And yet it's worth considering the words of the man who has constructed what promises to be one of the more frugal defences in Premier League history, and wonder if they could be applied to any other player outside the top six.
"You cannot defend him alone," Klopp said. "We had to defend Zaha with two or three players." It's the sort of respect afforded to a world-beater and the kind of treatment Salah is accustomed to receiving. Yet Wilf's world, with a lengthy goal drought and a list of defenders left trailing in his wake, is a strange one indeed.
Quizzes, features and footballing fun
Get the best features, fun and footballing frolics straight to your inbox every week.
Thank you for signing up to Four Four Two. You will receive a verification email shortly.
There was a problem. Please refresh the page and try again.