Win! A STATSports FIFA-approved GPS Performance Tracker, base layer and heart monitor
Find out why Messi, Ronaldo, Pogba, Neymar and more use the Athlete Series gear to improve their games – and how you can get your hands on it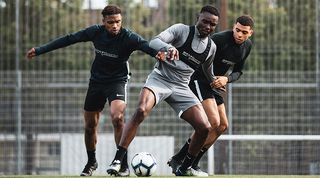 Manchester United. Liverpool. PSG. Arsenal. Juventus. Roma. Tottenham. Germany. England. Brazil. Lionel Messi. Cristiano Ronaldo. Neymar. Paul Pogba. Kylian Mbappe.
Football's elite might battle each other for honours each season, but the teams above all share one thing in common – trusting STATSports technology to get the best out of their players.
With their FIFA-approved intelligence, STATSports' GPS tracker measures hundreds of key metrics including total distance, maximum speed, number of sprints, step balance and even heat maps, all housed within their smart Athlete Series app. Perfect for recognising when a superhuman James Milner has smashed the pre-season tests for a fifth year running.
But there's good news – it's not just for the elite. STATSports' Apex Athlete Series GPS tracker (made up of performance pod, Apex vest and app) is available to amateur footballers everywhere. You can improve your game and avoid/recover from injury quicker with a mind-blowing array of data points to choose from, using that unrivalled insight to boost performance.
STATSPORT
Follow @statsports on Instagram, Facebook and Twitter
There are plenty of reasons why the elite love STATSports' tech – 16 of them, in fact. No other tracker on the market measures as many key metrics. And none are as powerful or as accurate.
And now you can get your mitts on it. STATSports are giving away an Apex Athlete Series GPS performance tracker, base layer and heart monitor worth a combined £299.98 – and all you have to do is answer a simple question via this form right here.
We want to know: Which STATSports client won last season's Champions League? It's as easy as that – just get your answer in before Thursday, August 22. (Head here for full terms and conditions)
To find out more about the Apex Athlete Series GPS performance tracker, head to https://statsports.com/apex-athlete-series/
Quizzes, features and footballing fun
Get the best features, fun and footballing frolics straight to your inbox every week.
Thank you for signing up to Four Four Two. You will receive a verification email shortly.
There was a problem. Please refresh the page and try again.