World Cup icons: Fabio Cannavaro fights through the media storm – and goes down in history (2006)
Despite being engulfed by scandal, Italy emerged victorious in 2006 – and their captain went down in history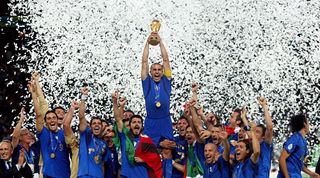 The press, crammed into the amphitheatre of Coverciano's lecture hall, had one thing they wished to discuss with Fabio Cannavaro. The 2006 World Cup was a fortnight away, but Italy's hopes were not what was on their minds.
The media had finally stumbled across the labyrinthine threads of a nefarious web of influence, spun by the Juventus general manager Luciano Moggi through the 400-odd phone calls he made every day. Into this s**tstorm, Cannavaro dumped some dismayingly ill-judged remarks. "I think the methods exposed by the phone-taps concern everyone, the whole of [Italian] football," he claimed. "Only Moggi's phone was under surveillance… other clubs were not tapped."
This was regarded as the classic retort of the red-handed culprit. Cannavaro failed to condemn Moggi and made vaguely supportive comments about his boss.
The raids
Italy's financial police had searched Cannavaro's house earlier in May, but come away empty-handed. Fabio now declared: "I won't give up the captain's armband. Why should I?"
The Italian FA unfurled its fire hoses. The day after the disastrous press conference, the official World Cup photography session was in full swing, replete with blue Dolce & Gabbana suits, and the World Cup song by veteran rockers Pooh was being presented. In the midst of it all, the Juventus defender was shoved back out in front of the media in an attempt to atone.
Six days earlier, an even more senior head had been on the block. Italy coach Marcello Lippi was cleared by magistrates of bowing to Moggi's requests to make sure fewer Juve players were selected for the World Cup in Germany, so that they might remain wrapped up in cotton wool over the summer.
With the entire Italy squad playing for Italian clubs, the atmosphere was febrile. For Gianluigi Buffon, yet to be cleared of illegally placing sporting bets, it must have been toxic.
After a brief respite, playing in Italy's final warm-up game against Ukraine in Lausanne, Cannavaro went to Rome to be questioned as a witness in the Moggi affair. Then on June 7, he travelled with the team to their grandiose lakeside hotel in Duisberg, but the rapturous welcoming fans turned angry when the players avoided them. Lippi wouldn't make the mistake of hiding again. "The official programme required that two of our players attend a press conference every day," he later wrote. "Before presenting themselves in the press room in front of the TV cameras and notebooks, every one of them asked me, 'But Mister, do we have to go?'"
"Certainly, you have to go," Lippi responded. "Let's front up, at all times, above all because we have nothing to hide and nothing to be ashamed of."
Halfway through a press conference the day after Italy had beaten Australia 1-0 in the last 16, a press officer told Cannavaro the news that Gianluca Pessotto, newly appointed Juve sporting director, had fallen from a fourth-floor window at the club's headquarters in an apparent suicide bid (Pessotto was not involved in Calciopoli, but had been suffering from depression).
Tragedy
A shaken Cannavaro quickly excused himself from the room, saying: "I'm stunned. Pessottino is the best man in the world." Pessotto had played alongside Cannavaro for Italy and Juve, and had been in the stands for Italy's final group game against the Czech Republic.
Alessandro Del Piero and Gianluca Zambrotta flew straight to his Turin hospital bedside while Buffon, in his blog the next day, wrote: "It's difficult, almost impossible at the moment to talk about football, about matches and about the emotions of a World Cup."
Two days later, he kept a clean sheet as Italy dispatched Ukraine 3-0 in the last eight, with Zambrotta scoring a sixth-minute opener in Hamburg. After the match, Cannavaro and the Juve contingent paraded an Italian flag painted with the message "Pessottino, we are with you" (he eventually made a full recovery from his injuries).
Perhaps noting how well the Azzurri played after every twist of the knife, the Italian FA's prosecutor Stefano Palazzi recommended his punishments for the clubs involved in Calciopoli on the day of Italy's semi-final against Germany. Juve, Milan, Fiorentina and Lazio were to be relegated (all but Juve would be reprieved) and the Old Lady stripped of their 2005 and 2006 titles – the only two Cannavaro won.
The defender has always denied Italy won the World Cup because they were inspired by adversity, preferring to dwell on Lippi's careful construction project. "Barely a month after the final, the media had stopped talking about that historic victory," Cannavaro complained.
But he wasn't forgotten. The football family awarded him the 2006 Ballon d'Or and FIFA World Player of the Year, while the Italian postal service put him on a stamp. A fitting tribute for Italy's captain, who delivered when his country truly needed him.
See also...
WORLD CUP 2006 Italy's band of brothers shrug off Calciopoli bombshell to win big
HALLO! Scuffles, handbags and headbutts mar Germany's showpiece at World Cup 2006
FEATURE When England's WAGS went wild in Baden-Baden – and took the blame forfailure
Quizzes, features and footballing fun
Get the best features, fun and footballing frolics straight to your inbox every week.
Thank you for signing up to Four Four Two. You will receive a verification email shortly.
There was a problem. Please refresh the page and try again.