Year Zero: the making of Roy Keane (Nottingham Forest, 1992/93)
He became synonymous with Manchester United, but the Irishman had really shown his special spark the season before signing. Nick Miller remembers his outstanding season at Nottingham Forest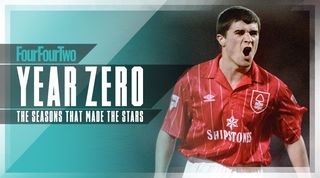 The thing people forget about the end of Brian Clough's career is that, in some respects, the decline was incredibly sudden. Of course, the underlying signs had been there for some time: the drinking, the even-by-his-standards erratic behaviour, the uncertainty in his decision-making. Some saw it coming; perhaps more should have.
But the season before Nottingham Forest's relegation and the end of Clough, they finished a respectable eighth in the First Division, reached the League Cup final and won the Zenith Data Systems Cup – not the most prestigious trophy, but a trophy nonetheless. The previous season they reached the FA Cup final. But from the very early days of the 1992/93 season, something was significantly awry.
Of Forest's best players, Teddy Sheringham and Des Walker had been sold, Stuart Pearce had injury problems and subsequently admitted his heart wasn't in the fight due to a dispute with the manager, while Nigel Clough was distracted by the uncertainty over his father's future. Indeed, his son was one of a few family members who'd urged him to retire a year earlier.
One shining light
Despite this, the prevailing narrative that season was that Forest, a side managed by the great, omnipotent Brian Clough, could not be relegated. Surely a club with such pedigree was, as in the cliché, too good to go down? As it turned out, that was only true for one player.
When Roy Keane was a 14-year-old playing football in Cork, he sent letters to a selection of English clubs asking for a trial. Few responded, but Forest were one of them. They turned him down, but said if he was any good they would spot him when he turned 18. So, when in 1990 a scout called Noel McCabe saw him playing for Cobh Ramblers, they signed him for £47,000.
Keane made an infamous debut against Liverpool a short time after arriving. Having enjoyed a few drinks the previous evening, he travelled up to Anfield with a hangover, not really helped by Clough's insistence that he skulled a pint of milk on the way. Ostensibly this didn't matter too much, as he was only going for the experience, but when they got to the ground Clough put him in the team on the right wing. So new was this fresh-faced young Irishman that he had to introduce himself to most of his team-mates. During the game John Barnes, having been on the thick end of some prototype Keane reducers, asked the 19-year-old just who he thought he was. "Fuck off," came the pithy reply. He was pretty much a regular from that point.
"Roy was a bit different in that respect," Liam O'Kane, Forest's first-team coach for the last decade of Clough's reign, tells FourFourTwo. "You expect lads who got into the team so young to have a dip at some point, and you'll need to take them out of the firing line, but he went from strength to strength. He just seemed to settle in so quickly."
For the next couple of years, Keane split his time between establishing himself as one of the best young midfielders in England, and an assortment of bars and clubs in Nottingham and Cork. Nights out didn't tend to feature a quiet few pints and a discussion of the human condition; more a loud, large number of pints and more often than not, aggro of some kind.
Keane became well acquainted with the bouncers of the Black Orchid, a strange, vast nightclub in an industrial estate on the edge of Nottingham, which later changed its name to Isis. Fortunately for all concerned, it closed in 2009 before the name became... shall we say, a PR issue. He also managed to get himself barred from assorted pubs in town, including one called the Stage Door – a pretty impressive achievement given that the landlord was Larry Lloyd, a member of Forest's European Cup-winning team.
But while the drinking wasn't entirely knocked on the head, by 1992 he had settled down a little, moving out of his digs and to a house in Scarrington, a village about 10 miles from the City Ground. He had met Theresa, the woman who would become his wife, and by 22 had become one of Forest's senior players.
This was even more pronounced because of the state of the squad around him. With Walker and Sheringham not just gone but inadequately replaced, Pearce injured and distracted, Keane and Clough Jnr became the only two players of reliable quality in the team.
Roy of the groaners
From the early weeks of the season it was clear that Keane, already a fine player, had matured into something close to the great one he eventually became. His ability stood out even further because of what surrounded him: a slowly decaying team and club that, despite the common consensus at the time, was circling the drain. They won their first game against Liverpool, Sheringham scoring a farewell present of a goal, but managed only two further victories before Christmas – the second of which was a 4-1 success at Leeds, inspired by a Keane brace.
Search through newspaper headlines from that season and you will find a common theme: 'Keane's quality lifts Forest'; 'Keane earns vital point for Forest'; 'Keane shows his worth'; 'Keane power fires Forest'. Clough wrote in his memoir Walking On Water: "Roy Keane shone like a beacon through all the gloom of that desolate season… the confidence of the young players dipped. Scot Gemmill's goals dried up. My son Nigel had a thin time too. Only Roy Keane was doing his stuff regularly."
"I just try to keep out of the limelight if I can," Keane told the Observer halfway through the season. "I don't want to be Gazza. I haven't even thought about Italy or anything like that. I'm concentrating on Forest's next match, not Milan. I just want to be in the first team, have a good game and get a win."
He managed plenty of the former but not many of the latter. Keane was not only Forest's best player that season, but he was their best player in about three different positions. In central midfield he was a sensational box-to-box man, doing the work of at least two men because, well, he had to. The other midfielders at the club were rather limited, but for a lot of the season, Keane was pressed into duty in central defence.
Clough was still desperately and unsuccessfully trying to fill the gap left by Des Walker's departure the previous summer, and Keane was the solution for big chunks of the campaign. Keane excelled, and the plan worked initially: during a five-game spell at the back in October, Forest conceded only two goals.
Too good for centre-half
But Keane grew restless. "It was almost that it was too easy for him [at the back]," says Liam O'Kane. "He wanted to be more involved in midfield. He was a great header of the ball, had a great spring, so he could have played centre-half all season. But it was a bit easy for him, so we put him back into midfield."
A corollary of Keane playing at the back was that Forest suffered from 'short duvet' syndrome: as they pulled up the covers to keep their chest warm, their feet got cold. Nigel Clough was Forest's top scorer that season with 13, three of which were penalties, and Keane, despite spending about a third of the season at the back, scored eight. You could argue that he was Forest's best defender, most effective midfielder and most potent attacker.
Watch his goals for Forest and you'll see a pattern; this rampaging colt bursting from midfield past the last defender and slotting home. Later in his career, Keane scored goals through a knack of arriving in the box at the right time, but in the early days he was more sinew than nuance.
"Whatever position you played him, he was the best player," Stuart Pearce said recently. "He used to play central defence, central midfield... wherever you wanted to play him, he was like the best kid at school. He could play anywhere."
All of which, inevitably, made him a regular in the rumour columns. "I knew other clubs had taken note of his outstanding talent," wrote Clough. "They'd have been blind not to see it." Indeed, other clubs were looking at him. Kenny Dalglish had been in touch about taking him to Blackburn, and there was talk of Arsenal and Milan being interested too. Ron Atkinson, then Aston Villa manager, said: "He's the one player who could make us favourites to win everything."
Keane's contract became a constant topic of discussion, as he attempted to secure a deal that would better reflect his status as the only positive in this wreck of a season. Negotiations, which were conducted by Clough's assistant, Ron Fenton, continued for some time – to the point where it became a source of disgruntlement not just in the stands but the dressing room too. Eventually, Pearce had to tell the rest of the players that Keane deserved to get the best deal he could, and to stop whingeing, particularly as all of this had not impacted his performances on the pitch.
Keane did cause a little consternation after scoring against Southampton in the FA Cup, wheeling away and kissing the badge on his shirt in celebration. For a player few expected to be at the club beyond the end of the season, it seemed false, but in Keane's mind it was just a way of showing that he was still committed, despite the uncertainty.
Still, Clough had to take a public stance. "Keane is like a kid who wakes up on Christmas morning," he said, "and finds an apple, an orange and a box of Smarties in his stocking. He wants more." But ultimately the deadlock was broken when Clough wandered into a negotiating session and said: "Give him what he wants, Ron." What he wanted was a decent pay rise and a signing fee, but crucially a clause that would allow him to leave if Forest were relegated.
That secured, Clough took the Forest team for a short break in Jersey, where Keane showed that, while his worst excesses had perhaps been curbed, he could still sniff out trouble. In the bar of the hotel where Forest were staying, Keane and some others had settled for an afternoon session when a woman approached him and asked if he would contribute to a charity fundraiser in which the underwear of famous people was auctioned off.
Keane wasn't keen for his grundies to go under the hammer, but his offer of a signed Ireland shirt instead was given short shrift. From there an argument ensued, which culminated in the woman throwing a gin and tonic over him, Keane returning fire with a pint of ale, and the woman's husband objecting to the tune of a tussle on the floor of the bar.
"I love you, Irishman"
Keane was sent home and fined, but it was interesting that antics like this never seemed to dim Clough's affection for him. A couple of years earlier, on an occasion when Clough was in one of his more irascible moods, he stalked around the dressing room offering a different insult to every player: accusations of laziness and complacency were tossed around, while he told goalkeeper and staunch Yorkshireman Mark Crossley to "buy a house in Nottingham or fuck off and play for Barnsley". When he reached Keane, Clough said: "I love you, Irishman." As O'Kane says: "When all's said and done they admired each other."
The end was nigh, though. A good January and February in which Forest won five and lost only two of their eight games (with Keane largely in midfield) turned out to be a cruel splash of false hope. They won just two more games, and by the end of April the writing was not so much on the wall as spray-painted in 10-foot high letters.
Had Forest lost to Arsenal with three games of the season remaining, relegation would have been confirmed. It seemed fitting that Keane scored the goal that earned a point and delayed the inevitable, which came in the next game against Sheffield United. He had done everything possible to prevent their certain doom, but one player alone – even one as exceptional as Keane – cannot drag a rotting team away from failure.
MORE YEAR ZERO
David Beckham (1996/97)
There was a certain symbolism to Keane being such a force in what would turn out to be Clough's final season as a manager. One of the defining factors of the manager's success was the ability to shape previously unknown talent into a brilliant team. For the most part, Peter Taylor was the scout of the two, and the success rate declined after he left in 1982, but Clough still found the odd gem and Keane was the last of them.
After the season ended came the saga of Keane's departure from Forest. A deal was agreed with Blackburn for £4 million, Keane gave his word to Kenny Dalglish that he would sign, but by the time hands were shaken the Blackburn admin staff had gone home for the weekend. That Saturday, Alex Ferguson intervened. After a lot of haggling between Manchester United and Forest, plus a phone call from Dalglish featuring language that would make a docker blush, Keane began 13 years at Old Trafford.
It was there he truly achieved greatness, but that final year at Forest was when he showed he was capable of doing so.
Thank you for reading 5 articles this month* Join now for unlimited access
Enjoy your first month for just £1 / $1 / €1
*Read 5 free articles per month without a subscription
Join now for unlimited access
Try first month for just £1 / $1 / €1