Arshavin demands threaten Arsenal move
LONDON - Andrei Arshavin's move to Arsenal is in danger of collapse because of the player's refusal to reign in his financial demands, Zenit St Petersburg general director Maxim Mitrofanov told Reuters on Tuesday.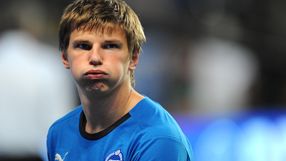 Mitrofanov said the clubs had agreed a 15 million pounds ($21.17 million) transfer fee for the Russian playmaker but the deal now hinged on Arshavin making a financial compromise to settle the repayment of half the bonus he received for signing a four-year contract in 2006.
Zenit want the player to repay it himself or to take a lower salary from Arsenal to enable the London club to add the amount to their offer to make up the agreed transfer fee.
"I think that we are very close to a deal, we really want to sell him but I hope the player can forget about the huge sums of money he is asking for and I hope he can find a compromise," Mitrofanov told Reuters in a telephone interview.
"Unfortunately the player has taken the position that he does not want to compromise with either club.
"We have written again to Arsenal and we understand their position. We really want to sell him but it is up to the player to make a step."
The weak pound has also played a part in the deal stalling, as an Arsenal offer of 12 million pounds last year was worth 18 million Euros to Zenit, whereas now it is only around 12 million.
"That is not enough for us to be able to replace him," Mitrofanov said.
Arshavin, 27, caught the attention of the big clubs when he helped Zenit to the Russian title in 2007 and the UEFA Cup last season when he was named man of the match in the final.
After missing the first two games of Euro 2008 through suspension his visionary play and incisive passing helped transform a sluggish Russia team as they stormed to the semi-finals, taking the prize scalp of the Netherlands along the way.
Since then he has been linked with moves to several clubs, including Barcelona and Tottenham Hotspur, but the deals failed to materialise.
Asked if he thought the move could be settled by Monday's final day of the transfer window, Mitrofanov said: "I don't know but I worry the deal might not be done. I hope he can find a compromise but he wants too much money from Arsenal.
"I've spoken to him personally and told him we are ready but it is his decision. Is it his dream or is it just a question of money?"
Earlier on Tuesday Arsenal manager Arsene Wenger said that no fee had been agreed.
"There is no news about Andrei Arshavin," he told a news conference ahead of the club's Premier League game against Everton on Wednesday.
"I believe that we are not close to concluding any transfer, Arshavin or anybody else. Time is getting short and at the moment I am more focused to win the game tomorrow.
"I cannot be responsible for the statements that other clubs make. Zenit look to have different voices coming out of the club and I'm not sure if it is always the official voice."
ARSENAL FANS! Check FourFourTwo.com's ever-expanding interviews archive for more stuff to read:
Web Exclusives Patrick Vieira, Cesc Fabregas
Q&A Theo Walcott, Cesc Fabregas
One on One Arsene Wenger, Thierry Henry, Ian Wright

Thank you for reading 5 articles this month* Join now for unlimited access
Enjoy your first month for just £1 / $1 / €1
*Read 5 free articles per month without a subscription
Join now for unlimited access
Try first month for just £1 / $1 / €1