Everton fans set to stage sit-in after game against Southampton, in protest against owner Farhad Moshiri
Uncovering why Everton fans are protesting against the owner, and what Moshiri himself has said about the staged sit-in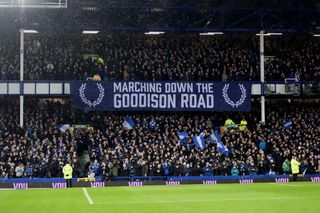 (Image credit: Getty Images)
Everton fans will stage a sit-in protest after their game against Southampton at Goodison Park on Saturday, after becoming increasingly frustrated with the club's board in recent years amid the team's poor performances on the pitch.
Fans on social media and official supporter groups have set up the "All Together Now" campaign, which is urging owner Farhad Moshiri to make necessary changes in the club to make the team more competitive on the pitch.
The coalition of groups believes Moshiri isn't acknowledging the concerns about Everton's direction, as they face yet another relegation-threatened campaign.
Indeed, Everton are currently 18th in the Premier League, with their game on Saturday against bottom side Southampton. Lose, and their position in the relegation zone could become even more precarious.
Manager Frank Lampard faces an uphill battle in turning the side's fortunes on the pitch around - they are winless in eight games and staring at the very real possibility of relegation.
Consequently, fans will stage a sit-in at the end of the game, regardless of the result, believing it necessary for Moshiri to take notice.
Why are Everton fans staging a sit-in?
A statement (opens in new tab) released on the website of the NSNOW fan group said: "The campaign calls on Farhad Moshiri to make sweeping changes at Chair, board and executive levels. It demands he brings in competent, experienced professionals who can reverse the club's decline and make the necessary changes to make Everton competitive once more.
"Immediately after full-time, Evertonians from all areas of the ground will join in a large-scale sit-in which will highlight Farhad Moshiri's failure to change and strengthen Chair, board and executive positions at the club.
"The sit-in will feature numerous crowd-funded banners calling for change."
Of course, the coalition clarified that it will still give its full support to the team during the game, only voicing their concerns after the full-time whistle has sounded.
Supporters previously chanted for changes to Everton's hierarchy during their 4-1 defeat by Brighton and as they were knocked out of the FA Cup by Manchester United, but it they now believe this is the necessary course of action.
"Since the Brighton home defeat [4-1 on January 3], there has been a widespread realisation and agreement that it is only Everton fans, as true custodians of the club, who can force Farhad Moshiri to make the changes necessary to rescue Everton," the statement added.
"We will continue to provide the team and manager with the backing Evertonians are renowned for. However, we can no longer tolerate the failure of the club's owner Farhad Moshiri to address the glaring leadership deficiencies at the at the Chair, board and executive levels.
"Six years ago, in January 2017, Farhad Moshiri talked of 'a narrow window of opportunity'. Facing two successive relegation battles that window has all but closed. Only sweeping leadership changes can offer any prospect of his window of opportunity re-opening."
Since that statement the coalition refers to in January 2017, Everton have spent over £500 million on transfer fees. Moshiri has also funded a further £500 million for the club's new stadium, which they will move into in the next few years.
However, some fans don't believe the money has been well-spent, culminating in this sit-in on Saturday.
Recently, Everton completed a strategic review of football operations, leading to changes in staff across the club, both on the pitch and off it. They also created the club's first elected fan advisory board, in an attempt to improve communication with supporters.
What has Farhad Moshiri said about the Everton fans staging a sit-in?
Moshiri has responded to the statement released by the "All Together Campaign" backers, sending an open letter describing the situation in the club right now and the respect he has for the supporters.
"As the majority shareholder and proud custodian of Everton, I have the utmost respect for the support of Evertonians. I am also fully aware and understand the concerns that fans may have," Moshiri said.
"I hope through my two open letters to fans in the last 12 months I have provided clarity on my position, commitment and the direction of the club. I trust that you also agree that the club operates a well-structured and ongoing dialogue with not only the Forum, but also the Fan Advisory Board, the Supporters' Club Committees and the many other fan groups that form the most robust fan communication network of any club in the Premier League."
Blues supporters often criticise their owner's trigger-happy approach and, addressing fans on Wednesday night, Moshiri accepted 'stability must be the key to progression'.
Addressing concerns that the club is too often in a state of flux, with no clear direction, Moshiri accepts that "stability must be the key to progression."
"In almost seven years since my arrival at the club, I have significantly increased my investment and our new stadium has become reality.
"We regularly review our performance and initiate change where we feel that the club falls short of standard.
"This has meant that we have seen turnover in managers, Directors of football and several board members, but always as we have striven to achieve success. Whilst, in virtually every instance, change has been supported and encouraged by fans, stability must be the key to progression."
Thank you for reading 5 articles this month* Join now for unlimited access
Enjoy your first month for just £1 / $1 / €1
*Read 5 free articles per month without a subscription
Join now for unlimited access
Try first month for just £1 / $1 / €1
Get FourFourTwo Newsletter
The best features, fun and footballing quizzes, straight to your inbox every week.
Ryan is a staff writer for FourFourTwo, joining the team full-time in October 2022. He first joined Future in December 2020, working across FourFourTwo, Golf Monthly, Rugby World and Advnture's websites, before eventually earning himself a position with FourFourTwo permanently. After graduating from Cardiff University with a degree in Journalism and Communications, Ryan earned a NCTJ qualification to further develop as a writer while a Trainee News Writer at Future.