FourFourTwo meets Lucy Clark, the world's first openly transgender football referee
In August 2018, Lucy Clark became the world's first openly transgender referee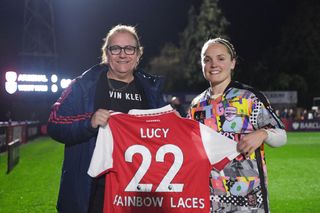 (Image credit: Getty Images)
Every referee worries about being abused from the stands. But while the majority of officials accept that their on-field decisions will be the cause, Lucy Clark feared her very identity would become the issue.
This was back before 2018, when Lucy was publicly known as Nick – an ex-footballer-turned-referee who'd run the rule over hundreds of non league matches during her career. Lucy had always felt at home walking out onto a pitch – the problem was, she felt trapped inside a man's body.
"I didn't think football would accept me, being transgender," the 51-year old explains to FFT now. "I thought I had to give it all up. The 2017/18 season would be my last."
So desolate was the devoted Sutton United supporter about the prospect of putting down her whistle for good, she even attempted to take her own life. The agonising episode ultimately acted as the wake-up call she needed to stick to her passion.
"I had a heart attack at Christmas," she recalls. "And while recovering in hospital, I thought, 'You only get one life. Why should I abandon something I love just because of who I am? So, I decided to continue refereeing and the rest, as they say, is history."
In August 2018, Lucy Clark became the world's first openly transgender referee – recognised by the Guinness World Records – by overseeing QPR Women Reserves against Parkwood Rangers. Complete with pink whistle, the taxi driver was lauded by both sets of players.
"I'm not quite ready for the FA Cup final but it was great!" she beamed afterwards.
The Surrey resident, who has three kids, has officiated in excess of 500 games since her first public outing as Lucy, with largely positive experiences to look back on. Her ambition now is to help others feel more comfortable in their own skin.
VIDEO: What's your craziest prediction for the season?
She founded Trans Radio UK, from which a transgender helpline (TRUK Listens) and all-inclusivity football team (TRUK United) have emerged. Lucy also serves as player-manager of the side who will compete in the Gay Football Supporters Network league this season, with matches staged across the UK and accessible to anyone.
"We'll keep trying to offer chances to play football for people who thought they'd never play again," she says proudly. "Nobody shouldn't play just because of their sexuality, religion or gender identity. Don't give something up solely because of how you think others will perceive it."
Lucy found out the hard way but she's been rewarded for her courage, reaping the benefits for herself and also the entire LGBTQIA+ community.
Lucy was speaking to FourFourTwo at the National Football Museum where she's donated several personal items
More stories
Everything VAR officials said during incorrect Andre Onana penalty decision vs Wolves, as audio is released.
FourFourTwo discusses how the Glazers have set Erik ten Hag up to fail, while also looking at why it makes perfect sense for Liverpool to sell Mohamed Salah this transfer window.
Thank you for reading 5 articles this month* Join now for unlimited access
Enjoy your first month for just £1 / $1 / €1
*Read 5 free articles per month without a subscription
Join now for unlimited access
Try first month for just £1 / $1 / €1