Frank Lampard admits he might not get time to turn the situation around at Chelsea
The Blues boss is under pressure after winning only one of his last six matches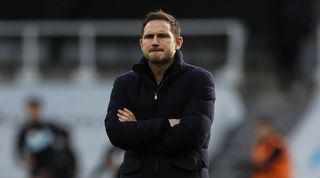 (Image credit: PA)
Frank Lampard has admitted he is under pressure to turn results around at Chelsea.
The Blues boss has come under fire in recent weeks, with the Blues having won only one of their last six games.
That run has seen Chelsea (opens in new tab) slip from top spot down to ninth place in the Premier League table.
And ahead of Sunday's FA Cup third-round clash with Morecambe, Lampard has acknowledged that he needs to get things right quickly.
"I've sat here in the last year to 18 months and talked about how joined-up the club is and the decisions we were making last year," Lampard said.
"We couldn't bring in players. We lost our most important player (Eden Hazard, who joined Real Madrid).
"The young players coming through were developing. We're understanding that might not be a straight line but more of a bumpy curve. We went through last season that way and in the summer we brought in players. I can only talk about how I see it. I'm the one working with the players.
"We have a young squad and new players coming in, so when people want to talk about us having the strongest squad, one month ago, the reality is that we had a squad of players, some of them new, and they have not performed at levels in previous years to win you titles. That was my feeling.
"If you look sideways and upwards at teams winning titles at the moment they had players who produced record numbers of goals, front-threes, frontlines that produce numbers.
"We have absolute talent in our squad – no doubt about that – and I hope and expect that with work our guys can develop into those sorts of players but we're not there yet. That's why I said that.
"Patience, fine. I don't think patience is something I can talk about in football, that's not my prerogative and those decisions are never mine.
"My decision is to wake up every day and try to get that tiny bit of improvement every day within the squad, but understand and have a calm head about the fact that some days football won't allow you just to cruise through.
"It will give you tough moments, so when I'm saying that we are not a finished article, I think I'm stating pretty much a fact, but what is important is you stay very together - talking about me, staff and players - in tough moments.
"And they are challenging, but when we think about it we had 16 games unbeaten, we've lost four games out of six, we won one and drew one out of the others, and that's a statement of fact.
"Now we have to say, 'OK, can we get back to the basics that got us 16 games unbeaten?' and then can we build further on that because that's our real desire - to get better. I don't need to deal too much in the words of patience because those things will be out of my hands."
NOW READ
FEATURE 8 players Mauricio Pochettino could sign at Paris Saint-Germain (opens in new tab)
TRANSFERS Who every Premier League side needs to sign this January (opens in new tab)
FEATURE Every Chelsea manager of the Roman Abramovich era: where are they now? (opens in new tab)
Thank you for reading 5 articles this month* Join now for unlimited access
Enjoy your first month for just £1 / $1 / €1
*Read 5 free articles per month without a subscription
Join now for unlimited access
Try first month for just £1 / $1 / €1