"I had no choice" – former Leeds defender Tony Dorigo explains why he had to play for England instead of birth-nation Australia
Dorigo made 15 appearances for England, and was part of the Three Lions' Italia 90 squad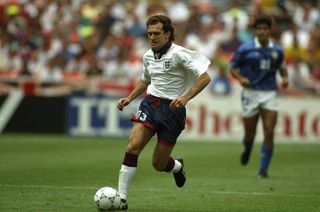 (Image credit: Getty)
For some people, the idea of pulling on an England shirt and representing the Three Lions at a major tournament is the stuff of dreams. But, for former Aston Villa, Leeds, Chelsea and England defender Tony Dorigo, it was a necessity.
While Dorigo admits to loving every second he represented England, he actually had no choice in the matter, after being told playing for his birth-nation was out of the question by his club.
"It was difficult – I ended up feeling I had no choice," Dorigo tells the latest issue of the magazine (available to buy). "Australia asked about my availability when I was 18; they wanted me to go Down Under and play against the likes of Fiji and Samoa. I went to see Tony Barton, the Aston Villa manager, and explained all of this to him and said I'd love to play for Australia. He basically told me, 'No, you're not doing it'.
"The international calendars weren't aligned and there was no legal requirement for the club to release me. The power wasn't with the players then. I was really disappointed, but I simply got on with my job at Villa Park."
Thankfully, Dorigo's hopes of one day playing international football were salvaged when adopted nation England came calling in 1989.
"After qualifying for citizenship, England were keen for me to get a British passport and play for them," Dorigo tells FFT. "It was strange – the press always referred to me as 'the Aussie-born England player', but the boys were brilliant. The longer I've lived in England, the more I've felt part of things.
"It wasn't the perfect situation, but everyone to do with England was incredibly welcoming. I made the best of it. Of course, you never quite lose your Aussie accent, and I never will. It's nice to retain that."
Thank you for reading 5 articles this month* Join now for unlimited access
Enjoy your first month for just £1 / $1 / €1
*Read 5 free articles per month without a subscription
Join now for unlimited access
Try first month for just £1 / $1 / €1