Rafa reignites feud with Blues boss Moyes
Liverpool manager Rafael Benitez has gone to war with yet another Premier League manager, after accusing Everton of negative tactics during their FA Cup Fourth Round draw on Sunday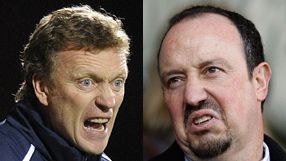 Benitez was unhappy with the Toffees' approach during the 1-1 draw at Anfield - the second in a week following a similar stalemate in the Premier League.
"One team was trying to win and the other team was trying not to lose," Benitez said. "They were coming for a draw, we were trying to win. It is hard against a team with 10 players always behind the ball. I have never played like that here."
Everton boss David Moyes, on the other hand, was pleased with his team's performance, rejecting Rafa's accusations that the Blues - who took the lead through Joleon Lescott - had played for a replay.
"I have never gone anywhere looking for a draw," he said. "I may have taken one in the end. We had a lot of players out and Liverpool had all their players available. We did not have the physical capabilities within what we had to do anything different."
Before kick-off, Moyes had attempted to stir up an already fragile Benitez by hinting that at least he had control at his club, unlike the Liverpool gaffer.
"The chairman and me make decisions," he said. "The chairman would never do anything without my agreement. It's important for managers to have control. It is something you earn by how you work within the club and how you deal with people.
"We do things with a bit of dignity here at Everton. Liverpool is a great football club but Everton do things with dignity and style."
Tension between the two bosses stretches back a year, after Benitez branded Everton a 'small club' prior to a 0-0 draw at Anfield.
And after Rafa's recent rant against Sir Alex Ferguson, it appears the Reds boss isn't overly concerned with making friends among his his fellow managers as Liverpool aim to secure the Premier League title for the first time.
EVERTON FANS! Check FourFourTwo.com's ever-expandinginterviews archivefor more stuff to read:
Perfect XI Graeme Sharp
What Happened Next? Norman Whiteside
Plus Graeme Sharp on Weekend Wonders (opens in new tab) and Everton on Talentspotter (opens in new tab)
(opens in new tab)
LIVERPOOL FANS! Check FourFourTwo.com's ever-expanding (opens in new tab)interviews archivefor more stuff to read:
Web Exclusives Ian Rush, Craig Johnston
Q&A Steven Gerrard, Fernando Torres
One on One Michael Owen, Nicolas Anelka, Kevin Keegan
Boy's A Bit Special Danny Guthrie
Ask A Silly Question John Barnes, Peter Crouch, Luis Garcia, John Aldridge
Perfect XI Jamie Carragher
What Happened Next? Julian Dicks
And Another Thing Being a Big Four fan
Plus! Rate Liverpool players (and others) on Talentspotter (opens in new tab)
Thank you for reading 5 articles this month* Join now for unlimited access
Enjoy your first month for just £1 / $1 / €1
*Read 5 free articles per month without a subscription
Join now for unlimited access
Try first month for just £1 / $1 / €1