Saudi Arabia boss Herve Renard says he doesn't have an eye on the Newcastle job should Eddie Howe ever leave
The Frenchman is focussed on achieving success as Saudi Arabia manager rather than going to the Premier League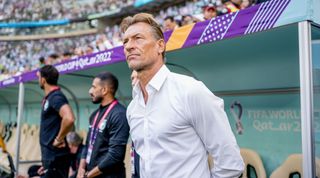 (Image credit: Getty Images)
Saudi Arabia's manager Herve Renard has told FourFourTwo that taking the Newcastle United job isn't on his radar, despite beating Argentina 2-1 at World Cup 2022 in an historic victory for the Asian nation.
Of course, there are obvious links between the Newcastle manager's job and Renard, considering that Saudi Arabia's Public Investment Fund owns the English club. Despite that, Renard spoke glowingly about the work Eddie Howe is performing at Newcastle.
Speaking to FourFourTwo in the latest issue available to order, Renard insisted the Newcastle manager job isn't a possibility.
"This [the ownership of Newcastle] is a starting point to build stronger football in Saudi Arabia," says Renard. "I hope they [PIF] have success with Newcastle, as it will help develop Saudi football too.
"I don't [want the Newcastle job], Eddie Howe is doing a wonderful job there. That team is completely different to last season. I'm sure the philosophy of the coach is great. I wish him all the best."
The Frenchman is a successful international manager, having led Zambia to Africa Cup of Nations victory in 2012, beating Ivory Coast in the final. After a stint at Sochaux in his home country, Renard returned to Africa to manage Ivory Coast - winning AFCON with the nation in 2015, three years after his victory with Zambia.
Renard has also managed Morocco and Angola internationally, while at club level he has offered his services to Lille, the aforementioned Sochaux and Cherbourg, all in France. Curiously, Renard spent a spell at Cambridge United in 2004 as well in an attempt to stop the club from being relegated from the Football League - in which he was unsuccessful.
He is certainly enjoying his spell as Saudi Arabia manager, though, and progression to the knockout stages of the World Cup in Qatar would earn him even more praise in Saudi Arabia.
While he understands he is handsomely reimbursed for his services, being successful with the nation is his main ambition - a last-16 appearance would match Saudi Arabia's best showing at the World Cup, last achieved in 1994.
Thank you for reading 5 articles this month* Join now for unlimited access
Enjoy your first month for just £1 / $1 / €1
*Read 5 free articles per month without a subscription
Join now for unlimited access
Try first month for just £1 / $1 / €1