"There are improvements I could have made": England star Trent Alexander-Arnold responds to defensive criticism
England right-back Trent Alexander-Arnold has come under criticism this season for his defending – now the defender has opened up about his own performances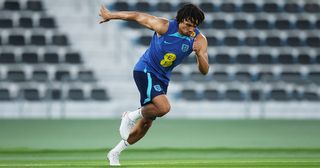 (Image credit: Eddie Keogh - The FA/The FA via Getty Images)
England right-back Trent Alexander-Arnold has answered questions about his defensive performances this season ahead of the Three Lions' World Cup 2022 opener against Qatar.
The Liverpool star has come under scrutiny this season for high-profile lapses in concentration, as the Reds have found themselves languishing in sixth in the Premier League with four losses already. Alexander-Arnold was thought to be at fault for goals against Arsenal and Manchester United in particular, with his place in the England squad under question.
With Reece James injured and out of the World Cup, Alexander-Arnold has made the final squad – but had the Chelsea full-back have not been out, perhaps there wouldn't have been a place for the much talked-about Liverpool player. In the run-up to England's first game, however, he has addressed these questions of his defensive ability.
"I would say there's been a lot of spotlight on it," Alexander-Arnold told ITV Sport (opens in new tab) when asked how well he'd played well defensively this season.
"I'd say there's been a massive magnifying glass on that aspect of my game and I would say for me, obviously, like any part of my game, there's improvements I could have made.
"There's decisions that I could have made better. There's instances where I could have defended a lot better. But I think at the same time there's been instances where I've defended really well. You know, that's the way the game is.
"I think a lot of people like to shout about the mistakes and the ones that I could have done better rather than the ones I have defended well on and that's just the way it is.
"People like to shout about the mistakes and the ones I could have done better on rather than the ones I have defended well on" 🗣Trent Alexander-Arnold has been speaking candidly to @GabrielClarke05 about his performances so far this season 🙌 pic.twitter.com/Zu5Os5mW1PNovember 19, 2022
"You know, you defend three well and then one bad. They have a big chance and then there it is: I've had a bad defensive game."
England face Iran in their opening game.
Thank you for reading 5 articles this month* Join now for unlimited access
Enjoy your first month for just £1 / $1 / €1
*Read 5 free articles per month without a subscription
Join now for unlimited access
Try first month for just £1 / $1 / €1