7 best breakfasts for footballers
Kick-start your day with these energy packed meals from elite nutritionist, Liam Holmes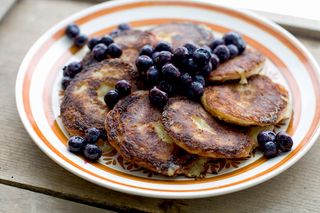 OVERNIGHT OATS AND PEANUT BUTTER
Porridge – known as the breakfast of champions – leaves you feeling full and with additional muscle-nourishing protein from the peanut butter provides a good supply
of long-lasting energy.

Ingredients (Serves 1)
Porridge oats (60g)
Handful of blueberries and raspberries
1 tbsp chia seeds
1 scoop chocolate whey protein
Almond milk (120ml)

Extras
1 tbsp peanut butter
1 tsp honey

How to make it
1 Place all ingredients into a small protein shaker
2 Shake well and leave in the fridge overnight
3 In the morning add extras and cook over a low heat whilst stirring until thickened
4 Serve

Kcal: 370, Protein: 33g, Carbs: 41g, Fat: 7.6g

Related article: Diego Forlan: My 24-hour food diary
GREEK YOGHURT, BERRIES AND NUT BUTTER
Greek yogurt contains has double the protein, half the carbs and half the sodium compared to some of the sweetened versions, whilst the nut butter adds protein and healthy fats to the mix. Getting protein in at breakfast is a great way to boost fat loss whilst supporting training performance.

Ingredients (Serves 1)
Greek yoghurt (100g)
Mixed berries (50g)
1 tbsp nut butter
1 scoop whey protein powder

How to make it
1 Spoon the yoghurt into a bowl and mix with the nut butter and protein powder
2 Drop mixed berries all over
3 Add a drizzle of honey to sweeten

Kcal: 444, Protein: 45g, Carbs: 10.6g, Fat: 23.1g (of which saturates 2,5g)

Related article: How to eat for a game

PROTEIN PANCAKES
Win the toss with this made-in-minutes breakfast recipe that will fuel your training and help manage your weight.

Ingredients (Serves 1/Makes 2-3 pancakes)
2 eggs
2 tbsp coconut oil
1 scoop vanilla protein powder
1 scoop of gluten-free oats – blitzed in the Nutribullet first
1 medium banana
2 tbsp cinnamon
Almond milk (20ml)

How To Make It
1 Mix all the ingredients in a bowl or blitz in a Nutribullet
2 Heat the oil in a non-stick pan over medium-high heat
3 Pour the mixture onto the pan, using approximately 60ml for each pancake
4 Cook the pancake for about two minutes, until the bottom is light brown
5 Top with extras such as bananas, berries or Greek yoghurt

Per pancake: Kcal: 231, Protein: 19.5g, Carbs: 21g, Fat: 6.4g
Related article: The ultimate matchday meals
HAM AND MUSHROOM OMELETTE
The protein in this breakfast comes from a variety of sources whilst using two whole eggs and three egg whites lowers the cholesterol content.

Ingredients (Serves 1)
3 large eggs
Dried mixed herbs
1 tbsp coconut oil
4 mushrooms, chopped
3 cherry plum tomatoes, halved
Ham, chopped (50g)
Fresh parsley, chopped (optional)
Salt & ground black pepper

How to make it
1 Whisk the eggs in a bowl, add a sprinkling of mixed herbs then fry the mushrooms in a pan with the oil for 2-3 minutes
2 Add the tomatoes and ham and continue to fry
3 Pour the eggs into the pan and even out the mix before placing under a hot grill, and cook until just set

Kcal: 333, Protein: 35.6g, Carbs: 6g, Fat: 17.8g

Related article: Shopping list essentials

MIXED VEG OMELETTE AND AVOCADO
With eggs for complete protein this breakfast provides a great option for a recovery day. Providing healthy fats and protein with the veggies this is a perfect fat-burning breakfast.

Ingredients (Serves 1)
3 eggs
½ avocado
2 large shiitake mushrooms, chopped (roughly 50g)
1 large handful of spinach
½ small onion
1 clove of garlic
1 sun-dried tomato
¼ tsp of turmeric
2 tsp of fresh parsley
1 cube crumbled feta cheese
2 tbsp coconut oil
Salt & freshly ground black pepper

How to make it
1 Lightly fry onion on a low heat in the oil, add mushrooms and dried tomato
2 Whisk eggs in a bowl with a fork and add turmeric, parsley, pepper and salt and crumble in the feta before whisking the mixture again
3 Add the garlic to the pan with the spinach and stir it in
4 Spread out the mix around the pan then immediately pour the whisked eggs over the top and cook for 90 seconds
5 Once the edges are just starting to look solid, take the pan off and put it under the grill on medium heat until it rises
6 Top with sliced avocado

Kcal: 217, Protein: 15.7g, Carbs: 7.4g, Fat: 15.1g

Related article: Eat for energy and intensity

SCRAMBLED EGGS ON RYE BREAD
Rye bread contains more fibre than white bread and coupled with the protein in the scrambled eggs will leave you feeling fuller for longer.

Ingredients (Serves 1)
2 eggs
Semi-skimmed milk (20ml)
Salt & ground black pepper
1 slice of rye bread, toasted

How to make it
1 Whisk the eggs in a jug with the milk then add the mixture to a non-stick pan
2 Using a whisk, keep the eggs moving in the pan for 2-3 minutes until cooked through and set
3 Serve on the toasted rye bread and season to taste

Kcal: 345, Protein: 23.5g, Carbs: 30.1g, Fat: 13.7g

Related article: Power-packed football sarnies

BLUEBERRY AND ALMOND SMOOTHIE
Blueberries are one of the richest sources of antioxidants – essential in boosting the body's self-repair and healing mechanism.

Ingredients (Serves 1)
Blueberries (75g) plus more for garnish
2 handfuls of almonds
1 tbsp honey
1 tbsp Greek yoghurt
Ice cubes (170g)
Almond milk (100ml)

How to make it
1 Put the blueberries, almonds and honey into a blender
2 Blend on high until the mixture is mostly smooth, about one minute
3 Add the ice cubes, yoghurt and almond milk and blend until very smooth
4 Add 1-2 tablespoons of cold water if needed to adjust consistency
5 Pour into a glass and garnish with a short skewer of blueberries


Kcal: 267, Protein: 11.6g, Carbs: 17.8g, Fat: 14.9g

Recommended for you:
7 healthy lunches for footballers
7 best snacks for footballers
7 high-protein dinner recipes for footballers
Thank you for reading 5 articles this month* Join now for unlimited access
Enjoy your first month for just £1 / $1 / €1
*Read 5 free articles per month without a subscription
Join now for unlimited access
Try first month for just £1 / $1 / €1
Get FourFourTwo Newsletter
The best features, fun and footballing quizzes, straight to your inbox every week.