7 high-protein dinner recipes for footballers
Use these recipes after your post-work training session to boost recovery and optimise muscle gains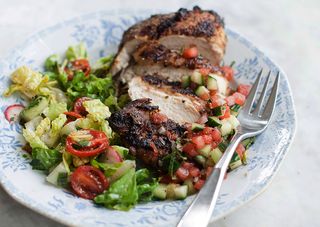 PESTO PASTA WITH CHICKEN, ASPARAGUS AND PEAS
Lean, tasty protein for strength and stamina with energizing pasta providing the perfect light but fulfilling post-match meal.
Ingredients (Serves 2)
Penne pasta (300g)
1 bunch asparagus, sliced thin on the diagonal
Frozen peas (60g)
2-3 tsp pesto
2 boneless, skinless chicken breasts, pounded thin
Parmesan cheese
How to make it
1 Grill chicken breasts until cooked through
2 Slice into thin strips
3 Add pasta to boiling water and cook for eight minutes before adding the asparagus and frozen peas
4 Cook until pasta is firm to bite and the peas and asparagus are tender – drain and add to a large bowl and toss with pesto and chicken
5 Top with freshly shaved parmesan cheese and serve
Per serving
Kcal: 475, Protein: 38g, Carbs: 58g, Fat: 12.6g
Related article: Eat and get lean

JERK CHICKEN WITH RICE AND PEAS, PLUS CORN ON THE COB
Spices are great for boosting recovery from exercise as they're anti-inflammatory. This meal provides a real punch of protein and energy boosting carbohydrates.

Ingredients (Serves 2)
4 chicken thighs, bone in
1 lime, halved
Hot sauce, to serve (optional)

For the jerk marinade
4 spring onions, roughly chopped
thumb-sized piece ginger, roughly chopped
1 garlic clove
½ a small onion
1 scotch bonnet chilli, deseeded if you want less heat
½ tsp dried thyme, or ½ tbsp thyme leaves
Juice 1 lime
1 tbsp soy sauce
1 tbsp vegetable oil
1 tbsp brown sugar
½ tbsp ground allspice
For the rice and peas
Basmati rice (100g)
Coconut milk (200ml)
3-4 spring onions, sliced
1 thyme sprig
1 garlic clove, finely chopped
1 tsp ground allspice
Kidney beans (400g), drained
How to make it
1 To make the jerk marinade, combine all the ingredients in a blender along with a teaspoon of salt and blend to a purée
2 Make a few slashes in the chicken thighs and pour the marinade over the meat, rubbing it into all the crevices
3 Cover and leave to marinate overnight in the fridge
4 Heat the oven to 180C/Gas Mark 4
5 Put the chicken pieces in a roasting tin with the lime halves and cook for 45 minutes until tender and cooked through
6 Rinse the rice in plenty of cold water, then tip it into a large saucepan with all the remaining ingredients except the kidney beans
7 Season with salt, add 300ml of cold water and set over a high heat
8 Once the rice begins to boil, turn it down to a medium heat, cover and cook for 10 minutes
9 Add the beans to the rice and cover with a lid
10 Leave off the heat for five minutes until all the liquid is absorbed
11 Squeeze the roasted lime over the chicken and serve with the rice and peas and some hot sauce if you like it spicy
Per serving
Kcal: 625, Protein: 38g, Carbs: 48g, Fat: 23g
Related article: What to make with your leftovers

THAI SPICED TURKEY AND QUINOA
Turkey contains tryptophan which can help induce healthy sleep. Save time by using a pre-cooked packet of mixed quinoa to bulk out the meal and provide extra protein and good carbohydrates.
Ingredients (Serves 1)
1 large turkey breast
1 tsp green Thai curry paste
1 tsp Greek yoghurt
1 packet mixed quinoa
1/2 red onion
1 green pepper
Coconut oil
Mixed lettuce leaves
How to make it
1 Heat oven to 180C/Gas Mark 4
2 Toss the turkey with the Thai spice and yoghurt and place in a roasting tin
3 Bake for 15 minutes until the turkey is cooked
4 Heat the packet of quinoa over a gentle heat on the hob
5 While the quinoa is cooking, heat the oil in a large frying pan and soften the onions and peppers for 10-15 minutes
6 Toss the onions and peppers into the quinoa with the coriander and add some seasoning
7 Mix everything together in a large bowl and serve with some crisp lettuce
Per serving
Kcal: 388, Protein: 40g, Carbs: 35g, Fat: 7g

Related article: 5 simple meal prep ideas

WHOLEGRAIN SPAGHETTI AND SAUSAGE MEATBALLS
For muscle recovery, tissue repair and enduring energy this combination of low-GI pasta and meat makes for an ideal evening meal.
Ingredients (Serves 2)
Wholegrain spaghetti (300g)
Chopped tomatoes (400g)
3 pork sausages
2 tsp extra virgin olive oil
1 onion
1 garlic clove
Button mushrooms (50g), sliced
1 tbsp tomato puree
Fresh oregano
Salt & ground black pepper
Parmesan cheese
How to cook it
1 Remove the sausage skins and divide the meat into 2-3 small meatballs per sausage
2 To make the sauce put two teaspoons of oil in a saucepan, set to a medium heat add the garlic and onion and fry, stirring occasionally until the onion is soft and golden
3 Add the oregano and mushrooms to the pan and fry for two minutes, then stir in the tomato purée and fry for another minute
4 Add the chopped tomatoes, bring to the boil, reduce the heat and leave to simmer gently
5 Fry the meatballs for five minutes, turning frequently until they are brown and cooked through
6 Add the meatballs to the tomato sauce and let it simmer for another 10 minutes whilst you cook the pasta
7 Sprinkle cheese over the top and serve immediately with black pepper
Per serving
Kcal: 425, Protein: 22g, Carbs: 38g, Fat: 13.4g
Related article: Eat like an athlete: Low-fat burger
CHICKEN, SWEET POTATO WEDGES AND BROCCOLI
Spice the chicken to add flavour and fat burning qualities, whilst the low-GI sweet potatoes won't give you a blood sugar spike like white ones do, but will help muscle recovery thanks to the vitamin A and magnesium content.
Ingredients (Serves 2)
2 tbsp coconut oil
2 chicken breasts

Sweet potato (450g)
1 head broccoli 

Paprika
Seasoning spices
How to cook it
1 Pre-heat the oven to 180C/Gas Mark 4
2 Cut the sweet potatoes into wedges and place on baking tray – sprinkling them with salt, pepper and paprika and place in the oven for 25 minutes
3 Place the chicken breast on a griddle or large non-stick frying pan on a medium heat and cook until brown on one side - flip the chicken over and flavour each breast with spices of choice
4 Gently bring the broccoli to the boil until it's slightly soft
5 Once chicken is cooked, place on a board to rest and cool
6 Drain the broccoli and serve with wedges and chicken
Per serving
Kcal: 336, Protein: 33g, Carbs: 35g, Fat: 6g
Suggested article: Let the grain take the strain
CHICKEN FAJITAS WITH GUACAMOLE
Avocado is high in vitamin K, which helps keep your bones strong as well as containing 'good fats' that compliment this lean protein-filled meal.
Ingredients (Serves 2)
Chicken breast (200g) cut into strips
Olive oil
Salt and ground black pepper
½ tbsp sweet smoked paprika
1 medium red onion
1 red pepper
1 yellow pepper
½ bunch of fresh coriander
4 corn tortilla wraps
Guacamole
1 large handful of mixed colour cherry tomatoes
1 fresh red chilli
1 ripe avocado
1 lime
a few sprigs of coriander
To Serve
chunky tomato salsa
fat-free natural yogurt
How to make it
1 Add the chicken strips to a bowl with oil, salt and pepper and paprika
2 Coat the strips then leave to one side
3 Slice the onion, de-seed and slice the peppers and strip the coriander leaves from the stalks
4 Cook the onion and peppers until slightly softened in a large pan on a high heat then add the chicken
5 Cook for a further 5-10 minutes, or until golden
6 Make the guacamole - chopping the cherry tomatoes, de-seeding and finely chopping the chilli and the coriander leaves
7 Halve the avocados, discard the skins and stones, chop and mash everything together with the juice from the limes and season to taste
8 Warm the wraps accordingly, then take to the table along with the chicken and veg, 
guacamole and bowls of fresh chunky tomato salsa and yoghurt
Per serving
Kcal: 450, Protein: 28g, Carbs: 45g, Fat: 18g

Related article: Eat like an athlete: Ultimate matchday nutrition

BEEF STIR-FRY WITH EGG NOODLES
Lean beef strips help with weight management as well as muscle nourishment, accompanied by noodles for a carb-based energy replacement.
Ingredients (Serves 2)
1 tbsp groundnut oil
Beef stir-fry strips (200g)
Broccoli (100g)
1 medium onion
1 tsp garlic, crushed
1 tbsp oyster sauce
Water (125ml)
Quick noodles (200g)
How to make it
1 Heat the oil in a wok and stir-fry the beef for two minutes, then remove
2 Add the broccoli and a splash of water
3 Cook broccoli until bright green
4 Add the onion and garlic and fry for two minutes
5 Pour in the oyster sauce and water
6 Boil and reduce to a sticky sauce and stir in the beef and juices
7 Add noodles to a pan of boiling water for four minutes until loose and drain and mix with the other ingredients before serving
Per serving
Kcal: 525, Protein: 50g, Carbs: 36g, Fat: 14g
Recommended for you:
7 best breakfasts for footballers
7 healthy lunches for footballers
Thank you for reading 5 articles this month* Join now for unlimited access
Enjoy your first month for just £1 / $1 / €1
*Read 5 free articles per month without a subscription
Join now for unlimited access
Try first month for just £1 / $1 / €1
Get FourFourTwo Newsletter
The best features, fun and footballing quizzes, straight to your inbox every week.