7 best snacks for footballers
Indulge in guilt-free snacking with these tasty nibbles from nutritionist Liam Holmes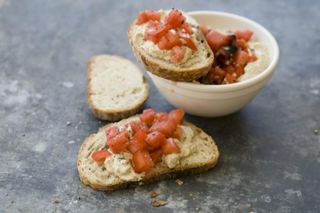 GREEN SMOOTHIE
Energising mint and health boosting avocado make this refreshing snack a performance aid.

Ingredients (600ml approx, serves 1)
Watermelon (75g)
Baby spinach (30g) or other leafy greens
Coconut water or water (200ml)
½ sweet apple (Gala)
½ avocado
1-2 tbsp fresh lime juice, to taste
5 large mint leaves, to taste
5 large ice cubes

How to make it
1 In a high-speed blender, place ice cubes and lime juice and spinach and blitz for 45 seconds
2 Then add the rest of the ingredients and blitz for 30 seconds
3 Pour into a glass and serve

Per serving Kcal: 135, Protein: 4g, Carbs: 20g, Fat: 12g

Related article: How to make the ultimate smoothie
FRESH PINEAPPLE AND MANGO SALAD
Pineapple is anti-inflammatory thanks to the bromelain content. Both mango and pineapple contain simple sugars that will metabolize quickly to replace depleted glycogen.

Ingredients (Serves 1)
1 medium fresh mango
1 medium fresh pineapple, chunks
½ red bell pepper, chopped
1 tbsp jalapeño pepper, finely chopped
1 tbsp mint, finely chopped
1 tbsp dried cranberries, finely chopped

How to make it
1 Combine mango, pineapple and red bell pepper in a medium bowl and set aside
2 Add the rest of the chopped ingredients and mix well
3 Serve or keep in a sealed container to eat later

Per serving Kcal: 179, Protein: 2g, Carbs: 34g, Fat: 0.6g
Related article: 4 easy to make super salads
HUMMUS WITH ROASTED PEPPERS
Hummus is high in protein and slow release carbohydrates, making it a perfect pre- or post-match snack. Eat with the refreshing peppers it's the perfect snack combo.

Ingredients (Serves 2-3)
Chick peas (400g)
1 large red pepper
½ jalapeño pepper
3 tbsp of olive oil
Water (100ml)
2 tsp paprika
1 tsp cumin
2 lemons
Salt

How to make it
1 Slice peppers into long strips – discard seeds - bake for about 10 minutes at 180C/Gas Mark 4
2 While cooking make the hummus - squeeze the lemons to juice and add with other ingredients into a blender - process until smooth
3 Once the peppers have cooked on both sides so slightly crisp, remove them from the oven, allow them to cool for a couple of minutes and then blend with the hummus mix until smooth
4 Serve and retain additional hummus mix for further snacks

Per 100g serving Kcal: 275, Protein: 8g, Carbs: 9.8g, Fat: 11.7g
Related article: The perfect football snack
SWEET POTATO BROWNIES
Make up a batch of these brownies mixed with Low GI, energy-boosting sweet potatoes to have a filling, hunger-combatting healthy snack to hand.

Ingredients (Serves 2-3/ Makes 12 brownies)
2 medium sweet potatoes (600g)
Ground almonds (80g)
2 tablespoons almond butter
3 eggs
4 tbsp raw cacao
1 tbsp coconut oil, melted
3 tbsp honey or maple syrup
Large pinch of baking powder
Vanilla extract

How to make it
1 Peel the sweet potatoes and cut them into chunky slices
2 Cook in boiling water until they're soft
3 Drain and blend with eggs using a hand blender
4 Put the remaining ingredients into a bowl, before mixing in the sweet potato and eggs
5 Set oven to 180C/Gas Mark 4, put mix into a lined baking dish and cook for 15 minutes - until you can pierce the brownie cake with a fork bringing it out dry
6 Remove the tray and allow it to cool
7 Cut into 12 squares and store some in a tin for the rest of the week

Per square Kcal: 205, Protein: 6g, Carbs: 14g, Fat: 11g
Related article: How to make your own healthy treats
FRESH WATERMELON AND PINEAPPLE
Watermelon contains citrulline which can improve blood flow and boost aerobic performance. The pineapple is an anti-inflammatory powerhouse – great for recovery from hard training.

Ingredients (Serves 1)
½ watermelon, sliced
10 cubes pineapple

How to make it
1 Chop and serve or freeze some overnight for another snack later in the week
2 Pulp the rest of the watermelon in a blender to make a tasty post-training rehydrating drink

Per serving Kcal: 100, Protein: 1g, Carbs: 18g, Fat: 0.6

Related article: 5 simple meal prep ideas
APPLE SLICES WITH PEANUT BUTTER
Combining these two nutrient-dense foods gives you a balanced snack. The apple contains good levels of fibre and protein from the peanut butter which can support pre-season performance gains.

Ingredients (Serves 1)
1 apple
2 tbsp peanut butter
Granola (optional)

How to make it
1 If you're eating these straight away try brushing the apple slices with lemon juice to keep them from turning brown
2 Cut the top and bottom off of the apple, then slice the apple through the middle
3 Spread one side of half of the apple slices with peanut butter (sprinkle on some granola if you want additional carbs)
4 Put the remaining apple slice on top – to form a 'sandwich'

Per serving Kcal: 245, Protein: 9g, Carbs: 14g, Fat: 15g
Related article: 6 fruits you should eat for football
SUSHI SNACKS
Sushi is a great post-training snack as it contains lean protein and simple carbohydrates to boost recovery.

Ingredients (Serves 1-2)
Sushi rice (300g)
2 tbsp rice vinegar
1 tsp caster sugar
1 avocado
Juice of ½ lemon
4 sheets nori seaweed
4 slices smoked salmon
1 bunch chives
Sweet soy sauce (70ml)

How to make it
1 Cook the rice in a small pan with 600ml water for 10 minutes or until the water is absorbed and the rice is tender
2 Stir through the vinegar and sugar, cover and cool
3 Skin and de-stone the avocado before slicing it and putting it in a bowl. Squeeze over the lemon juice
4 Divide the rice between the nori sheets and spread it out evenly
5 Lay the salmon over the rice, then the chives and finally the avocado across the centre
6 Fold the bottom edge of the seaweed over the filling, then roll it up firmly
7 Dampen the top border with a little water to help it seal the roll
8 Cut each roll into rounds and use sweet soy sauce for dipping

Per serving Kcal: 245, Protein: 9g, Carbs: 34g, Fat: 5g

Recommended for you:

7 best breakfasts for footballers
7 healthy lunches for footballers
Thank you for reading 5 articles this month* Join now for unlimited access
Enjoy your first month for just £1 / $1 / €1
*Read 5 free articles per month without a subscription
Join now for unlimited access
Try first month for just £1 / $1 / €1
Get FourFourTwo Newsletter
The best features, fun and footballing quizzes, straight to your inbox every week.