Justin Kluivert: Ronaldinho was amazing - but I want to be like Ronaldo
Ajax's 18-year-old wonderkid Justin Kluivert talks to FourFourTwo about his goalscoring father, idolising Cristiano Ronaldo and why him and his brothers could take the game by storm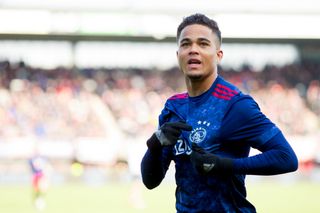 The business class section of a plane cruising a few miles in the air somewhere between the Algarve and Amsterdam probably isn't the setting you'd expect for a young footballer's big break.
As Ajax's squad relaxed on their flight home for a mid-season training camp in the south of Portugal last January, one of the younger members of the travelling party was beckoned to the vacant seat next to manager, Peter Bosz. This was the youngster's first prolonged exposure to first-team training, and as such he was only just getting his head round the idea he was a pro.
Having taken a seat next to his manager, the youngster was told he had sufficiently impressed the coaching staff, and would from now on remain with the first team on a full-time basis. His 18th birthday was still four months away.
"I was told I had played well and taken my chance," Justin Kluivert tells FourFourTwo, just over a year later. "The manager said I was an exciting player. A little more than a week later I was handed my debut in an away match against PEC Zwolle. That went well too, and afterwards everyone was really praising my game. But starting well is only half the job."
Kluivert had certainly made a good first impression, and unsurprisingly, his debut attracted extra attention due to the famous name printed across the back of his shirt. Even before that first senior outing, pundits and fans had been speculating as to whether the young forward could follow in the footsteps of his iconic father, Patrick Kluivert – he of three Eredivisie titles, a La Liga crown with Barcelona, and an iconic Champions League-winning goal. But despite performing well on his first outing for the Amsterdam club, the younger Kluivert's showing against Zwolle actually went some way to quell the comparisons. His adventurous dribbles were alternated with some very clever through balls. This was a marauding winger, rather than a box-dwelling centre forward, and a very good one at that.
When interviewed by Dutch broadcaster NOS after that game, Justin Kluivert removed his phone from his pocket and read out a message he had received from his proud papa.
"Very good game," the message began. "How good does it feel? Incredible, right? And this is just the start."
Kluivert the winger had made his mark, and Kluivert the centre forward agreed.
On the day of his debut, Justin was 17 years and 255 days old – he beat his father to the Ajax first team by 167 days, not something many had expected to happen, including the youngster himself.
Only five months earlier, in the summer of 2016, he was still in the under-19 squad, and had set himself three humble goals; "My aim was to get into the under-19s of the Dutch national team, make my debut with the under-23s of Ajax, and train a few times with the first team," Kluivert recalls. "But at the end of the season I was almost a regular starter for the first team, had managed to play several matches in Europe, and was even included in the match day squad for the Europa League final," he says with a confident grin. "Things went beautifully," he adds, perhaps understating his own overachievement.
His rapid start at Ajax is reminiscent of that of his old man, who was also on the bench for a European final at the end of his debut season. Again, Justin was younger than his father when achieving the feat, although Patrick certainly had more of an impact on the 1995 Champions League Final. He climbed off the bench to score the only goal of the game in a historic victory over AC Milan. Justin stayed on the sidelines as Ajax lost 2-0 to Manchester United.

In the coming years, the 18-year old hopes to follow in his father's illustrious footstep and succeed at the highest level of European football - but Justin isn't the only Kluivert hoping to make winning trophies a family business. Elder brother Quincy (20) is in Vitesse Arnhem's under-23 side, younger sibling Ruben (16) will be joining AZ Alkmaar next season, while half-brother Shane (10) is already wowing in the academy of Barcelona.
The Catalan capital is also where Justin spent his formative years, in the days when his father was one of the key figures at Camp Nou. "After matches, me and my brother Quincy would always go into the changing rooms, just to get some drinks," he recalls. "That was quite cool. I remember one time my brother even went into the Jacuzzi!"
When Patrick moved to Newcastle United in 2004, Justin wasn't able to watch his father's matches quite so regularly - his parents got divorced, and Justin and his brothers moved to the Netherlands to live with their mother. But their grandfather would often take the three boys on ferry rides across the North Sea to Newcastle. The young Kluivert clan saw the trips as a real adventure, not that Justin can recall much of what happened when they actually reached Tyneside - most of his recollections of his father as a footballer have come through retrospective research; "YouTube was where I mostly discovered what kind of player he was," he admits.
That's not to say he doesn't at least have memories of the back end of his father's playing career – Justin vividly recalls being present on the day Patrick collected the final medal of his highly-successful career, when he won the 2007 Eredivisie with PSV in what is remembered as one of the most dramatic ever final days in the history of the competition.
The Eindhoven side started the day in third place – level on points with both Ajax and Louis van Gaal's AZ Alkmaar, but with a goal difference one worse than that of the Amsterdam side, and seven worse than AZ.
PSV smashed Vitesse 5-1, and listened with glee as reports filtered through that, not only had AZ surprisingly lost 3-2 to Excelsior, but Ajax had only won 2-0 at Willem II, meaning Kluivert the Elder could plonk a third Dutch title-winners medal on his mantelpiece.
"I remember that game and the excitement," Justin recalls fondly. "After the match we were able to go on the pitch to celebrate. It was a great moment for us all."
By that stage, Justin had already started playing the game himself. He started off at amateur side ASV De Dijk in Amsterdam, the very same club at which Patrick had begun his own career 20-odd years earlier (back then, they were called ASV Schellingwoude). Like his dad, Justin soon moved on, and by 2007 he was drafted into Ajax's academy. That's not to say he wasn't still enjoying the odd kickabout with his mate - Justin honed his skills by spending hours playing on the streets of Amsterdam. "I was living next to a playground, where I was always playing football with my brothers and friends. Nowadays youngsters don't play outside as much, which is a pity, because I think you learn your basic skills on the streets. For me that has been really important."
Despite that street schooling, and having a European Cup-winning father to call on for advice, Kluivert says he didn't stand out during his early years in Ajax's renowned academy. "I was never really the best player in my team," he says. "I remember, for instance, when I was in the under-15 squad, many of my teammates jumped up to the under-17s, while I was just moved on to the under-16s.
"At the end of every season we would have evaluations in which you were told whether you would be staying at the club or leaving. In those moments, I have to admit, the thought of being sent away did cross my mind – some of my friends were let go. Fortunately, things really started to take off when I arrived in the under-17 team. I had matured and started to notice I had some extra qualities the other players didn't have. That was the moment I realised I had the chance to become a professional."
As Kluivert's confidence grew, his movement through the youth ranks accelerated. He soon moved from the under-17s to the under-19s, and within another year he had earned a place in the under-23 side for the 2016-17 season.
By December 2016 he had already hit the aforementioned trio of targets for the season, when he made his debut for the Dutch under-19 side and was invited to train with Ajax's senior squad for the first time. That trip to the Algarve and his first team debut followed soon after, and he's barely looked back since, establishing himself as an important member of the squad. Having played predominantly on the right wing in his early appearances, this season he has switched to his favoured left flank. As 2017 progressed, Kluivert continued to impress with his creative dribbles, bravery on the ball, and long-range shooting. His best performance was without question in the home league fixture against Roda JC, where he blasted home a sensational hat-trick in an emphatic 5-1 win. All three of his goals were somewhat similar, with the winger cutting inside from the left wing before firing home with his right foot.
Yet, he doesn't consider the match the highlight of his career so far. "It was great, but my highlight has been the Europa League final, even though I didn't play," he says of last May's showdown in Stockholm. "Such an occasion is unique. Just to be there was special, you won't experience that often.
"You could feel the impact it had in Holland. Friends of me sent me images of people on the streets watching on huge screens. It made for a feeling as if everyone in the country, or at least in Amsterdam, was supporting us."
Before that game, Justin made sure to pick his father's brain to get an idea of what he should expect of such an occasion. "Of course I asked him about his experiences, because he had participated in a European final before," he says. "He gave me advice beforehand, like to stay calm and play my own game if I did get minutes on the pitch."
Sadly for Kluivert, he didn't get a run out, but he still caught the eye of the opposition manager. José Mourinho knew all about Justin – in fact, they go way back, all the way to the days when the Portuguese was assistant coach at Barcelona, and Patrick Kluivert was on the playing staff.
The Manchester United manager made a beeline for the younger Kluivert after the final whistle. "He said it was nice to see me again after such a long time, because he had obviously known me when I was a baby," Kluivert explains. "And he said it was nice to see that I was doing well."
Kluivert insists Mourinho didn't try and spirit him away to Old Trafford, although rumours persist United are among a host of Premier League clubs monitoring the younger's progress.
There has even been speculation that Lionel Messi himself has asked the board of Barcelona to take the Dutch starlet to Camp Nou, some 20 years after his father first arrived at the club. "I've heard that as well," says Justin. "But I really don't know if it's true - I'm not in contact with Messi, and only he knows whether that's what happened. It's nice to hear, but it's still a rumour."
Messi, it should be noted, was in the Barca academy when Patrick was leading the first team's attack, and is a known admirer of a man who scored over 120 goals in six years with the club.
His famous surname may sometimes make Kluivert the centre of attention, but he has never felt of it as a burden. "I'm very calm and down to earth with those kind of things," he says. "In fact, I like to play with this name, it's like an honour. And maybe I can even expand the name. That would be great."
Having spent a year in Paris as PSG's technical director, Kluivert senior is now back in Barcelona, where he keeps a keen eye on the progress of young Shane, the youngest member of the family, and a recent inductee at Barca's fabled La Masia academy.
Shane may only be 10, but has already acquired fame with videos of his football skills and – surprisingly – his culinary talents.
Justin is in regular contact with Shane. "Sometimes we speak to each other via FaceTime; it's good fun and sometimes I give him advice. He looks up to me, so it's important I do everything well. He wants the same boots as me, wants to copy my shooting style and learn the tricks I'm doing. And he can perform them all! Whether he will be even better than me I don't know – but I hope so."
While Shane looks up to Justin, the Ajax winger has his own heroes. "For me Ronaldinho was a phenomenon," he says. "But away from the pitch he was not a top-professional. So now I prefer someone like Cristiano Ronaldo, who lives for his sport as well. That's what I also try to do. Because what you show on the pitch also reflects on how much you are willing to sacrifice."
Kluivert is a huge fan of the Real Madrid star, and loved the documentary he released in 2015. "One day I hope to make something like that about myself," he says with a confident smirk. "Although obviously every player hopes the same."
Before the start of this season, Kluivert set himself new targets. "My two main goals are winning the league title with Ajax, and to make my debut for the Netherlands," he says, before quickly adding; "and of course to keep improving.
"I want to improve on everything; I'm still very young. I give everything in training and I also make a point of trying to improve on even the things that are already going well."
His ultimate dream is to play for a big club abroad - "but you have to see how you develop, to see if you can make that move," he insists. Kluivert tells he discusses every facet of his career with his father, mother and agent Mino Raiola. "I ask other people's opinion, but in the end it is me who has to make the decisions."
If one day he goes abroad, several countries could be an option. England too, he acknowledges.
He admits London has a certain appeal, but insists he doesn't have a favoured Premier League club. "It's an attractive city. I have to say Tottenham are playing really great football at the moment - they really play as a team. But in general I don't follow a specific side; Arsenal are a nice club as well, for example."
For the time being, his focus is solely focused on Ajax, where his influence on the first team is steadily growing, just over a year since that fateful flight from Portugal to Holland.
"I realise things have gone quickly," he says, staring into the middle distance for a moment. "I have probably surprised even myself that I have been able to make those steps."
If he carries on at this rate, he'll have every chance of making that famous name his own. Unless Quincy, Ruben or Shane are even better.
Thank you for reading 5 articles this month* Join now for unlimited access
Enjoy your first month for just £1 / $1 / €1
*Read 5 free articles per month without a subscription
Join now for unlimited access
Try first month for just £1 / $1 / €1
Quizzes, features and footballing fun
Get daily World Cup 2022 news, updates and other football frolics to your inbox
Arthur Renard has been writing for FourFourTwo since 2013, when Ronald Koeman hosted him for a Readers interview in a small room in stadium De Kuip. Two years later Arthur moved to London, where he still lives and from where he covers English football, while he has also been travelling the world to cover events like the World Cup and Copa America.
Quizzes, features and footballing fun
Get daily World Cup 2022 news, updates and other football frolics to your inbox
Thank you for signing up to Four Four Two. You will receive a verification email shortly.
There was a problem. Please refresh the page and try again.