5 ways Jurgen Klopp will further strengthen Liverpool this summer
The Reds have already made moves in the transfer market, but it won't stop there. Matt Ladson of This Is Anfield on the next step in Kloppo's plan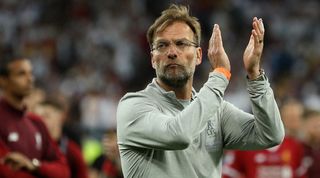 Jurgen Klopp's two full seasons in charge of Liverpool have resulted in two top-four finishes – an impressive feat given that the last time it happened at Anfield was almost a decade ago under Rafa Benitez's leadership.
Add in an unexpected and highly enjoyable run to the Champions League final, and 2017/18 was certainly a season of progress and positives for the Merseysiders.
With such breathtaking football on show and Klopp's character now being displayed by his players on the pitch, Liverpool are at a new level when it comes to attracting signings this summer. Only a few years ago, Steven Gerrard was texting players such as Toni Kroos in unsuccessful attempts to woo them to Anfield. In 2018, there will be cases of players asking their agents to get them a move to Klopp's Liverpool.
Now, though, comes the difficult part. Klopp must turn his entertaining side into trophy winners. Improvements must be made to ensure the run of losing three finals – League Cup, Europa and Champions League – is brought to an end in 2018/19. Including...
1. Bolstering squad depth
Aside from Loris Karius's incredible errors, the Champions League final showed the importance of having strong substitute options in order to win the biggest prizes available. Adam Lallana (above) replaced Mohamed Salah and had very little impact on the game, while Gareth Bale had quite the opposite effect. Later, Real Madrid introduced the prodigious Marco Asensio, while Klopp was left pondering whether to introduce Dominic Solanke.
Liverpool's squad has basically been 12 outfield players for the final four months of the season, and Klopp knows that must change this summer to compete on all fronts domestically and in Europe next season. With Naby Keita and Fabinho already signed and sealed, the German will add another midfielder – most likely, Nabil Fekir. He'll also want to add another attacker, with candidates including Christian Pulisic, Wilfried Zaha and Timo Werner; plus a centre-back, with Jamaal Lascelles and James Tarkowski (below) being considered.
The goalkeeper situation will also be addressed, meaning it's likely we'll see six new faces at Anfield. Crucially, all six will be players who are competing to start, not just to bulk out the squad.
Klopp won't make wholesale changes in the opposite direction, and while those players who were out on loan will move on (Daniel Sturridge chief among them), few others will. Perhaps Lallana could be sold after an injury-plagued season. Having just turned 30, now would be the right time to sell the England international before his value dips any lower. Danny Ings and Nathaniel Clyne are others who could head out if the right bids arrive, with questions over their long-term fitness and suitability.
2. Overhauling midfield
With the physical demands placed on Klopp's midfielders, too often Liverpool have dropped off in the latter stages – they conceded 21 goals in the final 15 minutes of games last season. The high-energy pressing needs to be sustained for longer, and that can only come from a different style of midfielder, as well as stronger options on the bench.
While Liverpool's trio of Jordan Henderson, Gini Wijnaldum and James Milner each enjoyed good seasons, midfield is where Klopp will make the biggest changes this summer. Keita (above) and Fabinho aren't arriving to compete, they're arriving to take the places of those currently at the club. If the expected signing of Fekir goes ahead, it could be a completely new midfield three for Liverpool next season.
That's not to say Henderson, Wijnaldum and Milner won't get a game. They will still play plenty; there will simply now be more than three options for three positions. Competition for places, and not a severe drop-off when rotation is required, is what's needed to win trophies.
We could also see a change in midfield shape this summer, with Klopp moving away from a '1-2' system and installing Keita alongside Fabinho in either a 4-2-3-1 or 4-2-2-2 formation – one Keita is used to from RB Leipzig.
3. Strong pre-season
The World Cup is an issue for all clubs, but Liverpool will actually have many of their key players uninvolved. Virgil van Dijk, Wijnaldum (both above), Keita, Fabinho and Andy Robertson will have a summer off – as will Pulisic, Zaha, Lascelles or Tarkowski, should any of those arrive.
Klopp will value the time being able to work with Van Dijk, Fabinho and Keita – the new spine of his side – right from the off. The German has only signed one player in August during his time as Liverpool manager. He clearly wants deals done early so he can work with new signings and embed them into his squad. Preparation is key.
4. Staff evolution
Among the things on Klopp's to-do list this summer are some changes within his coaching staff. Assistant Zeljko Buvac has been on leave since April and seems highly unlikely to return, while former first-team development coach Pepijn Lijnders (above) is to be offered a return after his brief spell in management in the Netherlands ended.
Lijnders would be an ideal replacement for Buvac and his comeback would be a boost to players and coaching staff at Melwood; the likeable Dutchman was a key man for Klopp in training and during pre-match routines until his departure in January.
Another change will be a new head physio, after Andy Renshaw was sacked in October. These changes can help keep things fresh and hopefully aid further improvements for Klopp's squad. There will be continuity, but also evolution.
5. Player development
Klopp is a manager who improves players. That's evidenced with the developments seen in Dejan Lovren (above) in recent months. Equally, it's very difficult to think of a player who Klopp has worked with at Liverpool and hasn't improved.
Some haven't been suited to his style – Sturridge, Christian Benteke – but his signings have been perfectly aligned with what the manager wants. A clear strategy is in place. Van Dijk, Robertson, Sadio Mané and Salah are completely Klopp players. Next season, we could well see a full XI of players signed since Klopp arrived, with the exception of only Firmino, who has been evolved into a new player by the manager.
With another full pre-season to work with players, we should expect further improvements – especially given that very few of the Liverpool squad can be considered veterans or even in their prime years. Some are approaching their peak now, while others have Klopp around to ensure they fulfil their potential – see Alex Oxlade-Chamberlain as a case in point.
A trio of young wingers; Sheyi Ojo, Ryan Kent and Harry Wilson, ended the campaign out on loan and will return to Melwood hoping to earn the right to remain at the club next season. Of the three, Wilson had the biggest impact and was most impressive, and the Welshman could well be a player who's added to the squad to further strengthen the options available to Klopp.
The early signing of Fabinho, plus very strong links to Fekir, show the hard work and preparation for next season has been well underway for weeks now. Klopp will be eager to start when the players return to pre-season training in July.
Quizzes, features and footballing fun
Get the best features, fun and footballing frolics straight to your inbox every week.
Thank you for signing up to Four Four Two. You will receive a verification email shortly.
There was a problem. Please refresh the page and try again.