Arsenal will have to pay for Coquelin to be taken away, Valencia confirm
By Back of the Net published
The Spanish side will take care of Coquelin but Arsenal will have to fork out for his disposal, Back of the Net has discovered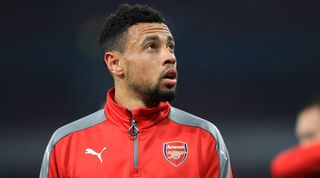 After an initial misunderstanding, Arsenal have been made aware that Valencia are expecting to be paid to remove Francis Coquelin from the Emirates Stadium.
Arsenal officials had been ecstatic when they received a fax suggesting that the Liga side were willing to fork out nearly £10m to take possession of the Frenchman.
However, before the champagne cork had even popped in north London, a follow-up fax had arrived clarifying that Valencia would expect the Gunners to pay them for their Coquelin-removal services.
"We did think it was too good to be true," an Arsenal insider told FourFourTwo. "It seemed highly unlikely that they would have found use for Coquelin that we hadn't thought of over the last nine years.
"But we'd sent them some great photos of him looking in decent condition, although one was actually mostly of Alexis Sanchez with Coquelin in the background, and we were just dreading that they would insist on actually coming and seeing him in action.
"So it wasn't really any great surprise when Valencia straightened things out and told us that they would want reimbursement for all their Coquelin-related expenses.
"Apparently there's literally nowhere you can put him that doesn't end up costing you dearly."
Arsenal officials have debated simply driving Coquelin into the countryside and leaving him there, but they feared he could be traced back to them due to his distinctive markings.
"This way we've done our due diligence," our insider insisted. "If we ever see him again it'll be scoring an improbable but crucial goal against us in a Champions League clash."
Please note: This satirical news story is not real. Like, obviously.
Thank you for reading 5 articles this month* Join now for unlimited access
Enjoy your first month for just £1 / $1 / €1
*Read 5 free articles per month without a subscription
Join now for unlimited access
Try first month for just £1 / $1 / €1
Quizzes, features and footballing fun
Get the best features, fun and footballing frolics straight to your inbox every week.
Thank you for signing up to Four Four Two. You will receive a verification email shortly.
There was a problem. Please refresh the page and try again.