Best Manchester United players: the 11 greatest of all time
The greatest Red Devils ever. Would you agree?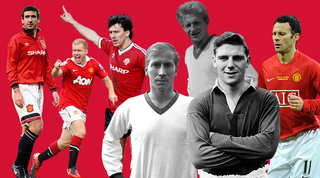 We've put together a list of who we reckon are the greatest 11 players of all time to have ever worn the hallowed red shirt of the Red Devils. 
Note: this isn't a best Manchester United team - the 11 players are simply the best, regardless of position and in no particular order.
Agree with our selction of United's biggest stars? Should Massimo Taibi be in there? Let us know in the comments below.
1. Sir Bobby Charlton, 1956-73
Almost 50 years after he retired, Charlton still holds the record for the most goals scored by a Manchester United player. This would be a great achievement at any club, but at one like United, who've been spoilt with so many world-class players, his record is outstanding. Charlton came up through the ranks, survived Munich, and was part of the team 10 years later who became the first English club to win the European Cup, scoring twice in the final. He also won the Ballon d'Or and is the second person in the history of United to have a stand at Old Trafford named after him.
2. Ryan Giggs, 1990-2014
One record Charlton doesn't still cling to is the highest number of appearances for United, with Giggs overtaking him when he played in the Champions League final in 2008, where he scored in the victorious penalty shoot-out over Chelsea. He's won 13 league titles (more than Manchester City, Leeds and Chelsea combined), two European Cups, four FA Cups, three League Cups and several others, spending an incredible 24 seasons in the first team.
3. Duncan Edwards, 1953-58
Most people today only have the word of others to go on when talking about what sort of player Edwards was. He was only 21 when he died in Munich but had already drawn so much admiration. "He was the only player who made me feel inferior," Charlton said when describing Edwards' ability. Yet even at such a young age, he already amassed almost 200 appearances for United, with Sir Matt Busby describing him as "the most complete footballer" in the world.
4. Paul Scholes, 1992-2013
So many great players seem to love themselves as much as they love football, happy to soak up the praise and glory that comes with being such an influential star. Scholes is not one of those people. He spent his entire career avoiding interviews after pulling the strings on the pitch and guiding United to trophy after trophy. A truly gifted player whose passing accuracy and sublime technique separate him from most other players England has produced. Only Charlton and Giggs have played more games for United than Scholes.
Scholes scores against Barcelona
5. Roy Keane, 1993-2005
If there was one player you'd want on your team for a big game, it was Keano. He was an absolute warrior on the pitch, dragging his teammates along with him when needs be, and did all he could to ensure he was on the winning side by the time the final whistle was blown.  
6. George Best, 1963-74
Maradona good, Pele better, George Best. He scored the goal to put United 2-1 ahead in the 1968 European Cup final, and also won the Ballon d'Or that year. His final two seasons sizzled out as alcoholism took charge, yet he still ranks in the top five for goals scored at United.
7. Eric Cantona, 1992-97
When Cantona won the Premier League with United in 1993, it was his third consecutive league title with three different clubs. He was the catalyst for the success United enjoyed in the 1990s, giving the Red Devils the extra bit of magic required to end their 26-year title drought. The kids in the team idolised him and became double winners in their first season because of him. They then grew up and won the treble, something years of being inspired by the Frenchman gave them the confidence to do. 
Cantona scores an audacious chip against Sunderland
Cantona after scoring that chip against Sunderland
8. Bryan Robson, 1981-1994
Robson was so good that even Steven Gerrard wore a United shirt as a kid so he could have his No.7 on his back. Having battled through the weary '80's, captaining United to FA Cup glory three times, he stuck around long enough to lift the first Premier League trophy in 1993. 
Robson scores against Liverpool
9. Cristiano Ronaldo, 2003-2009
Ronaldo will be remembered as one of the all-time greats when he hangs up his boots, and he became that player at United. Starting off as a scrawny teenager who was dubbed a "one trick pony" by rival fans because of his stepovers, he developed into the best player in the league. His penultimate season at United, which saw him score 42 goals in 48 games, was arguably the best season an individual has ever produced at the club, guiding the team to a Premier League and Champions League double and himself to the Ballon d'Or. The only drawback is that he didn't spend more of his best years at United, with a move to Real Madrid secured in 2009.
Cristiano Ronaldo bamboozles another hapless full-back
10. Denis Law, 1962-73
Another of United's Ballon d'Or winners, Law was the league's top goalscorer the season the club won their first post-Munich title. Despite leaving United over 40 years ago, it was only this season that he was replaced as the club's all-time second-highest scorer.
11. Peter Schmeichel, 1991-1999
One of the few players coached by Sir Alex Ferguson who the Scot described as world-class. Schmeichel was a rock for United, playing a pivotal role in the success the club enjoyed in 1999. It took United six years to replace him, with his exit leaving a huge hole in the spine of the team.
Quizzes, features and footballing fun
Get the best features, fun and footballing frolics straight to your inbox every week.
Thank you for signing up to Four Four Two. You will receive a verification email shortly.
There was a problem. Please refresh the page and try again.