Chelsea handed three-match persecution complex
By Back of the Net published
Champions slapped with enormous sense of grievance, according to Back of the Net...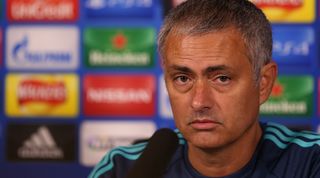 A Football Association panel has ordered Chelsea to spend the next three weeks in a cocoon of paranoia and hypertension.
As a consequence of the ruling, Stamford Bridge supremo Jose Mourinho must watch the Premier League champions' next three matches with an even more jaundiced eye that usual, while nurturing a large chip which he will be required to display on his shoulder at all times.
Meanwhile, star striker Diego Costa will be required to wear a constant expression of wounded nobility, and to point at himself in bewilderment every time somebody mentions his name in conjunction with micro-aggressive gamesmanship. An FA spokesman said: "Recent events have made this persecution complex inevitable. We hope that three weeks will give everyone at Chelsea time to reflect on the elaborate web of intrigue and mistrust they have created, and perhaps add to it in new, creative ways.
"May we suggest that this is all a ruse concocted by Rafael Benitez, and that Barcelona are behind the Eva Carneiro thing?" Mourinho responded to the ruling by denying the existence of the FA-imposed persecution complex and replacing it with one of his own.
"Conspiracy? I did not say that word," he said, unprompted. "Mysterious forces arranged against us, determined to see Stamford Bridge reduced to rubble and John Terry chained to an oar? Those are your words, not mine.
"Just look at this list and make your own minds up," he added, brandishing a notebook in which he had written the names Arsene Wenger, Michel Platini, the Duke of Edinburgh, and 'anybody who peeks at my notebook'.
Once the three-match period is up, Chelsea are expected to return to their long-running sense of injustice victimisation, which has formed the bedrock of the club's identity since 2004.
Thank you for reading 5 articles this month* Join now for unlimited access
Enjoy your first month for just £1 / $1 / €1
*Read 5 free articles per month without a subscription
Join now for unlimited access
Try first month for just £1 / $1 / €1