Chelsea's bus parade actually just a normal No.9 service
Chelsea's end-of-season celebrations were marred by repeated stops to let passengers on and off and Oscar forgetting his Oyster card, Back of the Net can reveal...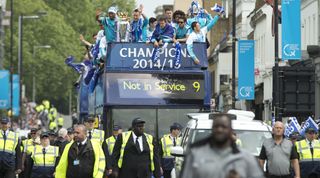 An administrative error led to awkwardness for Chelsea players and passengers alike as the club paraded the Premier League trophy on a regular No.9 bus to Hammersmith Bus Station. Chelsea's players and coaching staff had anticipated a mood of euphoria and crowds of fans lining the streets, but they were instead met with suspicion and frustration by other passengers.
John Terry led the players up the stairs of the double decker after they got on at North End Road, struggling to keep his grip on the trophy as the bus accelerated rapidly. Unfortunately, Oscar had misplaced his Oyster card and, after unsuccessfully digging around in his pockets, had to get off at Brook Green.
With most of the top deck occupied, many of Chelsea's players were forced to stand, while Eden Hazard was given a sharp elbow in the ribs by an elderly lady who nearly missed her stop at Latymer Court.
Didier Drogba attempted to spray champagne over boss Jose Mourinho but was immediately told off by the driver, who pointed to a sign stating that 'no food or celebratory magnums' could be consumed on his bus.
"The [No.9] bus is always full at that time of day," passenger Gladys Lewin told FourFourTwo.
"I can appreciate the need to celebrate a dominant season of authoritative if not glamorous football, but maybe they could've done it later in the day, or just brought players who actually had something to do with winning the title. It would've been more manageable with just eight or so."
The bus ride came to an abrupt end after just 11 minutes when it reached the end of its route at Hammersmith Bus Station, leaving the players to sheepishly file through ticket barriers for the District Line.
"They kept trying to do that thing where they bounce up and down with the cup, but each time they did it'd stop the door closing," Tube passenger David Edgerton told FourFourTwo.
"After that Terry and Diego Costa started arguing about whether it would have been quicker to get the Piccadilly Line as far as Earl's Court. They were both gesticulating wildly at the Tube map. Gary Cahill stepped in to calm things down but he knocked over that tin pot they were carrying [Capital One Cup].
"I think they were hoping someone would mention the trophies, but most people just had music on, presumed it to be a stag do, or felt the title success was more down to their rivals' underachievement."
Quizzes, features and footballing fun
Get the best features, fun and footballing frolics straight to your inbox every week.
Thank you for signing up to Four Four Two. You will receive a verification email shortly.
There was a problem. Please refresh the page and try again.