The curious case of Deportivo Maldonado: Uruguay's second-tier side whose stars play for Real Madrid, Juventus – but never them
They average crowds of less than 350 but are vying for the hottest South American starlets with the world's richest football clubs. How? FourFourTwo investigates…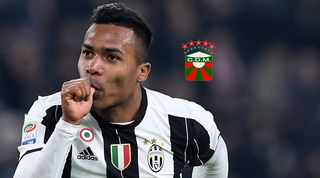 In a summer when Paul Pogba broke news of his own £89 million move to Manchester United, Chelsea surprisingly re-signed David Luiz for £30m and Arsenal, for some reason, desperately tried to capture Jamie Vardy, one of the transfer window's most unusual deals went largely unnoticed.
When Argentina Under-23 striker Jonathan Calleri confirmed his loan switch to West Ham in the middle of August 2016, the media coverage was fairly minimal. Even Simone Zaza, who also arrived on loan in east London during the same month, caused more fanfare. The Hammers had reportedly paid a £4m loan fee and have an option to buy the Argentine for £16m, a deal that would represent a tidy and rapid profit for a club whose gates rarely surpass a few hundred.
Calleri is a product of the All Boys youth academy – the same club where Carlos Tevez, another Argentine player to have turned out for the Hammers, began his career. In fact, both moved from All Boys, now in the Argentine Second Division, to Boca Juniors. But that is where the two career paths veer off in very different directions.
In January 2016, 18 months after acquiring a 20-year-old Calleri for £765,000, Boca sold him on for £9.3m. But what stood out the most wasn't that whopping 1,115% mark-up on a player who had played just 41 league matches for the Bombonera club, rather the fact that the buyer was not your typical plunderer of hot South American talent. Not PSG, Benfica, Real Madrid or Juventus. Not even Shanghai Shenhua or Guangzhou Evergrande.
No, the club that had enough money to fork out almost £10m for the youngster was Deportivo Maldonado.
Who? Well, quite.
Unspectacular outfit
The fact a small club playing in Uruguay's second tier, who rarely play home matches in front of more than 300 people, could afford to sign an Argentine youth international from the six-times Copa Libertadores winners, certainly raised a few eyebrows. But for this humble club to then be in the position to almost immediately loan said tyro out to a side that is playing in one of the richest and most-watched leagues in the world? Surely something odd was afoot.
And it wasn't even the first time, either. Founded in 1928 under the peculiar name of Batacazo Football Club (Batacazo meaning, among other things, to upset all the odds), the club would change its name to Deportivo Maldonado in 1932. It was a further 63 years until they finally made their professional debut, when in 1995 they moved from the nation's amateur ranks and into the Second Division.
They lost the promotion play-offs in 1998, but with the Uruguayan FA deciding to up the quota of top-flight clubs from the 'Interior' region of the country to four, they were given promotion anyway. They would remain in the top division until 2004, with their seventh-place finish in 2002 their highest within the Uruguayan football pyramid.
Throughout Maldonado's history, financial instability has been a near constant. In 2004, the outlook was so bleak that they were forced to merge with another small football club, Centro Cultural y Democratico Punta del Este, becoming Club Deportivo Maldonado Punta del Este. That season proved to be their last in the top flight, and it wasn't long before the two clubs went their separate ways, opting to split after the 2005 campaign.
In come the English
It would have taken a spectacularly wild imagination to predict what would happen to the Rojiverde (Red and Greens), an outfit hailing from Uruguay's fourth-biggest city (with a population of around 87,000), just four years later.
In December 2009 came another new name – but that wasn't the biggest change. History was made when the club became Deportivo Maldonado SAD (Sociedad Anonima Deportiva, or in English 'Public Limited Sports Company'), the first such organisation in Uruguay and one that has been under intense public scrutiny ever since – and it's not hard to see why. It's not every day you see a club from such a small city buy a player for a few million pounds, never give him any playing time, loan him out to a big club in Europe, and then eventually sell him on for a massive profit. But for this club it has now become a tried-and-tested model.
The restructuring took place when the club was taken over by two Englishmen; racehorse owner Malcolm Caine and a London-based lawyer, Graham Shear. The pair became president and vice-president of the club, respectively. In October, the latter told The Guardian that he is no longer involved with the club.  
Most football fans are well aware of the concept of third-party ownership, which for a long time – particularly in South America – was something FIFA and other governing bodies were powerless to stop. Agents or rich investors become heavily involved in the football transfer market, owning players' registrations and shipping them across the globe with the primary aim of making money.
The clubs who became involved, many of them in dire financial difficulty, were over a barrel. They couldn't afford the elite players their fans were demanding, and these middlemen were offering them the only solution available.
Questions of legality
The catch, of course, was that they were no longer the owners of the players wearing their shirt; merely a shop window. If a player owned by a third party performed well enough to attract bids from bigger clubs, his current club would see little, if any, of the profit. It was a quick fix for clubs that did little or anything to help solve their financial woes in the longer term.
In April 2015, FIFA finally moved to ban third-party ownership in football. So does that mean what's going on at Maldonado is illegal?
"No, the operations are legal," says Argentine lawyer Juan Esteban Diez, who specialises in sport. "For clubs in a difficult financial situation, such as Deportivo Maldonado before 2009, there was a very real risk of having to fold for good. In a way, what the investors are doing is a service to the football club. It is a way of securing the financial state of it.
"Deportivo Maldonado have the players properly registered with the club. They buy them and they fulfil every legal requirement before they move them out," reasons Diez, who acts as a legal consultant for the Argentine Primera Division outfit Racing Club de Avellaneda. "There is technically nothing wrong in what they are doing. The concern for those of us who work to regulate transfers in football and to keep it clean, was that there'd be a proliferation of cases in which rich investors, with no interest whatsoever in the well-being of the club, would start buying clubs left and right just to make some extra money – without the club's interests at heart."
A club the size of Maldonado are obviously not run on a multi-million pound budget. They do not need huge sums of money to pay the bills every month. What an agreement like this gives a club is the financial security stemming from commitment from the owners, who in return have a platform to buy and sell the players, while also making sure that the finances are in order.
Vast improvement
Clubs in South America are more than just the 11 men that you see running onto the football pitch, plus the associated coaching and administrative staff. Many also have representative teams in other sports at various different levels and age groups. Some also have facilities for the local people of all ages to socialise, attend fitness classes, or even enjoy a spot of bingo.
They have a profound effect on the lives of all in their local communities. They are a perfect place to keep kids away from the various dangers that litter the streets of the big cities – a kind of second home that provides far better options than getting addicted to video games, or being out on the streets and potentially falling victim to other, more life-threatening addictions.
"I'm 37 years old and have been a Deportivo Maldonado fan for 37 years," says Alvaro Frias, who has seen the bad old days: the merger, the First Division era and the arrival of the foreign investors. "My father was a member, and my grandfather, too. My brother is a member, and so is my son."
"The club have grown since 2009. It is still a work in progress, but you can see the improvement," he adds. "The club's main building, which was previously in very bad condition, has now been repaired – it is now one of the biggest and nicest of all the football clubs in Uruguay.
"There's been a noticeable improvement in the pitches at the training ground [where the youth teams also play] and the club is once again full of life, with other activities including basketball, volleyball, roller skating, handball and tennis being played. Soon we will add martial arts to the wide range of activities that all families can take part in when they come to Maldonado."
This little club in the south-east of Uruguay – 80 miles away from the nation's capital, Montevideo, and just over 130 miles south of the border with Brazil – seem to have discovered a way to both have their cake and eat it. While they have maintained that same focus on the community, they have now added both the scouting structure and financial clout to be able to spot and acquire the top up-and-coming talent, and then eventually sell them for big profits as they hit their prime.  
Defiant attitude
Since 2010, Deportivo Maldonado have brought in a host of millionaire international footballers with their peak years ahead of them – yet none of them have ever kicked a ball while wearing the team's kit.
A quick glance over at Deportivo Maldonado's squad list paints the perfect picture of how the club are mixing the best of both worlds. Their playing staff is made up almost entirely of local players you have never heard of, and probably never will. In among those complete unknowns are the big-money signings. Yet it's these highly-rated youngsters who haven't made a single appearance for the club.    
"I really don't care about what fans of other clubs have to say about Maldonado," insists Alvaro, who believes there are a lot of misconceptions about what is actually happening at the club. 
"They envy us and they don't really know what goes on here. But the AUF (the Uruguayan FA) and all the authorities always say Maldonado are like a role model, and an example of a club always paying all of their bills on time and always acting within the law."
FourFourTwo tried to contact Deportivo Maldonado's sporting director, Ignacio Borjas, but were told that he was unavailable for interview at the time. He has recently spoken to the Uruguayan newspaper El Observador and outlined the working relationship between the investment group and football club.
"I'm an employee of the company, and all of us working on the football side are," said Borjas, himself a Deportivo Maldonado player between 2002 and 2009. "I get [my wages] paid into a bank account, like with any other company in the world. The office is the club itself. This is a simple situation. I handle all issues that take place here at the football club… those are issues that are easy to verify with the FA. There are no mysteries here; it's public information that anybody can access if they want to. There is nothing to hide."
Success and failure
There's certainly no hiding that the way the club does business has drastically changed – a quick glance at their recent transfer history illustrates that much. Having only completed deals with little to no money changing hands prior to 2009, Maldonado suddenly started splashing six- and seven-figure sums on players. In March 2010, for example, Maldonado signed the 19-year-old left-back Alex Sandro for around £1.9m, registered him as their player and sent him on loan to illustrious Brazilian side Santos.
The larger the shop window, the more potential buyers there are to come and take a peek. The more potential buyers, the more likely it is a bidding war breaks out. A year playing for a club who count Pele and Neymar among their alumni seemed to do the trick. 
In July 2011, Alex Sandro went to to Portuguese club Porto for around £8.2m, leaving Deportivo Maldonado with a tidy £6.3m profit (give or take). The defender went on to be capped by Brazil and then in 2015 made a £22m move to Serie A giants Juventus, proving that Maldonado's scouts knew a good thing when they saw it.
But while the transactions involving Alex Sandro were very successful for Maldonado, the same couldn't be said of all of the club's big-money dealings. Just a few days before Sandro signed up with Maldonado, another Brazilian teenager was being snapped up by the newly-monied outfit.
Attacking midfielder Jose Luis dos Santos Pinto, better known as Zezinho, had broken into the Juventude first team in 2009 at the tender age of 17. Less than two years later, having displayed sufficient promise to impress the exact same scouts who had also identified Sandro as a possible target, Zezinho became Maldonado's first-ever multi-million purchase, signing with them for £2.1m.
He initially travelled the same road as Sandro, first moving on loan to Santos in March 2010. But for Zezinho, this wasn't to prove a pathway to Europe's elite. Despite having previously been offered a trial with Arsenal, who were on the verge of signing him only to be scared away by a hefty price tag, Zezinho's career never really took off.
In the seven years since leaving Juventude, he's managed nine goals in 79 starts. Having failed to encourage any big bids from Europe during his time at Santos, Zezinho was sent out on loan by Maldonado to two other clubs: Bahia and Atletico Paranaense. It was the latter who would ultimately hand over cash to sign the midfielder, but the fee was not believed to be anywhere near the £2.1m the Uruguayan club had invested in him four years earlier.
European giants come calling
Meanwhile, a month after selling Sandro to Porto, Maldonado had reinvested some of their windfall in Paraguayan midfielder Marcelo Estigarribia, who joined from French club Le Mans in a £1.7m deal. What followed was something that defied all logic. For the first time, this club playing in the second tier of Uruguayan football actually loaned a player out to a European superpower: 32-time Italian champions Juventus.
It had seemed for all the world like they would merely have to wait for Estigarribia to do his thing in Italy before the big-money offers would start to flow in. But the bids didn't come. Despite Estigarribia, a 32-capped international, having since been farmed out on loan to a further three Italian clubs (Sampdoria in 2012/13, Chievo in 2013/14 and Atalanta between January 2014 and February 2016), Maldonado haven't been able to cash in. Estigarribia has since joined Paraguayan club Cerro Porteno in yet another loan move.
But while it's safe to say Estigarribia has lost a lot of his market value, Maldonado have had other recent successes. Striker Willian Jose was brought in from Brazilian minnows Barueri when he was 19. The fee was believed to be £850,000. Five years and six loan moves later – including a brief stay at Real Madrid, where he appeared once for the first team – he was finally at a level where he was deemed worthy of a £5.1m bid from Real Sociedad. At the time of writing, he has found the net 11 times in his 26 appearances for the La Liga side.
Geronimo Rulli, meanwhile, is seen as a potential Argentine No.1 of the future, which was why Maldonado thought it was wise to pay £3m to Estudiantes for his services in 2014. They promptly punted him out on a two-year loan to Real Sociedad, where he attracted the attention of infamously-minted Manchester City. The English club forked out over £4m for the keeper, who they have since loaned and then sold to Real Sociedad.
Taxman troubles
By now you may have noticed that most of the players involved in these big deals are from Argentina and Brazil, rather than Uruguay – so why not just set up shop at a club in one of those countries? The answer is simple: taxes.
According to an article that featured in the Argentine newspaper Tiempo Argentino, an international transfer of a player from a Uruguayan club to a club outside the country would be taxed at 12.5%. Three years ago, it was 4%. If transactions like these were conducted from Argentina, the minimum tax demands would be 24.5%, with the deductions sometimes rising all the way up to 35%. Suddenly, it's very clear why a club to the east of the River Plate was seen as the prime location for this business model.
It's believed the AUF have thought about creating a rule by which all players acquired by an Uruguayan club must play for their first team for six months before they can then be sold overseas, though that would contradict Uruguayan employment law, which affords workers the freedom to choose where they want to ply their trade.
Deportivo Maldonado's modest size also makes them ideal for a business of this type. Try 'flipping' players in this way at a more illustrious club – say Penarol or Nacional, who have lifted eight Copas Libertadores between them – and the fans will furiously demand they be given the chance to see these promising talents in action. At Maldonado, fans are happy their club is still there.
"If you were born or raised in Maldonado, you have been to the club," says lifelong fan Alvaro. "You have either been to a football match, or a child's birthday party, or a wedding. Maybe you have been with your friends to play a game of five-a-side. If not, you at very least have a family member who did. This is a football club that fought for the working classes to be allowed its membership. This club has always been clean and we deserve some credit and respect for that."  
At least according to Alvaro, Maldonado's tiny fanbase are content enough in the knowledge their club is still up and running. They are more than happy to see largely unknown local players take to the pitch and run their hearts out for 90 minutes. After all, that's more than they would have dared dream of back when Deportivo Maldonado risked disappearing from the face of the Earth just a few years ago.
This feature first appeared in the March 2017 issue of FourFourTwo. Subscribe!
Quizzes, features and footballing fun
Get the best features, fun and footballing frolics straight to your inbox every week.
Thank you for signing up to Four Four Two. You will receive a verification email shortly.
There was a problem. Please refresh the page and try again.