English players four times more likely to be called up than Spaniards
Pete Sharland crunches the numbers...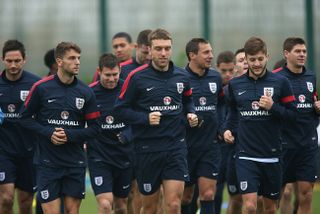 Much was made of Southampton duo Adam Lallana and Jay Rodriguez making their first appearances for England in Friday's 2-0 defeat to Chile. The latter had just received his first call-up, prompting much debate among fans and pundits alike.
Of course Rodriguez was in good form and perhaps warranted a place in what was an experimental squad, but he represented a growing group of players who had a few good games for their clubs and suddenly found themselves in and around the national set-up.
This debate led to the discovery that, of the 117 English players to have started a Premier League match this season, 65 have received a call-up to the national side at some stage in their career - some 55.6%. Furthermore, the likes of Luke Shaw (Southampton), Ravel Morrison (West Ham) and Saido Berahino (West Brom) all seem likely to win call-ups sooner rather than later.
To put this into context, of the 268 active Spanish players in La Liga just 40 (14.9%) have received a call-up by the world and European champions, a huge disparity. Does all this mean that England call-ups have lost their charm? If you're playing often enough for a Premier League side will you get a call-up? Or does it just mean that England are making the best of the slim pickings available?
Best of a bad bunch?
Roy Hodgson's problem is demonstrated by the biggest statistic above: not the percentage, but the population. Spain have over 100 more domestic players playing in their top flight than England do in theirs. That shows exactly why the FA are so concerned about making sure homegrown talent doesn't get stymied by the Premier League's increasing globalisation.
There are well-documented examples of talented English players wasting away on the bench. Take Manchester City's Jack Rodwell and Scott Sinclair, who moved (from Everton and Swansea respectively) far too early in their careers and have since been unable to make a discernible impact at the Etihad. Sinclair is now on loan at West Brom, with Rodwell perhaps needing to follow suit if he wants to resurrect his career.
It's all well and good to criticise Hodgson, but in reality he is doing his best with the tools available. Of course it doesn't help that England's so-called 'Golden Generation' have now largely gone, having failed to live up to their potential on the international stage. Despite this, they will still leave a void that needs to be filled, and it's unfair to expect Hodgson to pick the right replacements straight away.
It's not an easy job, not least because of the expectation of the English public: there are still some fans who fail to accept that England are simply not at the level of Spain or Germany. They may be a minority, but people do need to realise that the limitations of the current crop of English players mean that they are playing near enough at the expected level.
Roy is too experimental
Having said that, England's potential deficiencies do not necessarily give Hodgson the licence to call up every player under the sun. Germany are calling up roughly one in three of their eligible players, but that is only because their current pool of players is extremely talented. Spain have used just 40 out of 268 players available and by doing so they give a strong argument for continuity.
Players at international level won't always be playing together at club level; of the XI that started against Chile, only six were clubmates - Jay Rodriguez and Adam Lallana at Southampton, Frank Lampard and Gary Cahill at Chelsea, and Wayne Rooney and Phil Jones. While that may not sound too bad, the only two that will realistically be starting the first game in Brazil are Cahill and Rooney.
The key to successful teams is understanding. Most of Spain's players have played together for many years, either with the national team, at youth level, or with Real Madrid or Barcelona. While England are trying to improve the standards of their youth teams, that won't help the current group of players, what they need are regular opportunities to play together.
Centre-back and striker are two areas of the pitch where communication and a real partnership are key. Roy Hodgson would do well to play Phil Jagielka, Cahill, Daniel Sturridge and Wayne Rooney together as often as possible because they currently look like the likely starters in that position.
Expecting too much too soon?
Experimenting with the likes of Rodriguez is all well and good, but it just isn't fair to expect the kid to hit the ground running and make an instant impact. Not everyone takes to international football as easily as Rooney. It's unfair to throw Rodriguez in against a very experienced and well-organised Chile side, saying "Here you go: have 57 minutes to win a World Cup place".
Unfortunately it means that he probably won't go to the World Cup, but luckily he has time on his side and you would expect him to recover and eventually get another chance with England. That's the problem though; unless you shine straight away your opportunities will be limited.
After the match against Germany the only other friendly before Hodgson names his World Cup squad is against Denmark in March. It is ridiculous to conceive that Hodgson could possibly know his best 23 on form and how they work with one another by then.
As a side point it is well worth looking at the calibre of opposition when judging new international players. Rodriguez was up against a very good Chile side; his clubmate Rickie Lambert made his international bow against Scotland who, determined as they may have been, are not in the same league. The story is similar with Andros Townsend, who made his debut against a weakened Montenegro side. Surely players like Rodriguez could have been bedded in during games against San Marino and Moldova on this basis?
The solution?
Realistically, there isn't one right now. The FA have booked these three friendlies and Hodgson has already named his squad for the first two. When the Denmark game comes round in March, he needs to name more or the less the same 23 he will take to Brazil; to rest just a few certainties and experiment with the maybes. Someone like Steven Gerrard will start in Brazil and he has been in the set-up long enough to know how to operate with any player. Give him a rest and give others a chance to fight for their seat on the plane.
The random splurge of call-ups at this stage though just makes no sense. A lot of these lads either won't feature ever again or they will take a few years to re-appear. If Hodgson knows his 23 - and he probably knows a vast majority - he might as well give them as many games together as possible. It may sound unfair to those in good form but unless they have a genuine chance of being on the plane to Brazil they shouldn't be playing now. Fitness permitting, England should be playing as many first-teamers as possible right now.
By experimenting, England leave themselves vulnerable to being ruthlessly exposed by better organised sides more accustomed to playing with each other. Too often England players have been accused of looking like they've never met each other before. It hardly helps at this stage to introduce more strangers into the equation.
Quizzes, features and footballing fun
Get the best features, fun and footballing frolics straight to your inbox every week.
Thank you for signing up to Four Four Two. You will receive a verification email shortly.
There was a problem. Please refresh the page and try again.