EVERYTHING you need to know about FIFA 18 FUTTIES – and which cards you should invest in right now
With EA's Festival of Football promotion at a close, FUTTIES is next on the FIFA Ultimate Team calendar. Here's what you need to know about the special event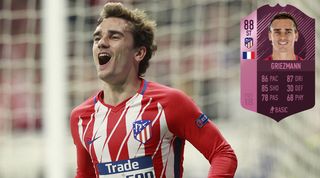 What is FUTTIES?
FUTTIES is an annual event in FIFA Ultimate Team (FUT), where select players receive pink In-form (IF) cards based on their popularity in the FIFA community. It's somewhat like FUT's official awards ceremony: Ultimate Team managers vote for their favourite cards of the gaming season in different categories which are synonymous with certain traits, playing styles and positions.
During the promotion, EA will release premium End ofan Eracards – upgraded versions of footballers who hung up their boots at the end of 2017/18, some of which include Per Mertesacker, Tomas Rosicky and Roman Weidenfeller. The End of an Era cards, like FUTTIES cards, can only be obtained through Squad Building Challenges (SBCs).
Loan items of players who recently completed transfers to new clubs will also be available during the promotion through Marquee Transfer Squad Building Challenges, so you'll have a chance to get your hands on Cristiano Ronaldo's Juventus card before FIFA 19 rolls out on September 29.
Fan favourite SBCs from throughout the year will also be available during FUTTIES, along with guaranteed Team of the Week packs and Team of the Season packs, which will be available through SBCs and weekend league rewards. There's also a chance that Squad Battle players could receive some special packs as part of their weekly rewards.
When will FUTTIES take place?
With the World Cup over, FUTTIES is set to begin on July 18 and will likely run for six weeks.
How do you vote?
Voting is done by completing player nominee Squad Building Challenges. A number of nominee SBCs are released per category, and completing one of those SBCs will count as a vote for the nominated player. The players with the most amounts of votes in each category will receive a pink card with upgraded stats, which is only obtainable by completing the player's award-winner SBC.
Some of the categories include Favourite Centre-Back, Favourite Goalkeeper and Favourite Swap Position (which essentially means favourite versatile player). We could get new categories this year considering the twist EA has put on some of their FIFA 18 promotions.
Types of players to invest in
When there's a promo involving SBCs, there are always tons of coins to be made if you invest in players that will be required for the SBCs. Luckily for you, we've got a fair idea on the best types of players to sink your coins into.
The 83- and 84-rated gold cards are likely to rise in price due to the sheer amount of SBCs that will be available during the promotion. Some 83-rated cards like Yann Sommer and Geronimo Rulli can be picked up for 1k coins, while some 84s currently go for 2.8k coins.
The best 84-rated players to invest in are Juan Mata, Marquinhos, Willian and Ederson, who all offer strong links to high-rated players thanks to their league and nation combo – allowing you to create hybrids as per SBC requirements. Jonathan Tah is worth a shout despite being an 82-rated player – he's a popular pick for SBCs, as evidenced by the fact that he nearly went extinct during the Team of the Season promo back in May.
End ofan Era investments are somewhat costly due to the high requirements that the SBCs will most definitely have, but they're worth it.
Last year, FUTBirthday, Ones to Watch, In-forms and Team of the Season cards were needed for the End of an Era SBCs. Keep in mind that you could use FUT Champions monthly rewards in place of In-forms, though, reducing the demand for them on the market.
You'd do well to pick up the FUTbirthdayversions of Keisuke Honda and Danilo Pereira, both of whom cost around 16-17k – making them the cheapest FUTBirthday cards on the market. Honda is rated 84 while Pereira is rated 85, so they'd be quite useful in terms of the SBCs rating requirement.
For Ones to Watch, Cenk Tosun and Gylfi Sigurdsson would be the best players to acquire; they're the cheapest 84-rated Ones to Watch players on the market, and currently go for 17-19k coins.
Teamof the Season investments are a bit tricky, as there's a 50/50 chance that you'll need a high-rated card. Investing based on just the Team of the Season requirement, and not the rating requirement, could leave you without any real profit.
Investing in decently-rated Team of the Season cards would be a better strategy. Our best picks are from the EFL Team of the Season in the form of Souleymane Bamba – the cheapest 88-rated Team of the Season player at 34k coins – along with the 87-rated Tom Cairney, who costs around 30k coins.
End of an Era Gold card investments should be based solely on ratings and player popularity, as last year's SBCs required high-rated squads to complete. Aim to pick up players like Cesc Fabregas, Petr Cech, Javi Martinez and Christian Eriksen, as they tend to reach their maximum prices during SBCs which require high-rated squads.
Quizzes, features and footballing fun
Get the best features, fun and footballing frolics straight to your inbox every week.
Thank you for signing up to Four Four Two. You will receive a verification email shortly.
There was a problem. Please refresh the page and try again.