The final straw? How Arsene Wenger could be embarrassingly humbled by Pep Guardiola this weekend
The two managers will lock horns when Arsenal face Manchester City this weekend, and Alex Keble believes the Catalan could show how far his opposite number has fallen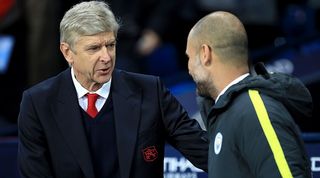 The cult of Pep Guardiola might not exist in Britain without Arsene Wenger. The Frenchman's coaching methods revolutionised tactics and off-field preparations in England in the mid-1990s, paving the way for idealists like the Manchester City manager. 
Without the professor's groundwork, the work-in-progress tactical plan currently unfolding at the Etihad would not be so patiently respected. Wenger's legacy therefore stretches far beyond the parameters of north London, so even as his dynasty crumbles, it's important that we respect and celebrate his achievements.
Yet times change. Wenger has become the stubborn conservative - a fact made painfully clear by the more complex patterns being created by Guardiola. Consequently, humiliation at the Emirates this weekend would highlight the widening gap between Wenger and the elite, as well as all but confirming Arsenal's absence from the Champions League next season.
In short, victory for City would be the final straw for Wenger – or at least it should be.
The tactical chasm between these two sides is stark, despite City's clumsy attempts so far to fulfil Guardiola's philosophy. From the compressed overall shape to the exacting choreography of central midfield, the City boss's tactics underline the failures of his upcoming opponent. Forget talk of psychological blockages and mid-season collapses: Wenger's flaws are distinctly tactical.
Defence and attack
Guardiola is often mistakenly viewed as a purely attacking coach, but his uber-high line, possession dominance and furious pressing are designed to limit the opposition's capacity to attack. "Defensive organisation is the cornerstone of everything else I want to achieve in my football," the man himself told Marti Perarnau in Pep Confidential.
Guardiola's belief in a 15-pass build-up is not aimless tiki-taka, but rather an attempt to move the entire team up the pitch in a controlled and compact shape. This allows his side to create multiple short passing options and be fully prepared to counter-press. When the opponent wins the ball deep in their own half, City should be so well structured that they can suffocate the counter-attacking threat. It's a defensive philosophy as much as an attacking one.
Wenger doesn't utilise a similar strategy, despite being equally obsessed with ball retention. Arsenal's pressing is hopelessly sporadic; the forwards rarely apply consistent pressure, and when the ball moves beyond them, frequently refuse to track back. The backline retreats, showing little concern for the gap they are opening between themselves and the rest of the team. Meanwhile, the central midfielders desperately struggle for control in the centre of this chaotic system.
Unsurprisingly, low morale exacerbates this issue, leading to the strangely non-confrontational approach Arsenal have been taking even when deep inside their own half. But this is a symptom of wider failure and not a cause.
Stuck in the middle with you
Guardiola's philosophy isn't the only way to defend, but it's a successful strategy for any team that aims to monopolise possession. When Wenger's Invincibles dominated the Premier League in 2003/04, similarly complex defensive pressing wasn't necessary. With English sides still largely built on the machismo of charismatic individuals rather than the more intricate team shapes we see today, Wenger could rely upon the individual brilliance and leadership of, for example, Ashley Cole and Sol Campbell.
This is no longer the case. His weakness in this area, so brutally exposed over much of the past decade, will contrast sharply with City on Sunday.
Central midfield is the biggest symbol of Arsenal's repetitive failures in recent years. Since Gilberto Silva's powers began to wane in 2007, Arsenal have lacked a defensive midfielder capable of sewing the team together. Or so the theory goes.
In fact, it's a tactical issue that is truly to blame for disarray in the engine room. Whereas Guardiola's defensive midfielders excel in a compact team – even the wayward Yaya Toure looks competent with such a small central space to defend – Wenger's flounder. The £30 million Granit Xhaka, for example, appears to have added little value to the team.
This is because it's the system, not the player, which is the problem. Not even N'Golo Kante could plug the gaps in Wenger's midfield. Cut adrift by a retreating back four and left to work alone by lazy wingers, Arsenal's two central midfielders are left to scramble helplessly across the width of the pitch.
But Wenger's tactical issues in midfield aren't just about defensive solidity. City's constant movement – and subsequent connectedness with the forwards – is the most obvious difference between Guardiola's midfield and Wenger's.
Innovator left behind
It's telling Guardiola told Marti Perarnau that formations are "nothing more than telephone numbers", while Wenger has stuck rigidly to a 4-2-3-1 for years. As City swirl and swarm, their formation is constantly evolving - and nowhere is this more evident than in the middle of the pitch.
From Sergio Busquets and Andres Iniesta at Barcelona to Thiago Alcantara and Philipp Lahm at Bayern Munich, Guardiola's midfielders aren't just positionally intelligent but perfectly in sync. In the absence of such quality in Manchester, the Catalan has shuffled Kevin De Bruyne and David Silva into deeper roles, where they shuttle around midfield before arriving late in the final third.
RECOMMENDED
5 affordable (but in-form) strikers who could move to the Premier League this summer
Why respect campaigns and policing player language only make refs' lives worse
What you need to know about video technology in football - and when we might see it in the Premier League
In the six years since Cesc Fabregas left for Barcelona, Wenger hasn't signed a single box-to-box midfielder. The currently injured Santi Cazorla, who moved from the flank to the centre after joining the club, is the only Arsenal player capable of outmanoeuvring a press, creating one-touch passing triangles and feeding the forwards from a deep midfield position. His importance to the team is alarming, and highlights the contrast between Arsenal's static midfield and City's.
Reports indicate that Wenger is keen to extend his contract and will reveal his intentions in the near future, but a humiliating result on Sunday would only add more fuel to the burning notion that his time is up. The dissenting voices have never been so loud, the squad has never looked this bereft, and defeat by City would make Champions League qualification - a factor likely to create anxiety within the boardroom – highly unlikely.
Wenger deserves enduring respect for his transformative influence in English football, but having laid the foundations for today's imaginative tacticians, his successors have overtaken him. A Guardiola masterclass would cruelly flaunt what Arsenal are missing and, once and for all, confirm that a resurgence under Wenger is impossible.
Quizzes, features and footballing fun
Get the best features, fun and footballing frolics straight to your inbox every week.
Thank you for signing up to Four Four Two. You will receive a verification email shortly.
There was a problem. Please refresh the page and try again.