Fulham players relieved that they can focus on relegation
The Cottagers can see a silver lining to their FA Cup misery, Back of the Net reveals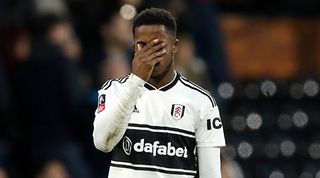 Fulham's players and manager have stressed that an FA Cup exit at the hands of Oldham Athletic means they can now give 100 per cent of their attention to sliding inexorably towards the Championship.
While a home tie against a League One side seemed to present an opportunity to give the fans something to cheer about, the west London outfit expertly dodged that banana skin by snatching a humiliating defeat from the jaws of a routine victory.
"We can get back to the real business now," Calum Chambers told FourFourTwo.
"All our thoughts are on Burnley and how we manage to avoid getting three points against another truly dismal side.
"Everyone knows that at this stage of the season it's hard juggling your league and cup disappointments.
"You can be losing week in, week out in the Premier League but lose focus, and the next thing you know you've managed an audacious run to the FA Cup final and given the fans something to savour for a generation.
"But right now, especially after last weekend, the feeling in the dressing room is that we could lose to anyone on our day."
Relief
Boss Claudio Ranieri made six changes for the Oldham defeat – a decision that was eventually vindicated when his second-string side finally showed what they were capable of and capitulated feebly.
"I'd been having some selection headaches lately, but now I can relax knowing that my options really are as limited as they seem," Ranieri told FFT.
"It's important heading into the final stretch of the season to know that there's absolutely no ace up your sleeve and that every player in the squad is somehow weaker than the last.
"I firmly believe that if we can move decisively and misguidedly in the transfer window, that should allow the fans to begin planning for Luton away next season.
Fulham supporters have applauded their players for meekly submitting to Oldham and ensuring the remainder of the season isn't marred by any cause for optimism.
"I think I speak for all Fulham fans when I say that I'm much more comfortable with my impending sense of dread not being interrupted by any temporary respite," supporter Jonathan Martin told FourFourTwo.
"I trust the players will face up to the rest of the season with the kind of stoic fatalism that we've come to expect."
Please note: This story is satirical. Like, obviously.
Quizzes, features and footballing fun
Get the best features, fun and footballing frolics straight to your inbox every week.
Thank you for signing up to Four Four Two. You will receive a verification email shortly.
There was a problem. Please refresh the page and try again.