Hodgson will be remembered for wrong reasons, but his successor must not let some good work go to waste
By Declan Warrington published
His major tournaments were overwhelming disappointments, writes Declan Warrington, but don't completely discredit what he leaves for the next man to work with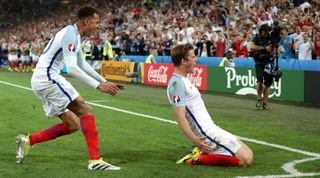 As the Football Association begins its search for the next England manager, there are positive foundations Roy Hodgson built that they would be wise not to discard – even amid the disappointment surrounding their elimination from Euro 2016.
For once, as Hodgson spoke of his optimism surrounding England's future – not that the abject performance in the 2-1 defeat by Iceland remotely demonstrated it – there was reason to agree instead of accepting his views as an outgoing manager's routine spin.
While the worst aspects of that performance – a lack of understanding among the players, of direction from their management, and an apparently-shapeless system easily contained by Iceland's organisation – provided nothing but discouragement, it is in each of those areas where Hodgson made significant progress with during his four years.
Sunshine through the clouds
Before the perfect storm of the 68-year-old's growing uncertainty and confusion, the lack of belief among tired players, further poor defending, Joe Hart's mistakes and Iceland's freedom throughout that last 16 defeat, a promising team had been threatening to emerge.
The more fluid, balanced, attacking system – in movement and shape – that so encouragingly won at Germany in March, and outplayed Russia and Slovakia, had continued to develop. Though it was non-existent against Iceland, it is this that should be recovered and used.
Little over six months ago upon his resignation, Stuart Lancaster was widely criticised for England's elimination from the 2015 Rugby World Cup, in the belief that the pressure of a major tournament led to internal confusion, changes in selection and the uncertain performances his team produced.
Hodgson in so many ways replicated his lack of conviction, yet today it is even more widely accepted that it is Lancaster's foundations that have allowed his replacement Eddie Jones to succeed.
Picking up Capello's pieces
Upon his appointment on the eve of Euro 2012, and when his playing options were worryingly limited, Hodgson had neither the time nor the inclination to attempt anything beyond organising the rigid team his predecessor Fabio Capello had stubbornly overseen.
His use of a 4-4-1-1 formation was close to the 4-4-2 he had long used, and which previously brought him success, but he recognised the need thereafter for a long-term overhaul – to finally play the 4-3-3 used by the world's elite, to abandon England's long-term direct approach and to encourage sophistication in possession.
Slowly but surely, he was succeeding in doing so. Until kick-off against Iceland, there had been steady progress, and reason to hope that their slow use of the ball in the final third would eventually improve in the same way their 39% possession in 2012 had significantly risen to 59% four years on.
Hodgson's was the youngest squad at the competition (at least until Germany called up Jonathan Tah as a replacement), having convincingly moved on from the generation of Steven Gerrard, John Terry, Frank Lampard and Ashley Cole, and had a pass-completion percentage bettered by only Germany, Switzerland and Spain.
His squad selection (though with hindsight easier to criticise) was similarly admirable; the refusal to include Andy Carroll, a traditional targetman, or the in-form Andros Townsend, an orthodox winger, showed a true commitment to the modern, passing approach that England were finally adopting.
YOU DECIDE
Your call: Who should be the next England manager?
New England manager: Here's who FFT's readers want to replace Roy
Avoiding old errors
When Glenn Hoddle was sacked as England manager in 1999, it ended a period of team-building that had begun with Terry Venables' appointment five years earlier. Hoddle's system – when it was accepted England at last had a convincing identity and a consistent, coherent style of play – evolved from Venables' short-term success.
He had started to introduce Jamie Redknapp to the core already provided by David Beckham, Paul Scholes, Alan Shearer and Michael Owen, and shortly after Rio Ferdinand had been earmarked to follow.
Apparently little thought went into the appointment of Kevin Keegan as his successor, when Hoddle's fluid 3-5-2 was lost and replaced by a blood-and-thunder 4-4-2. So much damage was done that when Sven-Goran Eriksson replaced Keegan, he, and each of those who have followed him, have felt the need to overhaul and effectively start afresh.
Among the aims of the 'England DNA' programme introduced by FA technical director Dan Ashworth was a desire to see English footballers "intelligently dominate possession, selecting the right moments to progress the play".
It is that which would have contributed to the perception that the surprisingly uninterested Gareth Southgate is a suitable successor, and which – if the wrong appointment is made – is at risk of being thrown away.
For the first time there appears to be a definable strategy in place, and partly because of the cultural transition Hodgson has encouraged. It is also crucial his successor nurtures that, instead of forcing the thoughtless, ineffective changes that came from previous attempts to build from the top, when one coach's philosophy was considered suitable after – and not before – his appointment was confirmed.
Evolution, not revolution
When he left each club on his terms – unlike at Liverpool, and despite the fact he resigned with England too – Fulham and West Brom retained strong foundations that were crucial to the relative success experienced by Hodgson's respective successors, Mark Hughes and Steve Clarke.
Those foundations again exist amid England's promising, talented squad, and if they can be built upon – retaining the modern shape to which Eric Dier is so crucial, and where it's hoped Raheem Sterling can again contribute greater variety to some fine finishers in the team's final third – Hodgson's momentum can swiftly be rediscovered, and their development can resume.
FFT COMMENT
The 7 worst things about England's Euro 2016 exit
Hodgson had to go – but inside he'll be seething with the players he trusted
There are those at Inter Milan who still fondly recall Hodgson's two years at the club from 1995, when he took them from sixth to third and a UEFA Cup final they lost only on penalties. At the point of his 1997 departure for Blackburn, they were considered ready to challenge for the Serie A title.
The reality is that his England legacy could prove similarly respectable.
He will likely forever be remembered, though, as the manager who oversaw England's worst-ever World Cup campaign, and for the poorest of performances against Iceland.
During his four years, however, Hodgson developed a promising young team with many of the attributes England have long required. If his successor builds upon those foundations, those four years may yet prove worthwhile.
Thank you for reading 5 articles this month* Join now for unlimited access
Enjoy your first month for just £1 / $1 / €1
*Read 5 free articles per month without a subscription
Join now for unlimited access
Try first month for just £1 / $1 / €1
Quizzes, features and footballing fun
Get the best features, fun and footballing frolics straight to your inbox every week.
Thank you for signing up to Four Four Two. You will receive a verification email shortly.
There was a problem. Please refresh the page and try again.