Homegrown Asian stars are turning heads but how bright the lights of Europe?
With Asian players starting to build global reputations back home, John Duerden wonders if playing in Europe is still the true test of a footballer's mettle...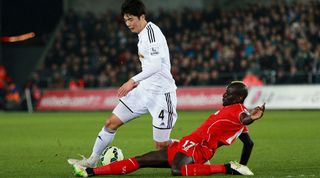 To be considered a world-class player, there is a simple, if challenging, equation to satisfy. The star-laden pitches of Europe's major leagues are the testing grounds for the measure of an international player. Even one of the greatest of all-time, Pelé, suffers criticism that the three-time World Cup winner otherwise spent his career notching "easy goals" with Santos in his native Brazil.
Asia knows these expectations all too well. 20 of FourFourTwo's 50 best Asian players are playing in Europe attempting to validate their status as stars of true merit. Making the jump from non-European competition stardom to European league success is what defines a career.
The biggest Asian names on the international stage today are Shinji Kagawa, Son Heung-min, Keisuke Honda and Ki Sung-yueng. It is debatable they are Asia's best in pure playing terms, but their lofty status emanates from their playing domains: the Bundesliga, Serie A and the English Premier League.
Contrast this with the reputation gained by playing in Asia. From an international viewpoint, the reputation of Asian football has never been especially high. When co-hosts South Korea swept into the World Cup semi-finals in 2002, Asia fleetingly boosted its reputation on the global stage. Go forward 12 years and the collective failure of the Asian teams at the 2014 World Cup undid much of that good work. When a player from the third tier of English football, Massimo Luongo, won MVP at the 2015 Asian Cup there seemed to be further reason for the rest of the world to doubt Asia's overall strength.
We too fuel this Euro-obsession. As soon as a budding star emerges in Asia, discussions of when they should make "the move" quickly starts. When that move does occur, the Asia media goes with them. Ki Sung-yueng's standout performances for Swansea generated more column inches in the Korean media than anything he ever did with FC Seoul, while it seemed like the entire Japanese sports media decamped to Italy to follow Hidetoshi Nakata. 50 million Chinese fans watched a live broadcast of Zhang Xizhe with new club Wolfsburg yet little happened when Li Weifeng made the short move across the Yellow Sea to join Suwon Samsung Bluewings in 2009. When Europe excites Asia more than Asia does, it is tough to expect the rest of the world to be different.
However, there is evidence of progress on this matter. Things are changing and there is hope for the world's biggest continent. Compared to five or 10 years ago, there is a genuine Asian football media and community. There is more football news, views and analysis than ever before. Slowly, Asia is gaining its own global exposure. The lights may not be the brightest but they can now penetrate through the shadowy world of scouts to shine in the faces of the ordinary fan on the street.
Take Omar Abdulrahman, number five in the FFT rankings this year. In Asia, he has become one of the biggest names purely through performances with Al Ain, and especially the United Arab Emirates national and Olympic teams. At the 2015 Asian Cup in Australia there was anticipation of his arrival by those who follow the continent's football scene and that developed into genuine excitement and appreciation of this home-spun talent. The bushy-haired playmaker is a delight to watch and his continental performances has made him a recognised talent around the world. He might still have to head West to properly validate his abilities, but it is in Asia where this 23 year-old first became an international name.
Other players are yet to spark the same levels of international excitement, but that might change very soon too. The building sentiment in Japan is that FC Tokyo striker Yoshinori Muto is more than your typical Japanese goalgetter. Muto has reportedly gained the interest of English giants Chelsea. Even if London is not the 22 year-old's next destination, another big European club is likely to show interest. Then there is Zhang Linpeng. Inter Milan have been interested in the Guangzhou Evergrande defender for some time. If that move materialises it will be fascinating to see how a Chinese centre-back performs in a country still held to be masters of that art.
The standing of Asian football still has a long way to go. However, genuine global excitement has started to grow for the continent's players ahead of a move to Europe. Players will still need to impress in Europe to prove they are world-class, but Asia is starting to be seen as a breeding ground for exciting talent in the eyes of global fans.
The FourFourTwo Asia50 is in association with Samsung SportsFlow – bringing you the most comprehensive sports coverage in one place via a single app. Find out more and download at www.sportsflow.me
Quizzes, features and footballing fun
Get the best features, fun and footballing frolics straight to your inbox every week.
Thank you for signing up to Four Four Two. You will receive a verification email shortly.
There was a problem. Please refresh the page and try again.