Martin Kelner's Screen Break: Roy gets away with it; Gabby overdoses on Haribo
You saw how Roy's boys got on in Lens against Wales – but what about those media bods we love to chatter about? Martin Kelner, whose "Screen Break" column ran for 16 years in The Guardian, does the dismantling...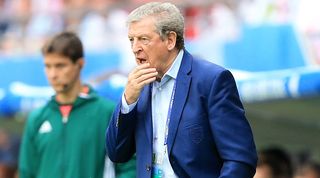 Don't you love these two o'clock in the afternoon kick-offs?  Watching a football match during office hours always feels delightfully sinful even if, like me, you had nothing else to do anyway and would probably have been watching Duel at Silver Creek (PG,1952) on Film 4 if the match wasn't on.
On the BBC, though, the early kick-offs (or kicks-off for my pedant audience) put the presenter under added pressure, given precedent on the channel – notably the sainted Desmond Lynam's performance in similar circumstances.  
"Good afternoon, shouldn't you be at work?" (with suggestively raised eyebrow) was Sir Des's famous welcome to the England-Tunisia group game at France 98. He didn't quite twirl his moustache, but the thought was there.  
As early as Euro 96, Des had set the benchmark for ironically low-key intros: "Good evening, you've obviously heard there's a football match on tonight," he said, in advance of the keenly anticipated semi-final between England and Germany.  
It made Gary Lineker's "Thought you'd find a way. Glad you could make it," seem a little underpowered. Perhaps he needs to grow a moustache.  
Actually, Gary was more hesitant than usual all afternoon, and I'm wondering if there were technical problems, because during the post-match chat his talkback was clearly audible on my sofa.
Four's a crowd
He also had an extra pundit to cope with. The BBC likes to arrive mob-handed at moments of great national significance and fielded a four on the 'experts' bench, where the industry standard is a three. With Wales's John Hartson and Dean Saunders joining regulars Alan Shearer and Rio Ferdinand – 270 caps between them, Gary reminded us – it meant an extra voice to tell us what "a massive, massive match" it was (I counted five reminders before kick-off of the inescapable massiveness of it all).
Not that there was any need to keep telling us. The extra seat was reminder enough, and it even seemed to get to Roy Hodgson who, in his pre-match interview with Gabby Logan seemed – in the words of one of my Twitter friends – "as nervous as a kitten in a tumble dryer".
He got away with it, though – no more than that – and was commendably humble in post-match, which can't be easy with Gabby screaming at you about how much of a genius you are with your substitutions.  He smiled winningly, and gave thanks to circumstances: "Er, I wasn't counting on being 1-0 down," was his explanation of his tactical acumen.  
As much as I join the rest of the nation in cursing Hodgson when it seems appropriate, there are times when you can't help liking him.
Keep it
Unless she had been overdosing on Haribo or had taken too much caffeine on board, problems with the microphones were probably to blame for Gabby sounding so shouty and over-excited in her post-match interviews, which makes it all the more ironic that the mic in the tunnel pre-match caught perfectly Joe Hart's battle-cry to his team-mates to "keep the f***ing ball".  
Commentator Guy Mowbray apologised – because obviously you would never expect to hear swearing at a football match – but how doubly ironic that it was Hart himself who failed to keep the f***ing ball from Bale's free-kick.
Potty-mouth Hart was given a wide berth post-match. The deeply religious Daniel Sturridge was unlikely to test the BBC's profanity filter, and predictably perhaps, he ascribed his winner to divine intervention. Twice in his post-match interview he pronounced himself "grateful to God for allowing me to score". As someone without religion, it's an attitude that always puzzles me – equally when you see players cross themselves after scoring. If God is with you when you score a vital goal, where is he when you miss that sitter?
And now for England's final match it's over to ITV, who have been a smidgen more continental in their selections for the punditry seats. I shall be disappointed if they don't stick with the impressive Slaven Bilic in the middle of a mobile three.
Martin will be back to run the rule post-Slovakia. Nobody's safe... 
Quizzes, features and footballing fun
Get the best features, fun and footballing frolics straight to your inbox every week.
Thank you for signing up to Four Four Two. You will receive a verification email shortly.
There was a problem. Please refresh the page and try again.