Mourinho shakes hands with literally everyone but Wenger
Jose Mourinho has taken extreme measures to intensify the feud with his Arsenal counterpart, Back of the Net reports...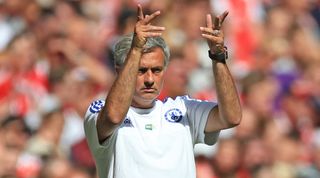 Chelsea boss Jose Mourinho has been accused of provocation after shaking hands with everybody but Arsene Wenger at the Community Shield.
Arsenal ran out 1-0 victors at Wembley, which pitted rivals Mourinho and Wenger against each other for the first time in the 2015/16 campaign.
ALSO ON FFT.COM
Relations between Mourinho and Wenger have often been frosty and the Portuguese coach stirred controversy with his actions after the final whistle, offering warm handshakes to the Arsenal players, the officials, the press corps, stadium workers and all 85,437 fans one at a time before snubbing Wenger.
"I don't think it can be a coincidence that the only man within Wembley who Jose didn't shake hands with was Wenger," behavioural psychologist Russell Hodges told FourFourTwo.
"The statistics show that Mourinho walked the equivalent of 15 miles to execute 86,000 successful handshakes, plus over 200 affectionate ruffles of the hair and 45 pats on the back - at a 100% back pat success rate. It would seem an uncharacteristic slip-up to have missed Wenger, who was no more than a metre away and circling like a peckish pigeon.
"By the end Mourinho's hands were red raw, chaffed and bleeding with the impact of his magnanimous bonhomie, but he had the air of a man who had somehow proved a point."
Mourinho proceeded to cause a traffic pile-up on the North Circular by stopping his car to get out and shake the hands of passing motorists. He then turned up unannounced at Wenger's North London residence where he shook hands with Wenger's puzzled wife Annie Brosterhous and Wenger's cleaner, before turning his back on the manager and heading home. It is widely believed that Mourinho's actions may have been part of some subtle mind game, but as yet experts are yet to unpick his motives.
Quizzes, features and footballing fun
Get the best features, fun and footballing frolics straight to your inbox every week.
Thank you for signing up to Four Four Two. You will receive a verification email shortly.
There was a problem. Please refresh the page and try again.