Soccermatics pt 2: How maths shows that Chelsea are too dependent on Eden Hazard
In the second part of our look at football and maths, Professor David Sumpter analyses the faltering Premier League champions and their Belgian wing wizard...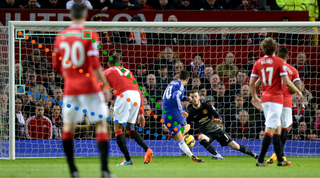 Can Chelsea connect again? Teams work best when the players connect. In part, getting connected is about players anticipating each other's movement and reading the game. A lot of these connections are subtle and difficult to see in statistics alone. But there are ways of quantifying how well a team is connecting. To do this we need to get networking.
The most fundamental way players connect is through passing. Below is an image of Chelsea's passing network when they took on Manchester United at Old Trafford on October 26, 2014.
Passing networks
Stats Zone
The players are the blue dots, placed according to the average position they received and passed the ball (you can utilise this tool yourself using FFT's award-winning, and free, Stats Zone app). The black lines connecting them indicate the number of successful passes pairs of players made.
The thicker the line, the more passes the two of them made. The most common pass was between John Terry and Gary Cahill; 14 by Cahill and 12 back from Terry. Goals don't come from centre-backs rolling the ball to each other, of course, but goals are created if you have a player like Eden Hazard. It is common that passing networks thin out nearer to the opponent's goal. It is, for obvious reasons, much harder to complete a pass in your opponent's half of the pitch than in your own.
But against Manchester United last year, Hazard turned this idea on its head. He made and received a total of 78 passes during the match, connecting strongly with Filipe Luis on the left, Cesc Fabregas in the middle and Didier Drogba in attack.
Hazard's magic
He made these connections a long way forward on the pitch. A brilliant example can be seen here...
Watch Hazard move forward, play a neat one-two with Drogba and advance on goal. It is this kind of stuff that earned him the PFA Player of the Year prize. Chelsea didn't win that match, but they started the first half of last season strongly. Fast-forward now to Manchester United's return trip to Stamford Bridge, on April 18, when Chelsea won 1-0. The goal was again created by a well-timed pass on the left side of the pitch and this time Hazard was able to beat David de Gea. Chelsea took an unassailable 10-point lead in the league, but the Blues' passing network had noticeably changed. Here's how it now looked...
Weak connections between Terry and Cahill; almost no connections at all on the right wing; and a fair number of direct passes from Thibaut Courtois up to Drogba. The only players who were well connected in midfield were Fabregas and Hazard. Otherwise the Chelsea connections had fallen apart. They might have had home advantage and won the match in the end, but they were not passing the ball very much.
RECOMMENDED Do good defences still win titles? Sorry Fergie, not anymore...
Passing problems
If Jose Mourinho looked at this, he might argue that there is more to football than passing the ball. His team don't play "football from the moon" he was quoted as saying afterwards. There are goal posts, and getting the ball between them is the aim of the game. Even mathematicians should be able understand this point.
However, this correspondent's point to Mourinho is not so much that Chelsea needed to pass the ball more towards the end of last season. He had a title to win, and he did that, so there is no questioning his tactics. Instead, what last season's networks reveal is an intense reliance on Hazard.
Independently of whether Chelsea were in possession and making lots of passes or if they conceded possession and counter-attacked, Hazard was the focal point. Research by mathematical sociologist Thomas Grund has shown that teams which have centralised passing networks, connecting to only one or two players, are typically less successful than those with decentralised passing networks.
Hazard warning
In the long term, a team should pass widely between all team members in order to score goals. Chelsea were an exception to this rule last season. Defences failed to cope with Hazard, and when combined with classic centre-forward performances from Drogba and Diego Costa, they became unstoppable.
RECOMMENDED
This season is a new challenge. Hazard hasn't been performing at the same level and was demoted to the substitutes' bench for the game against Aston Villa last weekend. This is the problem for teams that rely heavily on one player. No one individual should become too central in a team, because when it isn't working out for that player, the whole team fails. Without his forward-moving centre point, Mourinho is having to rebuild his midfield (as Michael Cox discussed in a recent FFT article). The win against Villa is a start, but in the long term Mourinho needs to get his players to connect again.
RECOMMENDED The FourFourTwo Preview: West Ham vs Chelsea
Tweet David Sumpter's @soccermatics account with your favourite match. He will see if he can create your team's network of passing
Quizzes, features and footballing fun
Get the best features, fun and footballing frolics straight to your inbox every week.
Thank you for signing up to Four Four Two. You will receive a verification email shortly.
There was a problem. Please refresh the page and try again.