Stoke chairman Peter Coates: Why football is better off with Britain in the EU
With much of Britain still dumbfounded by seemingly contradictory arguments on either side of the debate, Stoke City's chairman approached FFT to explain his take on what leaving Europe would mean for football...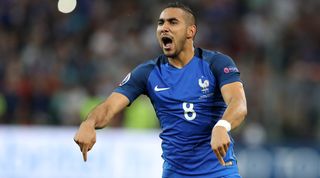 Please note: This opinion piece does not necessarily represent the views of FourFourTwo. We're impartial like that…
It seems like every conceivable angle has been covered and debated during the last few months and weeks of the EU referendum campaign. But despite me avidly following every twist and turn from a business and personal perspective, I have yet to hear a convincing argument for how leaving the EU would benefit Britain.
Whether it's the economy, jobs, protecting the rights of workers and women, tackling climate change or the myriad other issues at stake in this vote, the Leave campaign has simply failed to tell us what their plans are if we left the EU.
And that's the case for football too. I am firmly of the opinion that Stoke City, the Premier League and the whole of British football would be hit badly if Britain were to leave the EU.
Talking transfers
Take free movement between EU countries as an example. This is essential in securing player transfers and player contracts. Thanks to the EU, players from the continent can sign for clubs in Britain without needing a work visa or a special work permit, making it quicker and easier to secure top talent from across Europe to come and play here.
In April, Britain Stronger In Europe – the group campaigning for Britain to stay in the EU – released research that outlined exactly why this referendum matters to clubs, fans and the game as a whole. The figures revealed that more than 100 Premier League players could have been prevented from joining their clubs due to them being unable to secure automatic work permits.
Every Premier League club could have been hit with each having at least one player on that list. Stoke, for example, could have missed on out signing nine players if Britain was outside the EU, including Bojan and Joselu. Other players on that list include the likes of Anthony Martial, Hector Bellerin, N'Golo Kante and Dimitri Payet.
For any club, that kind of impact is significant. Those campaigning for us to leave the EU say that stopping foreign players coming into British football would be a good thing. Unsurprisingly, that's a point I fundamentally disagree with. Having the best talent coming to play in the Premier League and the rest of the football pyramid allows our game to flourish, and if anything provides an increasingly competitive game that helps British talent develop.
Stepping away from the EU would likely stem the talent coming into the game, which not only impacts clubs but would also damage the game as a spectacle. Fans want to see the best talent playing and the EU is a facilitator for that, not a hindrance.
For the fans
It's a point that is supported by Arsene Wenger who said that a change in Britain's position within the European Union would "completely re-question the influx of foreign players", before adding that if football in this country was to go that way it would leave the Premier League "with some serious questions".
Karren Brady, the CEO of West Ham, wrote to all professional clubs at the beginning of the year setting out her concerns for football in the event of us leaving the EU. She has continued to campaign on this and a range of points since.
The EU also helps fans travelling abroad to follow their side, whether that's away games in Europe or following their country to tournaments, as tens of thousands have done this month for the Euros.
Thanks to cheaper flights, soon-to-be-abolished mobile roaming charges and free healthcare abroad, we all pay less when we travel to the EU, meaning we have more money in our pockets when we arrive. Leaving the EU puts that at risk.
It's not just football at the highest level either that runs the risk of being seriously dented if we leave the EU. It's important to recognise, too, the support that the EU gives football projects around the UK. Since 2014, it has given more than £2m to programmes such as the Homeless World Cup and The Football League Trust.
These are schemes that use football to change the lives of people up and down the country on a daily basis. Where is the support going to come from for these crucial initiatives if we leave the EU?
More questions
It's questions like these, and many more, that the Leave campaign is failing to answer. Staggeringly, they don't have an economic plan for Britain outside the EU, yet they want us to blindly lead our country away from stability.
That's a gamble that isn't worth the paper it's written on, especially when the Treasury has warned that the British economy could be hit to the tune of £4,300 per household if we left.
It's why I am so passionate about Britain staying in the EU. This is the single biggest decision facing all of us in recent memory and it's one that we only get to make once. Leaving is a risk that we cannot afford to take, and that's why I will be voting to Remain on June 23.
FourFourTwo asked the Vote Leave campaign for their side of the story, but they are yet to reply.
Quizzes, features and footballing fun
Get the best features, fun and footballing frolics straight to your inbox every week.
Thank you for signing up to Four Four Two. You will receive a verification email shortly.
There was a problem. Please refresh the page and try again.