Why it's time for Alex Oxlade-Chamberlain to get nasty and go fulfil his potential
The Arsenal forward is well-liked by fans and the media alike. Chas Newkey-Burden investigates whether Mr Nice is headed for both success and popularity...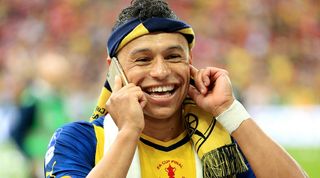 Alex Oxlade-Chamberlain is a fascinating bunch of people. If you want to get to know some of them, you'll find them in two moments - a matter of seconds apart - deep into Arsenal's Champions League home tie with Monaco last season.
With the Gunners trailing 2-0, Arsene Wenger sent on the intrepid young attacker to see what he could conjure up. In the 90th minute, the introduction seemed to pay off as the winger calmly found space on the edge of a frenetic area and curled a Bergkamp-esque shot into the top corner of the net.
The Englishman had handed the north Londoners a lifeline: a single-goal deficit could surely be overcome in the second leg. All hail the Ox.
But no sooner had the home fans retaken their seats, their hero had turned villain, cheaply surrendering possession and allowing Monaco's Yannick Ferreira-Carrasco to break and score the goal that effectively knocked Arsenal out of the competition. In those two moments, Oxlade-Chamberlain's strength (powerful, explosive contributions in attack) and weakness (a hellish tendency to lazily give the ball away) were laid bare – and to such exorbitant cost.
Will the real Ox please stand up?
He had begun the campaign promisingly, seemingly inspired by the arrival of the electric Alexis Sanchez from Barcelona, but although his final contribution was an assist for Olivier Giroud in the FA Cup final, it was hard to escape the overall sense that Oxlade-Chamberlain had once again not quite lived up to his potential.
He began this season well too, with an incendiary, match-winning shift against Chelsea in the Community Shield. He has been somewhat anonymous in subsequent games however, and was guilty of another costly ceding of possession at home to Everton before succumbing to another injury.
Oxlade-Chamberlain is such a mixed bag that he might as well have 'Jekyll and Hyde' printed on the back of his shirt. In truth, the young Englishman tends to make about one game a year his own, spending the rest of his time being either inconsistent or injured.
Unfulfilled potential
It all started so well for him in north London. Seeing the youngster score twice in his first three games for the Gunners, fans quickly took to the Ox after he joined from Southampton in 2011. Club captain Robin van Persie compared the teenager to Wayne Rooney and famously remonstrated with Arsene Wenger when he substituted Oxlade-Chamberlain in a clash with Manchester United.
His potential was noted beyond north London, too: Marco van Basten described him as a "gem", and he was nominated for the PFA Young Player of the Year award. The Ox showed so much promise for club and country but, as of yet, not even his biggest supporter could justifiably claim he has lived up to it. Instead, Oxlade-Chamberlain has frustrated and bewildered as much as he has delivered.
Yet he remains a prized favourite of both the Emirates faithful and many professional commentators. Why?
Homegrown hope
In a peculiar way, Oxlade-Chamberlain has maintained his popularity for what he has not done on the pitch. The 22-year-old has endured four lengthy lay-offs in the last two-and-a-half years, and even when fit he has often started on the bench. Such absences have ensured Arsenal hearts remain fond of him, cementing the Ox as the imagined fulcrum of future glory. This is far from a new phenomenon: as his team-mate Jack Wilshere told FourFourTwo, when you're out injured everyone thinks you're Lionel Messi.
Being English can also earn you greater patience from supporters. Around 60 percent of Premier League players are foreign imports, causing many observers to believe that any young Englishman has a bright future, regardless of how the objective evidence unravels. Some people want homegrown starlets to prosper to such an extent that they often find it impossible to surrender the dreams they've projected upon them.
Imagine for a moment a foreign signing with a comparable contribution at the Emirates to that of Oxlade-Chamberlain. Fans would grow frustrated with him, Twitter would hurl mud at him and Adrian Durham would provocatively eviscerate him. Yet domestic disappointers are more likely to be given the benefit of the doubt: as a song of yore taught us, hurt cannot stop an Englishman from dreaming.
Dressing room joker
The Ox's affable, self-effacing nature also helps to keep the flame alive. In an era where some leading football stars take themselves pathetically seriously, the Southampton academy graduate prefers to have a laugh at his own expense.
Oxlade-Chamberlain once made a video of himself failing to live up to the legacy of Thierry Henry, and his star turn in the Gunners' anti-homophobia video was to state: "I can't help that I look like a Teenage Mutant Ninja Turtle." All this humility and accessibility lead the Mirror to ask: "Is he is the nicest bloke in the Premier League?"
Graeme Souness's description of the Arsenal squad as full of "son-in-laws" that no parent would be disappointed for their daughter to bring home was witty, accurate and particularly true of Oxlade-Chamberlain. Which mother or father would not want him blinking politely at them across the dinner table as he held their daughter's hand?
What's in a name?
His nickname probably helps to inflate opinion of him, too: when he's sitting on the bench as Arsenal or England chase a goal, it's hard to resist the visceral feeling that the answer must be for Wenger or Hodgson to simply "bring on The Ox!"
A player's moniker can do much to shape the public's opinion of him. Look at Ox's Arsenal team-mates: Ozil is just as he sounds – a delicately impish, esoteric wizard. Giroud's de facto stature as something of a French pretty boy is fuelled by his name; the more French you pronounce it the worse it gets: Shehlooo. In a squad so lacking in alpha-male characters, moreover, what else could the snapping, jabbing central midfielder be nicknamed but Le Coq?
With the Euros now just a matter of months away, it could be time for the Ox to transform into a bull and turn those annual predictions that "this could be his year" into reality, or risk fading away to an Everton or Newcastle United. Give them the horns, Ox!
Quizzes, features and footballing fun
Get the best features, fun and footballing frolics straight to your inbox every week.
Thank you for signing up to Four Four Two. You will receive a verification email shortly.
There was a problem. Please refresh the page and try again.