The 12 best football innovations of the '90s – from fantasy football to the best ever FIFA
As the latest issue of FourFourTwo magazine is a '90s special, we recall the decade's defining contributions to the beautiful game: including sweeper-keepers, a Women's World Cup and everyone's favourite anthem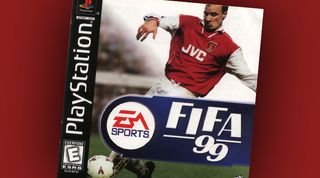 Get your hands on the latest issue of FourFourTwo magazine - available in print, or alternatively on iPad and iPhone – now
1. Liberalisation of the offside rule
Football was in a bit of a pickle at the start of the 1990s. The action on the pitch was dour. Although the 1990 World Cup is revered in this country after England's journey to the semi-finals, objectively it was a drudge-fest marred by negative tactics and a dearth of goals.
IFAB – the body which sets the rules for the global game – took action. After 1990, they gradually changed the offside rule to give the attacking side the benefit of the doubt. Instead of having to be behind the last defender, forwards could now be level, and by 1995 they also had to be gaining an advantage by being in an offside position for the flag to go up.
It made the job of linesmen a lot more difficult but created a much better spectacle for fans.
2. The backpass law
The other big change of the 1990s was also designed to liven things up a bit. Someone at IFAB clearly watched Italia '90 with mounting fury, because the tournament was also cited when they implemented one of the biggest changes in the history of the game. From 1992, goalkeepers would no longer be able to handle deliberate backpasses.
That put an end to the spectacle of keepers rolling the ball out for their centre-backs to pass it among each other before handing it back to him towards the end of tight games. There were some comical moments after the law was first introduced, but the men between the sticks adapted quickly – they had to.
In 2018, "sweeper-keepers" are now almost as good with their feet as the players in front of them – although the podgy, distinctly un-athletic yet surprisingly agile stopper is sadly in danger of extinction.
3. Player Cam
In 1999, Sky Sports introduced interactive elements to their broadcasting. Viewers could choose from a number of different camera angles and commentary options, including FanZone - where you could watch two ill-informed idiots bray about refereeing decisions.
However, the best and most fondly remembered new option was Player Cam, which tracked the movements of one player throughout the game.
Done well, this can be mesmerising, as evidenced by the film Zidane: A 21st Century Portrait. Sky's version was not quite as artful, but it was still fascinating in the days before heat maps and average positions – although often you got a lot of footage of people standing around, or arguing with the referee.
Player Cam is no more, but it does pop on occasion – Sky brought it back for Steven Gerrard's last game in 2015, and when Emile Heskey moved to the A-League in Australia there was a short-lived 'Heskey Cam'. The feature has even made a contribution to science – sports psychologist Geir Jordet used it to track how often players look around the pitch. He found that the best players looked around more often – with Frank Lampard and Gerrard racking up 36 'visual explorations' per minute.
4. Predator boots
When they were launched in 1994, the advert for adidas Predator boots ran: "100% legal, 0% fair". The first edition looked ridiculous, with rubber fins protruding from the top of the shoe (which supposedly offered a greater ability to curl shots). Inventor Craig Johnston built his prototype from the grippy surface of table tennis bats, and it showed.
The boots got the best advertising money could buy on the opening day of the 1996/97 season, when David Beckham was wearing them as he wanged one in from the halfway line against Wimbledon (albeit they were a pair originally intended for Rangers midfielder Charlie Miller). Soon they would be on muddy playing fields up and down the country.
Of course, rubber grips couldn't turn terrible players into good ones – but Predators made you believe that they could do that for you, if only for a moment.
5. Fantasy football
We're talking about the game here, not the Baddiel and Skinner vehicle that it inspired, although both are probably worth including. The concept of fantasy sports had been around in the USA for a while, but it wasn't until the 1990s that it took off in the UK. It was launched by Andrew Wainstein in 1991, who would print off the reports and scores every Sunday night and then post them out to stats-hungry football fans.
The game spawned many imitators in national newspapers, and soon fans were poring over tables in the back of broadsheets and cheering on players they'd normally loathe. Fantasy football is now a behemoth, with the Premier League's official variant boasting more than five million players. We're also copying other ideas from the USA, with draft modes where each footballer can only sign for one team becoming more and more popular.
Updating your fantasy football team (or painfully remembering only when someone you have on the bench nets a hat-trick) is as much a part of the Premier League ritual now as half-time pies and pre-match pints. That all started in the 1990s.
6. Football games with decent graphics
To some, FIFA 99 is still the greatest football video game of all time. It has a loyal following even today, although the graphics do sting the eyes a little bit now. It had it all – the soundtrack, the licences, the ability to do bunny-hops and professionally foul the goalkeeper.
This, and its slightly earlier rival ISS Pro (which would become Pro Evo) were the culmination of a dramatic increase in the quality of football games right through the 1990s. Mostly, it was down to graphical power as we moved from the blocky 2D efforts of the '80s to something more nuanced with cult classic Sensible Soccer, which still had a top-down view but incorporated elements that were actually recognisable as players and not just moving dots.
By the mid-1990s, we had ISS Pro, which was compelling to play but slightly hampered by its terrible commentary ("My grandmother could have saved that one," etc). The FIFA series had started in 1993, and been steadily improving, with 3D graphics arriving in 1996.
Yet FIFA 99 represented a big step forward in graphics, right from the opening credits, which featured Dennis Bergkamp running up some sort of weird pyramid to the tunes of Fat Boy Slim. For the first time, players had different heights, as well as facial expressions. It was fun, fast-paced and utterly addictive.
7. Football Italia
When much-loved highlights show Gazzetta Football Italia first launched in 1992, it was set to be presented by Paul Gascoigne, who had just moved to Serie A to join Lazio (fun fact: this is why the screamed 'Golazo' in the opening credits sounds more like 'Go Lazio').
Shockingly, Gazza proved difficult to pin down for regular filming, so producer and screen virgin James Richardson stepped into the breach... and the rest is history. Channel 4 had bought the rights to screen Serie A games for £1.5m in the wake of Gascoigne's move, and they showed regular live games from what was then the best league in the world.
The first, a 3-3 draw between Lazio and Sampdoria in September 1992, drew three million viewers. But it was Gazzetta that became the cult classic – it picked up 800,000 viewers a week during its first season, and was the highest-rated Saturday morning show in Channel 4's history.
AC Jimbo brought a touch of the exotic to weekend mornings – sitting in outdoor cafes, flicking through vibrant newsprint, and updating us on the latest happenings in Italy in his unique manner. The show was unlike anything before or since, combining serious interviews with comic scenes – and Gazza playing a big role throughout.
We're now able to watch the biggest leagues in the world live, but for many, Football Italia offered a first taste of non-English football – in an era when styles and personnel were still very different.
8. Normal-length shorts
The '80s were a minefield. From the baggy numbers popular in the early days of the game, shorts seemed to be getting... well, shorter and shorter. This exposed viewers to acres of pale flesh in an era when the players didn't jet off to Dubai to tan every six months (the bronzed pins of Gary Lineker were a notable exception).
When the 1990s rolled around, there seemed to be a collective decision by kit manufacturers that something had to be done, and players' clothing found a happy medium which persists to this day. It's unclear what prompted this change – maybe it had something to do with the explosion of television coverage and new, perhaps unflattering, camera angles.
9. The Champions League anthem
Purists might prefer the simpler format and more unpredictable nature of the original European Cup, but you have to admit that UEFA nailed the branding when they launched the Champions League in 1992. From a slightly revamped trophy, lovingly referred to as "Ol' Big Ears", to the star-studded match-balls, every aspect of it was slick and professional.
Then there's the anthem – surely the only corporate song it's acceptable to love, with its soaring, operatic highs that get the hairs rising on your arms, plus its frankly ridiculous lyrics that don't stand up to any sort of scrutiny.
It's cheesy and terrible, but somehow amazing and iconic at the same time. The Gunnersaurus of football songs (not that he's heard it for a little while).
10. The Women's World Cup
In England, the Football Association banned women from playing football until 1971. Seventeen years later – and 58 years after the first men's edition – FIFA ran a preliminary tournament in China to see if a Women's World Cup was feasible.
The first official tournament, held again in China, took place in 1991 – the USA beating Norway in the final. Over the course of the decade, the tournament would help kick-start interest in the women's game, most notably in 1999 when the USA beat China in a penalty shootout. There's plenty of work to do, but today women's football has a higher profile than ever before.
11. The Bosman ruling
Back in the blissful days of the 1990s, public interest in the finer points of EU contract law was a rarity, except for one significant case that would have a huge knock-on effect and help create the global game we enjoy today. The Bosman ruling, in which a European court declared that out-of-contract footballer Jean-Marc Bosman could move to a club in a different country without the new club paying a fee, gave players more power in transfers.
Clubs could no longer refuse to release players at the end of their contracts, and the ruling also brought an end to quotas within Europe. When the ruling came into force in 1995, leagues couldn't prevent sides from fielding as many foreign players as they wanted to, provided they were from Europe. The Bosman ruling led directly to the influx of European talent into the Premier League.
12. Outlawing the tackle from behind
Of course, there was no point in bringing all those foreigners with their "footwork" and "technical ability" into a league with the likes of Vinnie Jones still lumbering around. Before the 1998 World Cup in France, IFAB made another drastic change to the rules and outlawed the tackle from behind.
It had been considered something of an art form in this country – right up there with jellied eels – and the ability to neatly plough through the back of someone to win possession was a prized asset in midfielders. From 1998 onwards, it was a straight red card.
The game changed quickly, and it set the scene for a new generation of skilful players – you can imagine Lionel Messi's impact being slightly diminished if you could just clatter him from behind every time he went past you.
Thank you for reading 5 articles this month* Join now for unlimited access
Enjoy your first month for just £1 / $1 / €1
*Read 5 free articles per month without a subscription
Join now for unlimited access
Try first month for just £1 / $1 / €1
Get FourFourTwo Newsletter
The best features, fun and footballing quizzes, straight to your inbox every week.