5 reasons why Arsenal fans can be optimistic for the future
A difficult 2016/17 has seen fan discontent and Arsenal slide out of the top four – yet there are silver linings beyond just an FA Cup final. James McNicholas on five reasons for Gunners fans to feel positive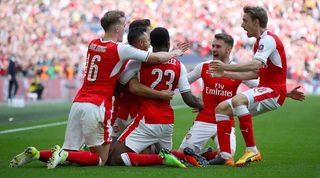 1. Clarity over the manager
By Arsene Wenger's own admission, Arsenal have suffered on and off the field from a lack of clarity over the manager's position. All season long, doubts have hung over the club like a toxic fog, and inevitably there has been an influence on the team's performance.
One definite positive is that, very soon, Arsenal supporters will know who will be in charge next season. It looks likeliest that Wenger will remain at the helm, but for how long and under what conditions ought to be made explicit within days of the cup final.
So much is up in the air right now that Arsenal are effectively paralysed. Once Wenger's situation is decided, the club can begin to move forward.
2. The possibility of a new owner
Arsenal fans have been preoccupied debating who will be their next manager for most of the season. However, they may spend the summer discussing the identity of their next owner.
For several years now, Stan Kroenke's dominion over Arsenal has largely been unchallenged and unquestioned. His rule was absolute, his position unthreatened. However, in the final week of the Premier League season, news of a bid for control of Arsenal from Alisher Usmanov instilled some belief that maybe, just maybe, Arsenal could rid themselves of their apathetic owner.
The liberating effect was immediate. Arsenal's final Premier League match of the season produced a watershed moment, as the Emirates Stadium crowd united in a chant of "Stan Kroenke - get out of our club". It had been whispered online, it had been heard sporadically at away matches, and now the refrain was ringing around the club's home ground.
Kroenke is unlikely to be moved by a little fan discontent - he's more than used to that with his American franchises. However, if he were contemplating a sale, the chants may well accelerate the process. Kroenke does not tend to let go of his sporting investments, but Arsenal could soon become more trouble than it's worth to the American.
Not all Arsenal fans are entirely comfortable with the prospect of Usmanov taking over, but if he's as a good as his word he would at least show more interest in transforming Arsenal into a sporting force than Kroenke ever has. Alternatively, the public nature of Usmanov's interest might well bring other potential bidders to the table.
A matter of weeks ago, Kroenke appeared untouchable. Now, Arsenal supporters believe there is a genuine chance he could be ousted.
3. A different challenge in Europe
When the final whistle blew on the Premier League campaign, Arsenal fans must have found it difficult to accept the reality that they had finally missed out on the top four. In the game of musical chairs that constitutes the battle for Champions League qualification, Arsenal have always previously managed to elbow someone (usually Spurs) out the way and find a seat.
This time, it's different. Arsene Wenger's long record of squeezing into the Champions League is over, and Arsenal must face up to the prospect of entering the Europa League for the first time in two decades.
There are definite downsides. The Europa League lacks the glamour of its superior sibling, and is infamous for causing problematic fixture pile-ups.
However, many Arsenal fans had begun to tire of the Champions League. There are only so many times you can be eliminated in the second round by Barcelona or Bayern Munich without becoming weary of your team's monotonous mediocrity.
The Europa League promises fixtures against fresh opponents, and a competition that Arsenal have a genuine chance of winning.
Yes, next year will be different - but isn't that what Arsenal fans want?
4. Rob Holding
Arsenal's transfer business last summer could not be deemed entirely successful. Although Granit Xhaka has shown promise of late, it's difficult to argue that either he or Shkodran Mustafi have yet looked worth their £35m price tags. As for Lucas Perez, the second half of the season has seen the Spaniard struggling to even make the bench.
However, few could dispute the wisdom of signing Rob Holding from Bolton. At just £2m, he must be regarded as one of the best buys of the season.
Arsenal fans are cautious to place too much expectation on any young centre-half. They've been burnt before: for every Tony Adams, there's a Matthew Upson. The likes of Philippe Senderos and Johan Djourou showed enormous promise upon first breaking into the team, but never fulfilled their obvious potential.
There is mounting belief that Holding could be different. The way he has acclimatised to top-flight football is genuinely remarkable; the level of poise he shows, no matter the stage, suggests he could be the real deal.
Since coming into the first team on a regular basis, Holding has helped stabilise Arsenal's rocky defence. If he can grow in stature again next year, the Gunners will surely reap the benefits.
5. The formation
In recent years, Wenger's Arsenal had become perilously predictable. That much was laid bare by Crystal Palace boss Sam Allardyce, who after his team had dismantled the Gunners 3-0 at Selhurst Park, gave an interview in which it became apparent that he found preparing to face Arsenal a straightforward tactical task. Wenger's teams invariably played the same way, and too many opposition clubs had developed a formula to cope.
Something needed to change, and Wenger's switch to a back three has been an impressive and effective solution.
Recommended
It will have hurt Wenger's pride and principles to adopt a formation pioneered in the Premier League by rivals Antonio Conte and Mauricio Pochettino, but no one can argue with the results. Arsenal look more solid and more confident.
It may have been intended as a temporary fix, but it's difficult to mount an argument against sticking with it. Arsenal have the players to make it work, with several individuals beginning to shine in the new system.
Arsenal's recruitment this summer should arguably be structured around ensuring they have the personnel to continue in this vein. The new-look Gunners would doubtlessly be a very different proposition for Premier League managers to handle.
Quizzes, features and footballing fun
Get the best features, fun and footballing frolics straight to your inbox every week.
Thank you for signing up to Four Four Two. You will receive a verification email shortly.
There was a problem. Please refresh the page and try again.