Americans on loan: The best and worst through the years
DeAndre Yedlin's successful season at Sunderland got us thinking on FourFourTwo USA about the best and worst of American loan moves through the years...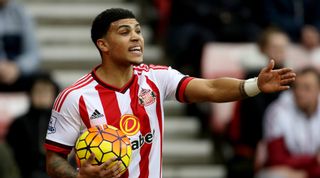 Loans can be a very tricky thing for players. Sometimes players come in and help teams at crucial moments, while other times they are viewed as supplemental roster pieces and struggle to see the field.
Historically, American players abroad have had a wide variety of loan experiences ranging from good, to bad, to embarrassing. In light of DeAndre Yedlin's positive run at Sunderland in a successful bid to avoid relegation, here are the best loans and worst loans from American players:
THE SEVEN BEST AMERICAN LOANS
1. DeAndre Yedlin to Sunderland
There have been some really good loans for American players but this one really stood out for many reasons. First, it showed that Yedlin is Premier League quality. Other successful loans like Landon Donovan at Everton only confirmed what everyone knew -- that he was a good player. This loan really revealed a lot about Yedlin.
Second, that he could handle the extreme pressure of a Premier League relegation battle. That is one of the toughest stages for a young player and Yedlin handled it very well.
Finally, it might have proved to Klinsmann that Yedlin is ready to take the right back job for the U.S. team, a position proven difficult to fill since Steve Cherundolo's retirement. So far, Klinsmann had primarily used Yedlin on the wing. His performance at Sunderland perhaps eliminated any doubt about Yedlin's defensive ability.
2. Landon Donovan to Everton
In 2010, Landon Donovan went on a short-term, off-season loan to Everton from the Galaxy. Over two months, he played very well, scoring twice and endearing himself to Everton's supporters. It was a positive experience for Donovan, who happily returned for another strong offseason loan in 2012.
The loan in 2010 turned out to be a very important part of Donovan's career, even if it was brief, because it helped negate the experience of the terrible loan to Bayern Munich in 2009. It also provided evidence that the national team's best ever player could perform well at a solid European team. Combined with his 2009 Confederation Cup performance, it gave Donovan confidence ahead of the 2010 World Cup where Donovan elevated himself into legendary status among U.S. national team fans.
3. Jermaine Jones to Blackburn
Jermaine Jones was solid Bundesliga midfielder in his early career. But a leg injury in 2009 sidelined him over a year and deprived him a chance to play in the 2010 World Cup.
RECOMMENDED
When he returned from injury in 2010, he had a falling out with Schalke manager Felix Magath, who sent Jones to train with the reserves. In January 2011, Jones went on loan to the Premier League with Blackburn, performing very well in a relegation battle and becoming a fan favorite. Blackburn wanted to keep Jones but negotiations with Schalke were unsuccessful.
While he was on loan, Magath was fired and Jones returned to Schalke in a much better situation. This loan was extremely important in reestablishing Jones as a top player after a lengthy absence.
4. Tim Howard to Everton
When Tim Howard left the MetroStars for Manchester United in 2003, there were high hopes that the New Jersey native would become the next great American goalkeeper in the footsteps of Brad Friedel and Kasey Keller. Howard, however, struggled at Manchester United and after a few seasons signed Edwin van der Sar which signaled that Howard needed to make a move.
Howard joined Everton in 2006 on loan and finally lived up to his potential and the club signed Howard to a permanent deal in 2007. It started off a very strong relationship with the club which would last nearly a decade.
5. Brian McBride to Everton
In 2003, Brian McBride went on loan from Columbus Crew to Everton after impressing then Toffees boss David Moyes on an earlier loan at Preston North End. In a three-month loan, McBride scored four goals in eight games to help Everton, which had been struggling.
This loan was crucial for McBride because it helped attract interest from Fulham, who signed him in 2004 where he would go onto becoming a club legend.
6. Brad Guzan to Hull
USMNT IN MIAMI
Brad Guzan was a top American goalkeeping prospect when he moved abroad from Chivas USA to Aston Villa in 2008, but unfortunately was forced into the backup role behind fellow American Brad Friedel. In 2011, he was loaned to Hull City in the Championship and was able to get a regular taste of consistent playing time in England.
In the end, his loan was extended twice (one via an emergency loan) and it played an important role in his career in moving between a backup to a starter – a jump in which many goalkeepers struggle.
7. Eric Lichaj to Leeds
Eric Lichaj signed with Aston Villa in 2008 after one year at North Carolina. After two earlier loans to lower-league Lincoln City and Leyton Orient, Lichaj went on loan in the second half of the 2010-11 season to Leeds United in the Championship, where he succeeded at both the right back and left back.
The Chicago native proved to be a popular import to Elland Road and endeared himself to supporters. Despite wanting him to return, Leeds was unable to come to terms with Villa on a full transfer. Still, this loan paved the way for playing time at Villa followed by consistent Championship minutes with Nottingham Forest, where he plays today.
Continue reading for the WORST American loans: Jozy, Clint, Landon (again!)
While the aforementioned loans saw U.S. players shine in Europe, the seven loans listed below are examples of those which did not work out.
The top three U.S. men's national team scorers of all-time make -- Landon Donovan, Clint Dempsey and Jozy Altidore -- all make this list. Hey, everyone makes mistakes.
THE SEVEN WORST AMERICAN LOANS
1. Brek Shea to Barnsley
Shortly after Brek Shea left FC Dallas for Stoke City in 2013, the optimism quickly dissipated as Shea struggled mightily to see the field. The following year, Shea was sent on loan to Barnsley in the Championship which quickly turned into an absolute mess.
Not only did Shea not play well at Barnsley, it ended in embarrassment when following a 5-0 loss, Shea gave an obscene gesture to a Barnsley supporter. Despite Shea's apology, Barnsley supporters were enraged and the club sent him back to Stoke three weeks before his loan was scheduled to end.
Shea never really recovered from that incident. Despite a moderately better loan with Birmingham City, Shea returned to MLS in 2015, when he signed with Orlando City.
2. Julian Green to Hamburg
There was a lot of excitement when Julian Green switched his international allegiance from Germany to the United States, due to his impressive numbers for Bayern Munich's reserve team. This was enhanced when he made the 2014 World Cup team and scored a goal in Brazil.
After the World Cup, he went on loan to Hamburg and it was expected he would finally see regular Bundesliga minutes. But the loan was a disaster and Green played just 111 lackluster minutes the entire season.
What made matters much worse was when he publicly refused to play for Hamburg's reserves after he was demoted thereby angering the staff at HSV.
This current season, Green is back playing for Bayern Munich's reserve team and has lost his spot on the U.S. national team.
3. Jozy Altidore to Xerez & Hull
In the summer of 2008, Villarreal signed Jozy Altidore in a record transfer for an American player. Despite making occasional appearances for Villarreal's very strong team, the club sent him to Segunda leaders Xerez for more playing time.
STEVE DAVIS
It was a terrible loan as Altidore was never clearly in Xerez's plans and never played once for the club. That then set the stage for a loan to Hull in the Premier League.
While Altidore did play 28 times for Hull, his offensive production was poor; he scored once. It ended very badly, with Altidore receiving a red card in his final game – a high stakes relegation battle – which Hull lost 1-0 and to seal relegation.
4. Freddy Adu to Monaco
Frankly, Freddy Adu belongs on this list in multiple spots. After a terrific U-20 World Cup, Adu transferred to Benfica in 2007, playing well on occasion and scoring twice.
He went on a season-long loan to Monaco in 2008, which marked the beginning of his infamous career downfall. Reports were that the Monaco's owner brought him in for marketing purposes and that the club's manager had little use for him. When he did see the field, he played poorly
The rest is history as Adu is currently struggling for the Tampa Bay Rowdies – his 12th club.
5. Clint Dempsey to Fulham
Clint Dempsey was a star with Fulham from 2007-2012, scoring an American record 50 Premier League goals and helped the club to the 2012 Europa League final. In 2012, he moved to Tottenham before signing with the Seattle Sounders in 2013.
The old saying goes: "you can never go home again." This was true for Dempsey who returned to Fulham in the 2014 MLS offseason to stay sharp ahead of the World Cup and to help his former club in its relegation fight.
There was no magic on this loan. Dempsey played just five times for Fulham and did not score. In the end, Fulham was relegated out of the Premier League.
6. Landon Donovan to Bayern Munich
Without question, Landon Donovan had a great career, but his loan to Jurgen Klinsmann's Bayern Munich in the MLS offseason in 2009 was a low point.
What is particularly strange about this loan is that it actually started off very promising. Donovan scored four goals for Bayern in five friendlies during the Bundesliga winter break.
RECOMMENDED
"I want to make it here," Donovan said after that goal scoring run. "It is my dream. I want stay here a few years."
When league play resumed, it was a tailspin as Donovan struggled. He did not score in five Bundesliga games and the loan was not extended. Shortly afterward, Klinsmann was fired by Bayern.
The sting of this ugly loan lingered in the minds of many. Klinsmann took the U.S. job and famously cut Donovan from the World Cup team. In defense of Klinsmann cutting Donovan, German coach Felix Magath cited the loan calling Donovan a "mediocre player" who was "unsuitable for the second team at Bayern."
Donovan, however, quickly rebounded from Bayern with strong play at the Galaxy, loan stints at Everton, and for the U.S. team at the World Cup and Confederations Cup.
7. Michael Bradley to Aston Villa
After two and a half solid seasons at Borussia Monchengladbach, where Bradley made 76 Bundesliga appearances scoring 10 goals, he went on loan to the Premier League with Aston Villa for the second half of the 2010-11 season.
The loan did not work out as Bradley struggled to play for a team where he appeared in just three Premier League games for a total of 28 minutes.
To his credit, Bradley quickly rebounded in 2011-12 after transferring to Chievo Verona in Serie A, where he appeared in 35 games (34 starts), playing 3035 minutes and helping Chievo to a 10th-place finish.
Quizzes, features and footballing fun
Get the best features, fun and footballing frolics straight to your inbox every week.
Thank you for signing up to Four Four Two. You will receive a verification email shortly.
There was a problem. Please refresh the page and try again.