Andrea Pirlo to retire and seduce your wife
Ex-Juventus schemer to instruct your wife in the art of love, Back of the Net reveal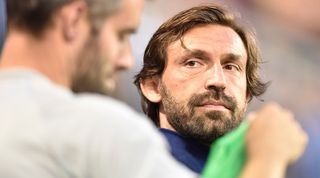 Andrea Pirlo has announced plans to hang up his boots and sweep your unsuspecting wife off her feet, MLS sources have confirmed.
The midfield maestro will retire from football when the MLS season ends in December, and refocus his energies on giving your wife what you could never quite manage to in all your years of marriage.
Pirlo said: "Football has been my life for more than 20 years, but now I want to indulge my true passion, which is passion itself. Passion for your wife.
"I want to reawaken the spark behind her eyes that she thought was gone forever, and make her remember what it means to be a woman."
Pirlo's courting of your wife has been an open secret in football circles for years, but now, aged 38, he has reached a level of grizzled-but-tender insouciance that your wife will be powerless to resist.
"All I have to do is flick my hair in her direction and she will drop everything and come with me, because I am better than you, and all three of us know it," he continued.
"Do not try to stop us. The wife you thought you knew will soon be gone. She will be mine, and we will live together on my vineyard and drive Vespas to the espresso bar, where we will spend every day drinking Negronis in the sunshine while I read to her sonnets by Petrarch."
Dr Amedeo Fabbri, professor of seduction studies at the University of Bologna, said: "Mr Pirlo's worldly air, his chiselled good looks, and the fact he won the World Cup, means you cannot hope to compete with him in any meaningful sense.
"If you have anything to say to your wife, you'd better say it now before she's gone forever. And frankly, who can blame her?"
Dr Fabbri also advised against attempting to seduce Pirlo's wife, as that would just result in you embarrassing yourself further.
Please note: This is a satirical story. Like, obviously.
Now read...
REJECTED FOOTBALL SCRIPTS #4 – Spectre: James Bond vs the Premier League
INTERVIEW Andy Cole: "Playing with Dwight Yorke was like meeting a special woman and falling in love"
Quizzes, features and footballing fun
Get the best features, fun and footballing frolics straight to your inbox every week.
Thank you for signing up to Four Four Two. You will receive a verification email shortly.
There was a problem. Please refresh the page and try again.