Everton preparing to break out the spare Koeman
Everton's board have dug out Erwin Koeman just in case, Back of the Net reports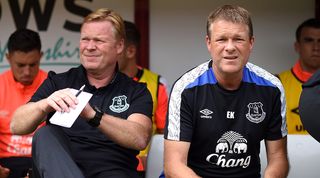 After a dismal start to the season, Everton are considering turning to their spare Koeman, according to sources inside the club.
While naysayers questioned the need for a second, back-up Koeman when appointing Ronald Koeman back in June, the Toffees' latest setback has prompted a frenzied search within Goodison Park for Erwin Koeman, who was put into storage immediately after his arrival on Merseyside.
Last night's 2-2 draw with Apollon Limassol, a brand of Cypriot washing-up liquid, has increased the pressure on Ronald Koeman who is being called upon to explain his odd team selection, poor tactics and why his hair seems incapable of movement even in the most blustery of conditions.
It is widely believed that if Everton fail to deliver against Burnley at the weekend, Everton bosses will cut Erwin Koeman out of his packaging and discard Ronald.
"There's been a lot of running around behind the scenes to see if anyone can find the other Koeman [Erwin Koeman]," an anonymous source told FourFourTwo.
"It's one of those situations where we must've put him somewhere specifically so we wouldn't lose him, but now we've completely forgotten where that was.
"Still, it's good that we did shell out just that little bit more to have a spare in case [Ronald] Koeman malfunctioned. You never think it'll happen, but even from the first couple of outings he didn't quite look right. He looked a lot shinier and smoother at Southampton.
"And we all saw what happened to Crystal Palace after they refused to add a second De Boer to their basket."
The search for the replacement [Erwin] Koeman has been complicated by reports that he may have been hiding in plain sight the whole time, on the Everton bench.
"Some of the staff have been saying the second Koeman [Erwin] has been sitting literally next to Ronald all season, but that seems pretty far-fetched to me," our source continued.
"We'd never take the risk of running down two Koemans at the same time. A Koeman takes a hell of a battering on a Thursday night in Bergamo, so you need to keep at least one fresh and charged up, safely tucked away in a storage closet."
Please note: This is a satirical story. Like, obviously.
Now read...
REJECTED FOOTBALL SCRIPTS #3: "Taken 4: Where is Diego Costa?"
LONGFORM Why do so many footballers end up broke? FourFourTwo investigates...
More Back of the Net • New features
Quizzes, features and footballing fun
Get the best features, fun and footballing frolics straight to your inbox every week.
Thank you for signing up to Four Four Two. You will receive a verification email shortly.
There was a problem. Please refresh the page and try again.