The big interview: Andy Cole – "Playing with Dwight Yorke was like meeting a special woman and falling in love"
Why didn't he make it at Arsenal? What made his relationship with Dwight Yorke special? And why did he report Graeme Souness to the PFA? Your questions answered in February 2010...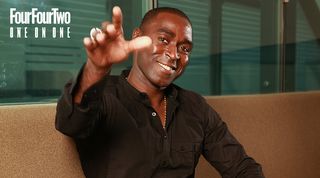 It's the school holidays, so Andrew Cole brings his 15-year-old son Devante along to meet FourFourTwo. A striker with Manchester City, the youngster watches and listens as we put your questions to his dad, who retired from playing in November 2008.
That's after the pair have walked through the centre of Manchester, turning heads as they go. "That's Andy Cole," one punter shouts. "He used to score goals for Man United."
Cole is happy to sign autographs, though strictly speaking, he's also the former Arsenal, Fulham, Bristol City, Newcastle United, Blackburn Rovers, Manchester City, Portsmouth, Fulham, Birmingham City, Sunderland, Burnley and Nottingham Forest striker – and he played for England at every level.
Over to you…
You grew up in Nottingham. Were you a Forest fan? Did you ever get down to the City Ground to watch the European champions?
Kevin Godfrey, London
My mates loved football, but we never watched Forest. Being black, not a chance I would go and watch a game in case someone called me a black this or black that. We played football in the park, but we never watched it. I remember Forest winning the European Cups. The players came past our house on a bus with the trophy. I followed the bus and ended up lost in an area I didn't know. I never ever thought that I'd win that trophy which players like Trevor Francis, Tony Woodcock and Peter Shilton held up.
You were at Forest as a kid. Is it true Brian Clough once introduced you as "the one who got away"?
Michael Clarke, Huddersfield
He did. I've got a huge respect for what he achieved as a manager with Forest. When I was later an apprentice at Arsenal, I would clean the away dressing rooms. When Arsenal played Forest, Clough would see me, plant a big kiss on my cheek and say, "Ah, young man, this is the one from Nottingham who got away."
Is it true that your childhood hero was Cyrille Regis? Should you meet your heroes?
Alan Stone, Coventry
Cyrille was a pioneer. He took so much abuse, so that people like me could play without problems. He was a tank, strong as an ox with a powerful strike. I loved watching him on television scoring great goals; loved the way the commentator said: "Regis!" He always had respect for himself, Cyrille. I've told him that too. It was an honour to meet him. I was glad I met Cyrille, but not another hero, George Weah. What a player, yet when he came to Man City he was a letdown as a person. People may say the same about me, but he was cold and dismissive.
Who was better – Bristol City's Polish magician Jacki Dziekanowski or Eric Cantona?
David Painter, Bristol
I have to say Eric, but Jacki really surprised me. Skill-wise, he was miles better than anyone at that level. You've made me smile, mentioning Jacki's name.
Why didn't you make it at Arsenal?
Terry Shaw, Hornchurch
Gorgeous George. George Graham pulled me into his office one day and said: "You think you're the bees' knees don't you?" I was 15, but I wasn't having him taking the piss and came back with, "No. And I'm not having you tell me what I am." He just shouted, "Out!" and pointed to the door. Their problem was that they knew I had something and could play. And I knew it too. A lot of my mates were playing first team and I wasn't. I used to watch Perry Groves and Martin Hayes in the Arsenal first team and I thought I was as good and should be given a chance. I wasn't, so I moved on.
When on loan from Arsenal at Fulham, how did you react when chairman Jimmy Hill told you that you'd never make it as a footballer?
Karen Hammond, Milton Keynes
He said: "You think you're a bit of a player, don't you, whereas I don't think you're ever going to be a player." "That's your opinion," I replied. "You're entitled to it." Then I walked out. I never spoke to him for years until he came up to me when I was at Manchester United and said "Remember that chat we had? I was wrong, wasn't I?" I didn't tell Hill that I used people like him and George Graham to spur me on.
You were Newcastle United's record signing. Did Kevin Keegan really call you Adrian when he tried to sign you?
Michael McHale, Windsor
He did. I was playing for Bristol City, in the days before mobile phones, when I came outside to see a note on the window of my car from my team-mate Russell Osman – it said: "Coley, give me a call." "Kevin Keegan wants to phone you," said Russell. I went home and awaited the call. "Hello, Adrian," Keegan said. "I think you have got the wrong person, because I'm Andrew," I replied.
"Ah, sorry. Anyway, we'd like you to come up as we're interested in signing you. Is there any possibility that you can get up to Newcastle tomorrow?" I said: "I can't come tomorrow because I have to finish my laundry. I can come the day after, though." He was a bit taken aback, but I did my laundry and went the day after.
ARCHIVE
A mad Newcastle fan got a tattoo of you on his leg just before you signed for Man United. Did he ever get in touch, asking for his money back? Seriously, though, what was it like to be in a football-mad city like Newcastle?
Matt Wilding, Crouch End
He never got in touch, but I'm sure he regretted it. It was so big that even laser treatment would have taken a long time. I enjoyed it at Newcastle, but it was difficult playing there. I was a young man and struggled to deal with the level of adoration. I just wanted to play football, go home and go out with my mates.
When I went out, some punters would say, "Well done". That was fine. Others wanted to hold court with you. I could be having a meal with my missus and people would come up and want to get involved in the conversation. It did my fruit in. I loved my football at Newcastle, but I felt trapped. And the more goals I scored, the worse it got. From the milkman to the bloke in the paper shop, everyone wanted to talk about football, football, football.
How did you feel when Manchester United allegedly tried to sell you to Blackburn in a part-exchange deal with Alan Shearer?
Adam Jones, Hazel Grove
I've never heard that before. United went for Shearer, but he didn't want to come to Old Trafford. And the gaffer went for Patrick Kluivert in 1998, and if he'd signed then I'm sure I would have been on my way. But he didn't want to come either, so we got Dwight Yorke. Then we won the Treble.How did you feel when you heard Teddy Sheringham had signed for Manchester United in 1997?
Grant Cass, Stretford
I couldn't stand him. We played a friendly in Milan in '97, just after he'd signed. He said something on the pitch. I didn't like it. "I'm only trying to help you," he said. "I don't need your help, you prick."
Ironically, we did really well together and Pally [Gary Pallister] pulled me to one side once and said: "I know you don't like Teddy, but keep doing it together." I always tried to be professional on the pitch and to be fair I think Teddy did too. You don't have to be best mates with the people you work with. I usually got on with most people, but me and Teddy – nah.
How does Roy Keane the manager compare with Roy Keane the player? You were involved with both.
Mike Ashton, Rotherham
He was a winner when he was a player and he is a winner as a manager. I always got on well with Keaney. He knew my character and I knew his. I called him Schiz, as in schizophrenic, and got away with it so he must have liked me. When I played under him at Sunderland, I changed that to 'Skip'!
LONGFORM
What's your favourite memory from the Treble-winning season?
Jo Hunter, Newport
Juventus away. They were a proper football team with players like Zidane and were soon 2-0 up. Then we started to play. Really play. Keaney and Yorkey put us level in the match and ahead on away goals in the tie. The manager was totally calm at half-time. It was like he was reading it from a book and really inspiring. He said: "Get another goal and we'll win this game." He was totally relaxed. We went and battered them, steam-rollered them... absolutely battered them. It could have been more than 3-2 because we pulverised them. I got the winner five or six minutes before the end, but that night was about others. Roy was awesome, Scholes too – especially because they knew he would miss the final.
Roy was mind-boggling. It was proper rowdy on the plane home. Everyone was buzzing their tits off and having a drink. We'd smashed a great team everywhere, physically and tactically. I'm sure the Juventus players thought we were on something.
You've often put your partnership with Dwight Yorke down to the fact that you got on so well, but that can't be all of it? What was it about your games that complemented each other so well?
Neil Parker, Belfast
I liked Yorkey, but we were totally different. Dwight was, "Look at me, I play for Manchester United, I've got a nice bird and car." I'm the opposite. I bought a Porsche one year but it took me two months to drive it to training because I was so self-conscious.
When we started playing together, it was like meeting a special woman and falling in love. Everything felt right. We never had a cross word. If I was upset with him or he with me, we'd look at each other and say, "OK." Soon after he joined, the biggest clubs in Europe were saying: stop Cole and Yorke and we stop Man United. But they couldn't. Our confidence soared and we thought we'd score every week. If one of us didn't score, the other would. We could alter our play depending on the opposition: I'd go long, he'd go short. Nobody knew how to mark us. At times, we had so much space that we took liberties.
You set up the Andy Cole Children's Foundation in Zimbabwe in 2000. What made you choose that particular charity to get involved in?
Benji James, Coventry
I thought it was appropriate. Somebody asked me about it and I went out there in 1999. We'd just won the Treble and I was on a total high. Being there brought me straight down to earth. Kids were sleeping rough, there was no food. There was a myth going round that you could cure AIDS by sleeping with a young virgin. I was saying to myself, "This can't be right." I wanted to save a few lives and I believe that I did that.
You were popular at Manchester United and Sir Alex Ferguson wanted you to stay, so why did you join Blackburn in 2001?
David Sneyd, Longsight
I was desperate to play in the 2002 World Cup, but needed to be playing every week for that to happen. I was 30 and there was a lot more football in me. I went to see the manager and told him I didn't want to sit on the bench; I didn't want to steal a wage. I wanted fans to come up to me and say that I had put a good shift in. There are players who are happy to pick up their wages and see out their contract. I'm not one of them. I wanted to see out my contract at United. The last contract I signed would have brought me up to a testimonial, but it didn't materialise that way. Keaney told me that I shouldn't go, saying that I would regret it for the rest of my life. He was right, but I wouldn't listen at the time.Do you have a favourite career goal?
Dennis Pullman, Aylesbury
Honestly? I enjoyed them all, even the tap-ins. Which was most of them!
What had Graeme Souness done for you to report him to the PFA for victimisation?
Rob Thomas, Clitheroe
Every day was a fight with Souness. He kept on saying what he'd done at Liverpool as a player, what he'd achieved. I'd played with great players who never talked about what they'd won. My relationship with Souness deteriorated to such an extent that I did report him to the PFA. I could have gone on battling every day, but I was bringing my problems home with me and had to leave.
Why did you ask to be called Andrew rather than Andy?
Anthony Shaw, Oldham
I didn't and this gets on my nellies, this one. One of the silly media boys said: "Why do you now want to be called Andrew?" "Because it's my name," I replied sarcastically; that was how I was christened. He then did a piece where he said: "He now wants to be known as Andrew." People thought that I'd changed my name like Prince. Andrew or Andy is fine.
Why did you leave Manchester City? You lived locally, seemed happy and were doing well.
Wayne Barker, Wythenshawe
Ask Stuart Pearce. I wanted to stay at City, but Stuart Pearce voiced concerns about my injuries. City offered me a one-year contract, but Portsmouth offered two years. City got me on a free and sold me for £500,000.
You were Fulham's top scorer in 2004/05 and scored one of the goals of the season against Liverpool. Why leave?
Andrew Dickman, Chester
I loved playing at Fulham under Chris Coleman and really respected him. The only time it was difficult was in the winter, because my family was still in Manchester. I missed my kids. My mates in London had families and I didn't want to bother them so I'd just sit alone in my apartment. I was enjoying playing and got that goal against Liverpool, but I wanted to move back home to be with my family.
Your son Devante plays up front for your former club Man City. As a former player yourself, do you find yourself giving him more advice than the average parent and who do you support in the derby?
Stephen Parker, Ipswich
I try not to put my boy under any pressure. I point a few things out to him, but I don't live my dream through my kids like I see many parents doing. I've already lived my dream. If he makes it then I'll be proud of him. If he doesn't then I'll still be proud of him. And I'll continue to nick half of his gear from adidas. As for the Manchester derby – I have two season tickets in the main stand at Old Trafford, so work that out.
ONE-ON-ONES
Rio Ferdinand "On my first day at United I could hear Solskjaer saying: 'How much? Thirty million? What?!'"
Fifteen England caps and just one goal. How do you look back on your international career with England?
Steve Jones, Reading
With mixed emotions. I played 15 times for the senior side, but also represented England at schoolboy level, under-18s, under-21 and B level. It's from those early games that I have my happiest memories.
What did you think when Glenn Hoddle, in defence of his decision not to select you for the World Cup in 1998, accused you of needing six or seven chances to score one goal?
Cameron Baker, Glasgow
Rubbish. Sir Alex told me to ignore him and that Glenn was talking nonsense. He was right because the issue with Glenn wasn't about chances, it was personal: he didn't like me and I didn't like him.
What was it like to return to Forest in 2008 to a great fanfare? Why did you hang up your boots?
Sam Wellens, Lincoln
I realised straight away that it was a mistake. Nigel Doughty, the guy who ran the club, interviewed me before I signed. He explained that he'd checked me out, before asking why I was joining Forest. I thought they wanted me, not the other way round. Forest were selling season tickets off the back of me signing but by August I wanted to retire. It was so hard to play in that team because they were all kids. Kids who play 20 games think they've made it. I wasn't playing and felt like I was stealing money. I had to give them three months' notice. Two weeks later they said I could go – implying that I hadn't done it for them. They then put the story out that I walked out of Nottingham Forest. I nailed all of them.
Are there any plans to go back into the recording studio after your single Outstanding?
Paul Furness, Manchester
My son is laughing at me. No, I won't be doing any more. Actually, it was good fun with nice people at the time, but my boy gets a lot of flak for it!
Is it true that Sven-Goran Eriksson approached you at an England game to play for Notts County?
Darren Spain, Nottingham
He asked me, but I'm not sure if he was joking. You never know with Sven, he's an intriguing guy.
Describe your personality in five words...
Kelvin Clarke, Paris
[Son Devante butts in: "Lazy, stubborn..."]
Yes, he's right. I'm stubborn and lazy. And I can be moody. People have the wrong perception of me. When they meet me, they are surprised though. Scholesy, of all people, described me as "miserable" at Butty's wedding in 2008. I laughed at that. My wife speaks to anyone and invites them into our home. I'm just more private, reserved and maybe shy.
Interview: Andy Mitten. Portrait: Jason Lock. From the February 2010 issue of FourFourTwo. Subscribe!
Thank you for reading 5 articles this month* Join now for unlimited access
Enjoy your first month for just £1 / $1 / €1
*Read 5 free articles per month without a subscription
Join now for unlimited access
Try first month for just £1 / $1 / €1
Get FourFourTwo Newsletter
The best features, fun and footballing quizzes, straight to your inbox every week.
Nick Moore is a freelance journalist based on the Isle of Skye, Scotland. He wrote his first FourFourTwo feature in 2001 about Gerard Houllier's cup-treble-winning Liverpool side, and has continued to ink his witty words for the mag ever since. Nick has produced FFT's 'Ask A Silly Question' interview for 16 years, once getting Peter Crouch to confess that he dreams about being a dwarf.