Arsene Wenger: One-on-One
By Matthew Weiner published
"I like pies. Cherry pie, apple pie, with ice cream..."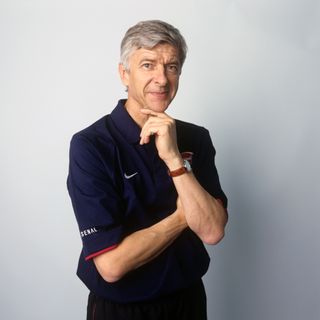 You're clearly a very intelligent man who could have succeeded in many different vocations. When did you realise that football was the profession for you?
Daniel Galeano, Tufnell Park
I studied hard at school but it was always obvious to me that if I could spend my life in the game then I would. I started to practice, at the age of nine but it was completely different to me – my first coach was when I was 19. I thought it was just a dream because living in such a small village it seemed that footballers were on another planet entirely. My parents found it difficult to accept that their son, who worked so hard in school, could go to work in football. Back then, football was not a job for serious people. They wanted me to become a lawyer or a doctor or something like that. I needed to fight to convince my parents. Fortunately, I've finally managed to get myself a decent career [laughs].
I've heard that you play down your ability as a footballer. What kind of player were you?
Ian King, Alderney
I wasn't an international but I played at the top level in France [winning Ligue 1 with RC Strasbourg in 1979]. Sometimes I think, 'If I'd had the conditions of the modern players, how good would I have been?' I don't know. I came very late to the game but the most influential guy, my coach Max Hild [at AS Mutzig] has said I was quite a decent player. I was first a striker then a midfielder then finished as a centre-back so I could defend and attack at a certain level. [FFT: Hild recently compared you to both Ray Parlour and Roy Keane. Is that a fair comparison?] I would be happy to be both!
Were you one of those players who was always destined for management? Did you take notes during team-talks?
David Kusher, Queensferry
I didn't necessarily think so at the time because I didn't know whether I would be good enough. But I always got on well with my coaches and they with me because we shared a passion. I would drive 600 miles to look for decent players. Sometimes I would arrive two hours before the game started and stand behind the goal in the rain and then drive home the same night. What people don't know is that when I was a young coach of 31 at the Strasbourg academy, I was coach, scout, physio, captain... everything. It was a fantastic education.
You're known for changing the dietary habits of Arsenal's players. But is there any unhealthy British speciality you're a bit partial to? Fish and chips, roast beef and Yorkshire puddings, steak and kidney pie, apple crumble and custard?
Al Paxton, Sunderland
Fish and chips not so much but Christmas pudding, yes! I like pies. Cherry pie, apple pie, with ice cream. I like a lot of things that are not good for you. But I always find it stupid that a player can practise the whole week then spoil his game because he eats something silly 24 hours before. I remember my first day at Arsenal when we were travelling to Blackburn and the players were at the back of the bus chanting, 'We want our Mars Bars!' [laughs] They used to eat them before the game but I took them away. Sure it doesn't guarantee you win the football game but it means the guy with a sensitive liver doesn't have his preparations ruined. Food is like kerosene. If you put the wrong one in your car, it's not as quick as it should be.
What do you think is your biggest achievement at Arsenal? Do you think there are any other records that you would like to break in your career?
Alex Billingham, Barrow in Furness
Going the whole season unbeaten because it's the most difficult thing to do. You go to Newcastle in November, to Portsmouth in October maybe, and on January 1st you go to Sheffield United on a dark night where everything is against you and you still cannot lose a game. I think that's fantastic. There is one record I'd like to break this season but I will not talk to you about that now – come back at the end of the season [laughs].
In hindsight, should you have sold Vieira and Henry a season earlier? You'd have got more money for them…
David Thackeray, St Ives
People thought they were massive mistakes but in terms of Patrick Vieira, I thought we had a fantastic offer from Juventus. At the time, he was 29, had played nine years for Arsenal and they offered him a five-year contract. I was not sure we could match that and I didn't want to block that possibility for him. Regarding Thierry Henry, we had just moved into the new stadium and we didn't know if we could fill it. He was the figurehead – so what kind of signal does it send out if you move into a new stadium and sell your best player? The next year he asked me to let him go and, of course, I could have stopped him but I felt that after a guy's played for you for eight years, if he wants to go its difficult to stop him.
The papers make a big deal out of the mind games managers supposedly play on each other. Has anyone in particular got under your skin or is it all in the minds of the tabloid hacks?
Pete Biskind, Welwyn Garden City
I get annoyed by statements made by managers, by pressure on referees before a game or reactions after the game. And yes I do sometimes get annoyed with Ferguson just like he gets annoyed with me – but that's part of the game and part of the entertainment. I don't believe you can compete at this level of competition and be friends. But there's no bad feeling, you know. Do I enjoy the mind games? Yes I do, it makes life interesting.
You appear to be a person of strong morals – you have never broken a contract. Do you feel that football has lost its moral compass or did it never have one?
John Hall, Birmingham
Football has a worldwide responsibility because every big game in the English Premier League is watched by 500 to 700 million people – sometimes a billion people. Imagine a kid sitting in India or in South Africa watching Wayne Rooney or Fabregas – the kind of influence these people have in the world is highly important. Also, I believe that in our countries that have such a history of war, multi-cultural teams can show a harmonious way to live and achieve things together. Sport has a responsibility on that front. I think about that a lot because had I not worked in football I would have dedicated my life to international relations.
If Sepp Blatter gets his way and introduces an English quota, will it be bad for the Premiership?
Bobby Marcus, Ipswich
I'll always fight fanatically against all the quota systems. I find them utter rubbish. I think that sport is just because it rewards the best. You could be my son but if you're not good enough then you don't play at Arsenal. You could be the son of Tony Blair, but if you're not good enough then you don't play at Newcastle. Sport should reward the best. If you're good enough, my friend, you play – no matter what your name, colour or passport.
When you were linked with the England job in 2000, you were quoted as saying a foreigner shouldn't be in charge of the national team. Is this still your belief, or do you think the climate in football has changed since?
David Freeman, Bristol
No. For a big country you need a manager from the same country. England created the game. I remember Sven-Göran Eriksson playing against Sweden with England. The national anthem is played and what do you do? [Wry smile]. That shows you're not completely comfortable. If I'm England manager and I play France which anthem do I sing? I manage in England and I hope I can help English football but the national team should be managed by an English guy.
I read that you're "not a great fan of international football". Why?
Darren Winter, Beaconsfield
I'm not a big fan of international football because they destroyed it. Take Russia: once it was one country and now it's 21. Yugoslavia was one and now is six. As a result the level has dropped. Then you add countries like Andorra, Faroe Islands and San Marino and suddenly three games out of four are of no interest. When you think of international football you think that it's a level up but 99 percent of the time it's a level down. That's why I prefer club football. The World Cup winners are all from countries with a minimum of 50 million people. Ryan Giggs never played in World Cup. If Maradona was born in Luxemburg he'd never have played in a World Cup –but he'd still have been the best player in the world. In club football you get to put the best players in the world together. That is real justice.
If you could change one rule in football, what would it be?
Laura Hind, Brixton
[Whistles at the size of task] I would change many things but the first rule would be that only the captain should speak to the referee. When you have a billion people watching a game and you can read the lips of a player saying "You're f**king rubbish" to a referee it does nothing for our game. Changing that rule would have a more positive effect than all the charities we do at the clubs.
Interview: Matthew Weiner. From the December 2007 issue of FourFourTwo.
Thank you for reading 5 articles this month* Join now for unlimited access
Enjoy your first month for just £1 / $1 / €1
*Read 5 free articles per month without a subscription
Join now for unlimited access
Try first month for just £1 / $1 / €1
Quizzes, features and footballing fun
Get the best features, fun and footballing frolics straight to your inbox every week.
Thank you for signing up to Four Four Two. You will receive a verification email shortly.
There was a problem. Please refresh the page and try again.